Photo Coverage: Broadway Bound ALLEGIANCE Staged Reading, 10/25
Co-written with Jo Macaldo
Broadway and US television stars Lea Salonga (Gloria Suzuki), George Takei (old Sam Omura), Telly Leung (young Sam Omura), Allie Trimm (Hannah Campbell), Michael K. Lee (James Omura), Paolo Montalban (Ben Chin/Mike Masaoka), Christine Toy Johnson (Kimiko Omura), Alan Ariano (Tatsuo Omura) and Jason Tam (Frankie Suzuki) led two public staged readings of "American Idiot" associate producers Lorenzo Thione and Jay Kuo's Broadway bound musical "Allegiance" on Monday, October 25, 2010 at the Julia Miles Theatre, 424 W55th St. New York, NY. BroadwayWorld.com has been covering the new Asian American play's different stages of development since its private staged reading in Los Angeles, CA last year. 
"Allegiance" tells the untold tale of a Japanese American family's struggles and triumphs during a dark chapter in US history -- the internment of Japanese Americans during WWII. It also follows the story of a man named Sam (played by Mr. Takei) and his efforts to balance his love for both country and family, and the mistakes he made as a young man (essayed by Mr. Leung) while seeking that balance.
"...After several months, Jay Kuo (the show's co-creator, composer and lyricist), had made numerous changes in the piece. Songs were dropped, new ones added, a few things reconfigured, and scenes trimmed down.
The result was a tighter, more compact show. The other thing added was a massive emotional punch. It got us when we started rehearsing book scenes as well as certain songs," Ms. Salonga disclosed in her column in the Philippine Daily Inquirer.
Songs "Gaman" (Gloria and the Omuras), "I Haven't Got A Prayer" (Hannah), "My Time Now" (young Sam and ensemble) and "Second Chances" (Gloria and ensemble), which had promotional videos that went viral on social networking sites, still made the cut. 
"In the show she (Gloria) starts out as his (Sam) sort of 'spirit guide,' but she does travel back to the past to show Sam the truths about certain people, moments in their family history, and the reason for his brother's sacrifice.
I get to sing one new song, a pseudo-duet with Telly Leung, a man who has one of the most ridiculously amazing voices to ever grace the stage. The song is called 'Trust,' and it's placed at the moment when Sam and Gloria break off their friendship, never to see each other again," Ms. Salonga added.
Ms. Salonga is also quick to admit that she keeps a pack of tissues in her binder at the reading because the show has really gotten that emotionally-wrenching.
On the other hand, Filipino American actor and director Mr. Ariano, a new addition to the cast who's playing Sam's father, reveals that the story of "Allegiance" needs to be told.  "It's educational. Not a lot of people are aware, especially the younger generation, about Japanese internment camps."
"It has been an amazing process. We had six days to rehearse so it's so intensified. It's hard not to get close with the creative team. And they 're so open," he said.
Lynne Shankel ("Altar Boyz") got on board as musical director and Stafford Arima ("Tin Pan Alley Rag" "Altar Boyz") as director since the show's private staged reading in NY in February 2010.
"Allegiance" will hold a pre-Broadway tryout at a regional theatre to be announced in 2011.  The show is eyeing to open on Broadway in Spring 2012, which coincides the 70th anniversary of the internment of Japanese Americans in the US.
Actors' Equity members Philip Hoffman (Bill Campbell), Sally Wilfert (Lily Campbell), Gaelen Gilliland, Raymond Lee, Daniel C. Levine, Doan Mackenzie, Ann Sanders, Tally Sessions, Cary Tedder, Anne Fraser Thomas and Kay Trinidad also read at the event.
For more information on "Allegiance", email info@allegiancemusical.com or follow www.facebook.com/allegiancemusical.
Photos by Jo Macaldo and Noel Calingasan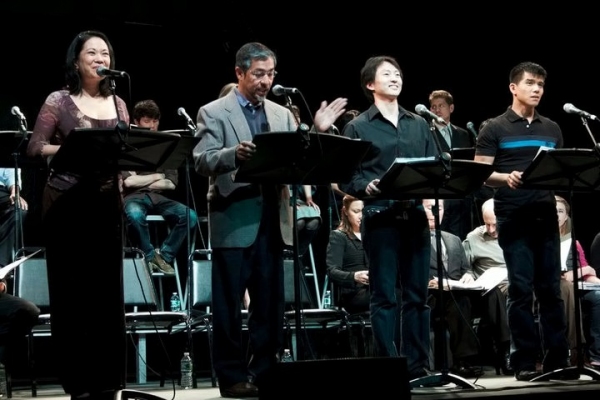 Christine Toy Johnson, Alan Ariano, Michael K. Lee, Telly Leung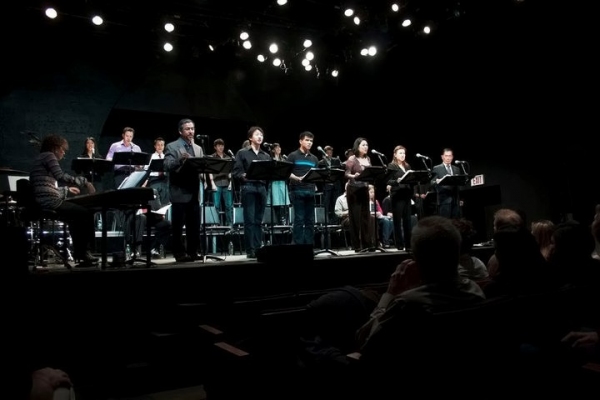 The staged reading cast of ALLEGIANCE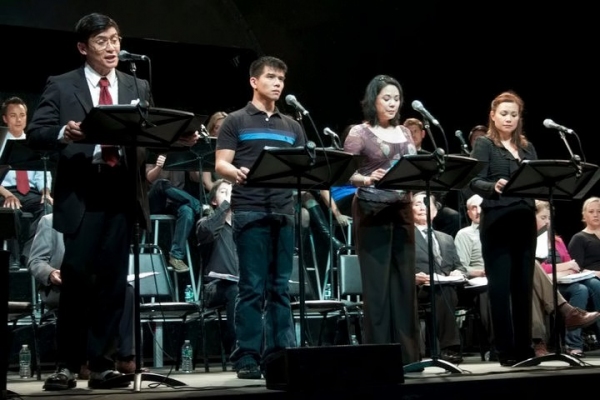 Paolo Montalban, Telly Leung, Christine Toy Johnson, Lea Salonga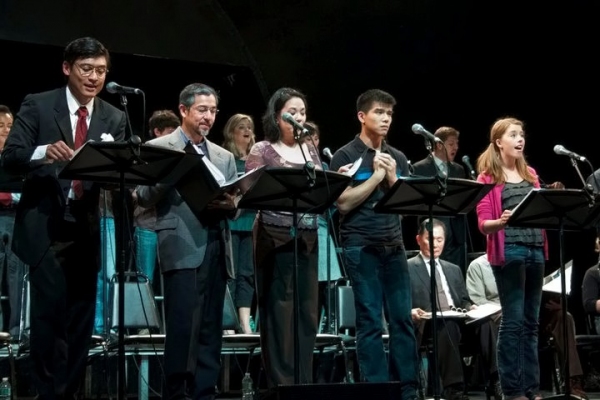 Paolo Montalban, Alan Ariano, Christine Toy Johnson, Telly Leung, Allie Trimm

Allie Trimm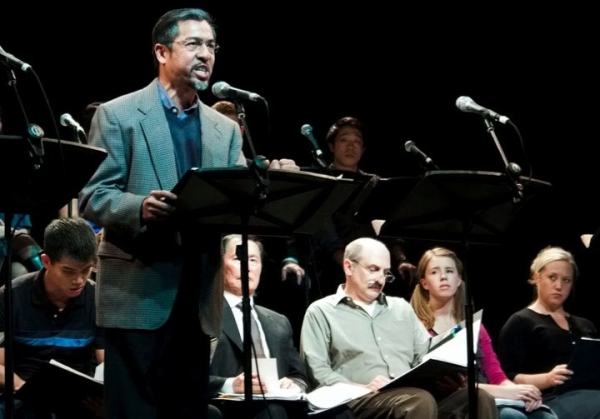 Alan Ariano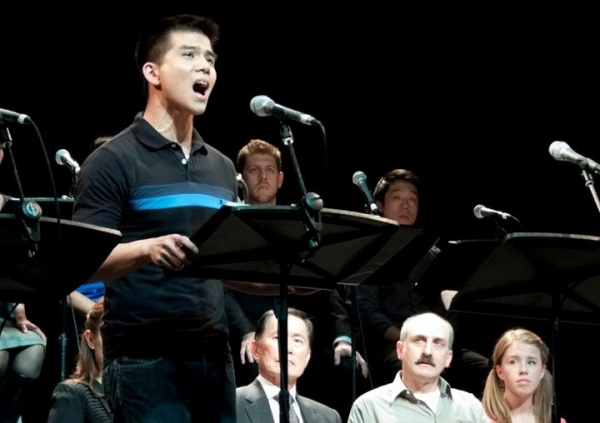 Telly Leung

Alan Ariano, Jason Tam, Lea Salonga

Michael K. Lee, Lea Salonga, George Takei

The staged reading cast of ALLEGIANCE

Paolo Montalban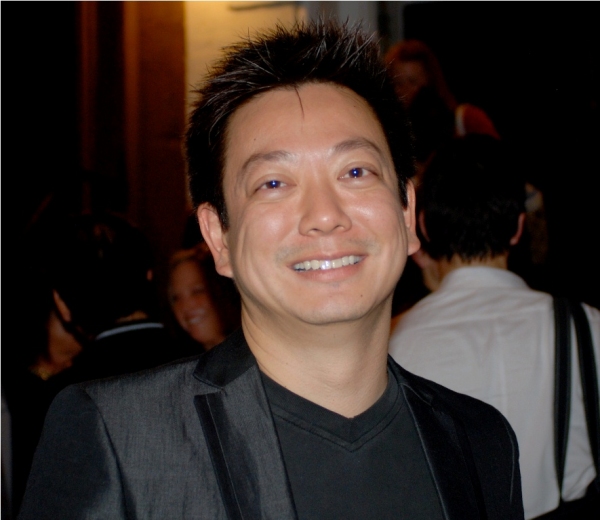 Jay Kuo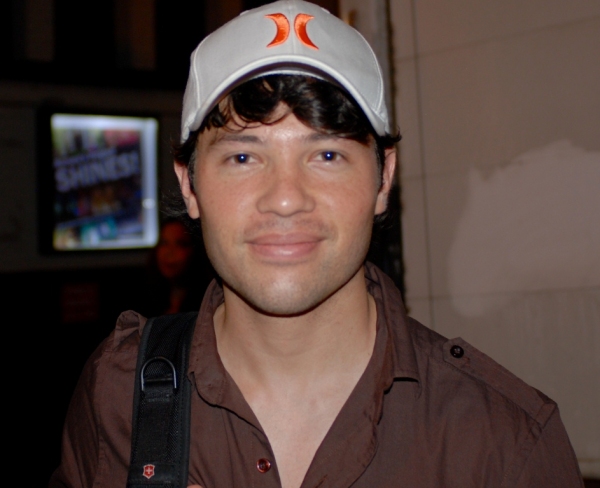 Jason Tam

Lea Salonga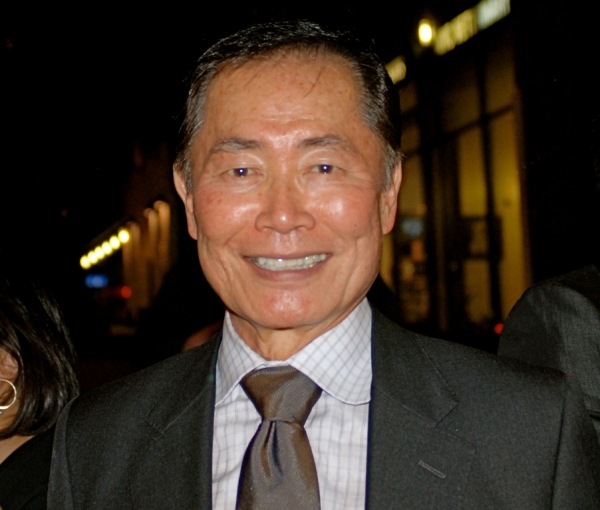 George Takei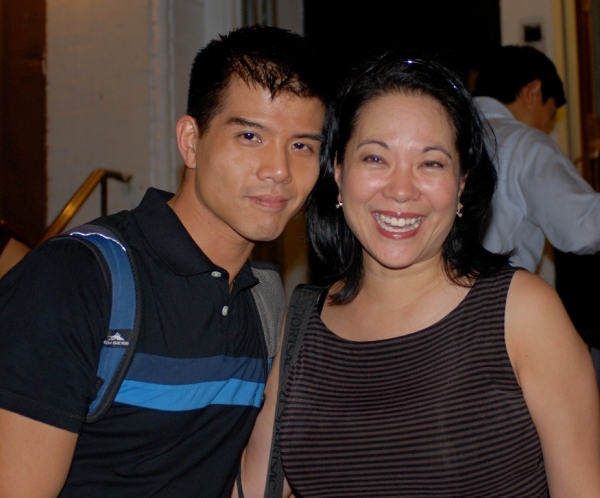 Telly Leung, Christine Toy Johnson