The Flea Announces 2019/20 Season with Mac Wellman and Taylor Mac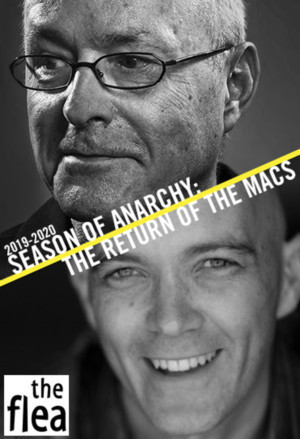 Following on the success of the 2017/18 SEASON OF WOMXN and 2018/19 COLOR BRAVE SEASON, The Flea announced today that its 2019/20 Season will be the SEASON OF ANARCHY: THE RETURN OF THE MACS as they welcome back playwrights, poets and activists Mac Wellman and Taylor Mac.
Niegel Smith
, The Flea's Artistic Director says of the two Macs that will grace the stages of The Flea, "In both
Mac Wellman
and
Taylor Mac
, we have poet playwrights with an absurdist's sense of the world around us and a showman's love of the power of theater. They are surrealists and dreamers and they choose the stage to let us know that while we might be close to the edge - all is not lost!" Adds
Carol Ostrow
, The Flea's Producing Director, "It is high time that we honor Flea Founder
Mac Wellman
. His plays have influenced a generation of writers and his voice needs to be heard. As for
Taylor Mac
, aren't we all waiting with bated breath to see what he does next? Well The Flea knows!" In Fall 2019, MAC WELMAN: PERFECT CATASTROPHES, A FESTIVAL OF PLAYS will feature a rotating repertory of five new incarnations - including two world premieres - of works by Wellman.
Meghan Finn
, a frequent
Mac Wellman
interpreter, will direct the world premiere of The Invention of Tragedy in The Sam Theater. Resident Director
Dina Vovsi
will tackle Sincerity Forever, Resident Directors
Kate Moore
Heaney and Tyler Thomas will direct The Sandalwood Boxand Associate Artist
Michael Raine
will direct The Fez(world premiere) all in The Siggy Theater. Associate Artist Kristan Seemel will direct Bad Penny in The Pete Theater. • SINCERITY FOREVER
Directed by Resident Director
Dina Vovsi
August 24 through October 7 in The Siggy
Sincerity Forever is a comedy about a group of young residents from the fictional southern town of Hillsbottom, a place with a prominent community of Ku Klux Klan members, many of them in their teens. They hang out in their cars on serene nights with friends and crushes, and question, as teens do, absolutely everything. • BAD PENNY
Directed by Associate Artist Kristan Seemel
August 24 through October 7 in The Pete
A man and a woman sit in a park. They appear to be a couple, but aren't. The man is clutching a car tire. The woman has a penny in her pocket. The mythical Boatman of Bow Bridge is coming. He is coming to take away the person who is in possession of the penny. How do we make choices in the face of the end of the world as we know it? • THE INVENTION OF TRAGEDY
World Premiere
Directed by Guest Artist
Meghan Finn
September 7 through October 14in The Sam
A chorus of students, all alike and all unalike, are trying like the devil to tell a simple story-perhaps the story about the tragedy of the Sandwich Man, with sandwich boards upon which nothing is written, and hence, say nothing. The Invention of Tragedy is Wellman's examination of the post-9/11 world and America's general and genial acceptance of the Iraq war. • THE SANDALWOOD BOX
Directed by Resident Directors
Kate Moore
Heaney and Tyler Thomas
September 26 through November 1 in The Siggy
In a surreal landscape on the border between dream and reality we follow the journey of Marsha Gates, a young college student who has lost her voice. On her way to speech therapy, Marsha meets Professor Claudia Mitchell, who captures the most captivating catastrophes of the world and preserves them in a sandalwood box. • THE FEZ
World Premiere
Directed by Associate Artist
Michael Raine
September 26 through November 1 in The Siggy
The charmed spell of the theater has somehow absented itself, and something strange
happens. A play that was originally printed on a tee shirt is finally produced! In October, The Flea will hold a symposium examining
Mac Wellman
's profound impact on the American theater. Mac's foremost collaborators, protégés, and scholars will explore the unique demands of interpreting his plays; the breadth of his career across mediums, including dance, music theater, and opera; and the legacy of his writing and teaching on multiple generations of theater makers. MAC WELMAN: PERFECT CATASTROPHES, A FESTIVAL OF PLAYS runs August 24 - November 1, Thursdays - Mondays at 7 p.m. and 9 p.m., with Sunday matinees at 3 p.m. Tickets start at $37 with a limited number of $17 tickets available on a first-come, first-served basis.Tickets are now on-sale for members. Memberships start at $25. Public tickets are on-sale starting July 1 with ticket packages available. Also playing this fall in The Pete will be the next installment of CEREALS, The Flea's foray into family programming. In October, we welcome
Sara Farrington
's commission of Cosmicomics, a children's theater piece based on the short stories by Italo Calvino. In Cosmicomics, the play's non-gendered protagonist, Qfwfq, a young dinosaur who miraculously survived the ice age, makes their way in a magical brave new world, searching for their mother and pondering how to not only evolve but thrive in a world without anyone else who looks the same. Conceived and directed by Resident Director Marina McClure, Cosmicomics will play Saturdays October 19 through November 10. The Flea's spring 2020 centerpiece will be the world premiere production of THE FRE by Tony Award nominee and Bat Theater Company alum,
Taylor Mac
, and directed by The Flea's Artistic Director and frequent
Taylor Mac
collaborator,
Niegel Smith
. THE FRE tells the story of an intellectual aesthete who is trapped inside a mud pit in the middle of a swamp by the swamp's fatuous inhabitants who call themselves the "Fre." Using a combination of potty-mouthed prose versus heightened verse and loosely based on The Frogs by Aristophanes, THE FRE will take audiences literally and figuratively into a mud pit to hash out the current political divide. It is a play for all ages; children and their families are encouraged to come. THE FRE will run March 9 through April 13 in The Sam. SERIALS, The Flea's late-night episodic series produced entirely by The Bats, is now entering its ninth year.Monthly cycles of this raucous play competition where five plays enter and only three plays survive kick off on June 20. SERIALSfeatures the work of the SERIALSWriters Room, including Niccolo Aeed, Oscar A. L. Cabrera, Chloé Hayat,
Lily Houghton
, Brian Kettler, Yilong Liu,
Liz Morgan
, Jessica Moss and Marina Tempelsman. SERIALSis now at 10 p.m. in The Siggy. In addition, The Flea welcomes the following Anchor Partners, music, dance and theater companies in residence that will perform at The Flea this fall and winter in all of our spaces. Music companies include new music groups Experiments in Opera, Mango Baroque and MATA; modern dance companies include Tiffany Mills Company, The Bang Group and
Elisa Monte
Dance; and theater companies include New York City Children's Theater, EPIC Players, Page 73 and Notch Theater Company. The Bats are the resident acting company members of The
Flea Theater
. Each season, hundreds of actors audition for a place in this unique company. The Bats perform in extended runs of challenging classics, as well world premieres of new plays. They are the lifeblood of The Flea. The
Flea Theater
, under Artistic Director
Niegel Smith
and Producing Director
Carol Ostrow
, is one of New York's leading Off-Off-Broadway companies. Winner of several Obie Awards, a Special Drama Desk Award for outstanding achievement and an Otto Award for political theater, The Flea has presented over 100 theatrical, musical and dance performances since its inception in 1996. Past productions include premieres by
Steven Banks
,
Thomas Bradshaw
,
Erin Courtney
,
Bathsheba Doran
,
Will Eno
,
Karen Finley
,
Amy Freed
,
Sarah Gancher
,
Sean Graney
,
A.R. Gurney
,
Jennifer Haley
,
Hamish Linklater
, Enrique Gutiérrez,
Ellen McLaughlin
, Ortiz Monasterio,
Itamar Moses
,
Anne Nelson
, NSangou Njikam,
Qui Nguyen
,
Adam Rapp
,
Jonathan Reynolds
, Kate Robbins,
Roger Rosenblatt
,
Todd Solondz
,
Elizabeth Swados
, and
Mac Wellman
. Successes include Drama Desk nominated She Kills Monsters, New York Times Critics' Pick Inanimate, Syncing Ink, These Seven Sicknesses, Restoration Comedy, The Mysteries and ten World Premiere productions by
A.R. Gurney
, including the WSJ Best New Play of 2013, Family Furniture. The
Flea Theater
is located at 20 Thomas Street between Church and Broadway, three blocks north of Chambers, close to the A/C/E, N/Q/R/W, 4/5/6, J/M/Z and 1/2/3 subway lines. Purchase tickets by calling 212-352-3101 or online at
www.theflea.org