The 24 Hour Plays and The New School for Drama Present THE 24 HOUR PLAYS: NATIONALS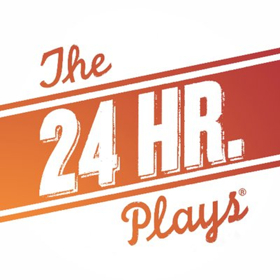 The 24 Hour Plays has announced their annual production of The 24 Hour Plays: Nationals, at The New School for Drama on Monday, August 14th at 8:00 PM.
The 24 Hour Plays: Nationals is a rigorous professional experience for artists 25 and under. Over the course of a weekend, artists engage in intensive workshops, panel discussions, and finally, their own production of The 24 Hour Plays. The 24 Hour Plays: Nationals presents an opportunity for young artists to meet their peers and begin building the relationships that will serve them throughout their careers. In doing so, The 24 Hour Plays seeks the very best of the next generation of theatermakers and arms them with what they need in order to find their way in this business-one another.
"Every year, The 24 Hour Plays: Nationals performance is the joyful, passionate sound of a generation in the theater finding their voice together," said Mark Armstrong, Executive Director of The 24 Hour Plays. "This year's group of young artists join our incredible group of alumni who continue to influence theater, film and television around the country."
The 2017 Nationals company, under the leadership of artistic producer Patti Anne Miller and managing producer Hope Chavez, includes actors Stephan Amenta, Vanessa Bretas, Peter Danelski, Isra Elsalihie, Michael Fell, Kaitlyn Figueroa, Katherine George, Cassie Gilling, Mason Hensley, Louis Jannuzzi III, AaRon Johnson, Nicole Kang, Kevin Kantor, Alice Kors, Marshall Louise, Constantine Malahias, Chris Murphy, Charlie Oh, Ilia Paulino, Simone Policano, Patrick Reilly, Evelyn Rivera-Cadenas, and Makaela Shealy; directors Allison Benko, Lyndsay Burch, Gineiris Garcia, Nailah Harper-Malveaux, Nick O'Leary, and Jenna Rossman; playwrights Jordan Barsky, Alexis Payne, Anya Richkind, Andrew Rincon, Shara Feit, and Jess Honovich; and producers Coleman Clark, Sarah Hinz, Madelyn Paquette, Sophia Smith, and Patrick Surillo.
This year's panelists include Renee Blinkwolt, Kristoffer Diaz, Oskar Eustis, Tina Fallon, Karen Kohlhaas, Mike Lew, Kyle Luker, Rehana Lew Mirza, Bruce Norris, A. Rey Pamatmat, Hubert Point-Du Jour, Max Posner, Liesl Tommy, and many others.
"We're honored that such a distinguished lineup of artists and professionals have made time to spend with the Nationals group." said Armstrong. The event is in partnership with and hosted by The New School for Drama, a shared graduate and undergraduate learning environment in the historic Westbeth Artists complex in Greenwich Village.
Alumni of the program include playwrights Bekah Brunstetter, Kim Davies, Olivia Dufault, Laura Jacqmin, Mike Lew, Korde Tuttle, Celine Song; actors Pico Alexander, Satya Babha, Bobby Moreno, Coral Peña, Zoe Perry, Will Rogers, Brandon Scott, Chris Smith and Chelsea Spack; producers Shariffa Ali, Kelcie Beene, Rachel Helson, and Carly Hugo; and directors James Dacre, Colette Robert, and Laura Savia.
The 24 Hour Plays: Nationals presents the foremost emerging artists 25-and-under in this one-time-only show.
THE 24 HOUR PLAYS: NATIONALS
August 14, 2017 at 8pm
The New School for Drama - Third Floor Theater
151 Bank Street
New York, NY 10014
Tickets are free of charge and are distributed by invitation only.