THE WORLD IS COMING TO A START! At The Chelsea Community Church Benefits The Ali Forney Center
The event is hosted by Cameron Mitchell Bell.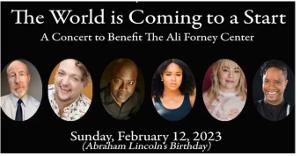 Chelsea Community Church will host a special benefit concert, The World Is Coming To A Start!, on Sunday, February 12 (Lincoln's Birthday) at 6 PMto benefit the Ali Forney Center.
The event is hosted by Cameron Mitchell Bell and features D. C. Anderson, Aaron Lee Battle, Gabrielle Elisabeth, Monique Morgan and Kwame Michael Remy, with music director Jeff Cubeta. Producer is Scott Barbarino (who among his credits is also the publisher of NiteLife Exchange)
Aligned with the mission on the Chelsea Community Church, the mission of the Ali Forney Center is to protect homeless Lesbian, Gay, Bisexual, Transgender and Questioning youths from the harms of homelessness and empower them with the tools needed to be independent.
Chelsea Community Church (CCC) has been a home for people of all faiths and uncertain faith for more than 47 years. Founded in 1975 by a group of Chelsea residents, CCC is a lay-led non-denominational Christian Church. Its members created CCC to meet the needs of a diverse group who share a desire to explore faith and spirituality without dogmas, creeds or denominational affiliation. The Chelsea community Church is also well-known for its annual Candlelight Carol Service, which has rung in the holiday season since the founding of the church.
D.C. Anderson is a veteran of NYC's Cabaret Convention, has won a Bistro Award as a singer-songwriter and boasts many MAC nominations. He has 10 albums available for purchase and streaming, including Sarasota, House Concert and the upcoming Sharing the Night with Darkness. As an actor, Anderson played in Phantom of the Opera for 18 years and also appeared in tours of Martin Guerre, Nicholas Nickleby and Pippin, as well as playing in regionally at Steppenwolf Theater, Guthrie and Goodspeed Musicals.
Aaron Lee Battle recently received the Manhattan Association of Cabarets' Hanson Award and is a recipient of the Backstage Bistro Award for Outstanding Vocalist. Aaron has appeared in many of the cabaret rooms in New York City and was a Resident Guest Artist at Gunay Restaurant in Istanbul, Turkey for many years.

Cameron Mitchell Bell's Broadway national and international tours include Disney's Beauty and the Beast (U/S) what is this?(Cogsworth / Maurice) and Annie (Bert Healy), as well as and regional theater performances in The Rocky Horror Picture Show ( Riff Raff), Chicago ( Mary Sunshine), Disney's Aladdin( The Genie), You're a Good Man, Charlie Brown ( Charlie Brown), plus roles in Oklahoma! and Candide. Bell has also worked on Disney Cruise Lines and Holland America cruises. @cameronmitchellbell

Gabrielle Elisabeth is happy to be a part of this fantastic program. She has performed worldwide and recently has been on Broadway in the Tony Award-winning, Beautiful, The Carole King Musicaland the Emmy Award-winning, "The Marvelous Mrs. Maisel."
Monique Morgan is a performing artist, playwright and musician based in NYC. She is a graduate of The American Musical and Dramatic Academy, where she studied musical theatre and film. Some of her favorite credits include Sordid Lives, Into the Woods, Legally Blonde, Spring Awakening and The Rocky Horror Picture Show. When she's not auditioning, taking class, or hitting the beach, you can find her singing and serving for her life at Ellen's Stardust Diner.
Kwame Michael Remy is an international entertainer, recording artist and award-winning musical theater performer. Some of his theatrical credits include the Pacific premier of Kinky Boots as Lola, Broadway national tour of Smokey Joe's Caféand Solid Gold Soul in London. He is a proud member of the Tony-honored and Grammy-nominated "Broadway Inspirational Voices Choir."
Jeff Cubeta is a singer, pianist, conductor, arranger-orchestrator and record producer. He is also a MAC Award winner and Bistro Award winner. As a music director, he has worked with Tyler Glenn (Beacon Theatre, television's "LIVE with Kelly!") and Salty Brine (Joe's Pub, Ars Nova). Additionally, he is a professional chorister with the Church of the Epiphany (Episcopal) Choir, NYC. Other collaborations have been with Aisha de Haas, La Tanya Hall, Carolyn Montgomery and Nina Blue. Cubeta is also a teaching artist with Broadway Classroom and teaches piano virtually.
The band is:
Lizzie Hagstedt (bass) is an actor-singer-composer as well as a mulit-instrumentalist. She graduated from the University of Miami with a Bachelor of Music in Musical Theatre and has performed at the PI blic Theater and The New Group, and also appeared in the Sweeney Todd national tour. She is also a noted bassist and a composer in the BMI Workshop.
Michael Morales (drums) is a freelance drummer who is also School Partnerships Manager and Percussion Teacher at the Bloomingdale School Of Music, as well as the owner and Artistic Director atRhythm Workshop LLC. His performance credits as a drummer include Me & Mr. Jones: A Bowie Retrospective.
For tickets, scan on right or visit www.chelseacommunitychurch.org
Chelsea Community Church is located at 346 West 20th Street, NYC