Previews Begin This Friday For THIS FLAT EARTH At Playwrights Horizons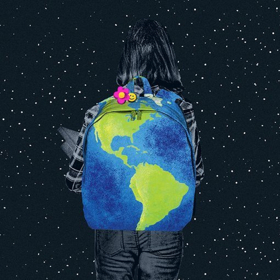 Previews begin this Friday, March 16 for the Playwrights Horizons (Tim Sanford, Artistic Director; Leslie Marcus, Managing Director) world premiere production of THIS FLAT EARTH, a new play by Lindsey Ferrentino (Ugly Lies the Bone, the current Amy and the Orphans). Directed by Tony Award winner Rebecca Taichman (Familiar, Stage Kiss, Milk Like Sugar at Playwrights; Indecent), the play is the fourth production of the theater company's 2017/2018 Season.
The production has an Opening Night set for Monday, April 9 at 7PM at the company's Mainstage Theater (416 West 42nd Street). The limited engagement is currently scheduled to play through Sunday, April 29.
The cast of THIS FLAT EARTH features Drama Desk and Theatre World awards winner Cassie Beck (The Whale, Prayer for My Enemy, The Drunken City at Playwrights; The Humans), Ella Kennedy Davis (Matilda, Mary Poppins, "Blue Bloods"), Theatre World Award winner Lynda Gravátt (Miss Witherspoon at Playwrights, Skeleton Crew, King Hedley II, The Old Settler), Lucas Papaelias (Essential Self-Defense at Playwrights including Drama Desk nomination for Original Music in a Play, Once, the film School of Rock) and Ian Saint-Germain (Tamburlaine at TFANA, "The Americans"). The production also features Grammy-nominated cellist Christine H. Kim.
At a middle school in this seaside town, the unthinkable has happened, placing a bewildered community in the national spotlight. Stuck at home in a state of shocked limbo, Julie (Ms. Davis) and Zander (Mr. Saint-Germain), two thirteen-year-olds, try to make sense of the chaos they witnessed, their awkward crushes and an infinitely more complicated future - but the grown-ups are no help at all. An urgent response to our times, THIS FLAT EARTH is a startling and deeply felt story of growing up in our confounding world.
The production features scenic design by Dane Laffrey, costume design by Tony Award winner Paloma Young, lighting design by two-time Tony Award and three-time Drama Desk Award winner Christopher Akerlind and sound design by Mikhail Fiksel. Music Director is Christian Frederickson. Production Stage Manager is Cole P. Bonenberger.
The performance schedule for THIS FLAT EARTH is Tuesdays and Wednesdays at 7PM, Thursdays and Fridays at 8PM, Saturdays at 2:30 & 8PM and Sundays at 2:30 & 7:30 PM. Single tickets, $39-$89, may be purchased online via www.phnyc.org, by phone at (212) 279-4200 (Noon-8pm daily) and in person at the Ticket Central Box Office, 416 West 42nd Street (between Ninth & Tenth Avenues).
Following THIS FLAT EARTH, the Playwrights Horizons 2017/2018 Season will continue with DANCE NATION, the world premiere of the Susan Smith Blackburn Prize-winning new play by Obie Award winner Clare Barron, directed and choreographed by Obie Award winner Lee Sunday Evans (previews begin April 13); and conclude with LOG CABIN, the world premiere of a new play by Pulitzer Prize finalist Jordan Harrison, directed by Tony Award and Obie Award winner Pam MacKinnon, featuring Jesse Tyler Ferguson (June 2018).
Flex Passes (customizable bundle, $220+) and Memberships ($45 to join, $25 preview tickets) are now on sale. Packages are available at www.phnyc.org.
Playwrights Horizons recently announced its 2018/2019 Season, which will feature (in season order): I WAS MOST ALIVE WITH YOU, the New York premiere of a new play written by three-time Tony Award nominee and three-time Obie Award winner Craig Lucas, directed by Mr. Lucas and Tyne Rafaeli with Sabrina Dennison serving as Director of Artistic Sign Language, featuring Marianna Bassham, Tad Cooley, two-time Obie Award winner Lisa Emery, Theatre World Award winner Russell Harvard, two-time Tony Award nominee Lois Smith and Gameela Wright, and simultaneously performed in American Sign Language by a shadow cast of Deaf actors, including Beth Applebaum, Seth Gore, Dickie Hearts, Amelia Hensley, Anthony Natale and Alexandria Wailes (previews begin August 31, 2018); THE THANKSGIVING PLAY, the world premiere of a new play by Larissa Fasthorse, directed by Tony Award nominee Moritz von Stuelpnagel (October 2018); NOURA, the New York premiere of a new play written by and featuring Lucille Lortel Award winner Heather Raffo, directed by Joanna Settle, produced in association with Shakespeare Theatre Company (November 2018); IF PRETTY HURTS UGLY MUST BE A MUHFUCKA, the world premiere of a new play by Tori Sampson, directed by Tony Award nominee and Obie and Lucille Lortel awards winner Liesl Tommy (February 2019); THE PAIN OF MY BELLIGERENCE, the world premiere of a Playwrights Horizons commissioned new play written by and featuring Halley Feiffer, directed by Obie Award winner Trip Cullman (April 2019) and conclude with A STRANGE LOOP, the world premiere of a new musical with book, music and lyrics by Michael R. Jackson and directed by Stephen Brackett, produced in association with Page 73 (May 2019).
A 6-Show Subscription package to Playwrights Horizons' 2018/2019 season is now available ($310, four Mainstage and two Peter Jay Sharp Theater productions). In addition to discounts on all season productions, subscribers receive priority booking and seating, ticket exchange privileges, parking and dining discounts, and exclusive mailings of Playwrights Horizons Bulletins. Flex Passes (customizable bundle, $220+) and Memberships ($45 to join, $25 preview tickets) are also now on sale. Patron packages start at $1,800. Packages are available at www.phnyc.org.
Patron Program Memberships begin at $1,800 (all but $550 is tax-deductible) and include two reserved house seats and personalized concierge service to all six Playwrights Horizons productions, as well as a variety of exclusive benefits including invitations to attend special events with artists, staff and board members. Complete benefits list at www.phnyc.org.
Playwrights Horizons' season productions are generously supported in part by The Harold and Mimi Steinberg Charitable Trust and the New York City Department of Cultural Affairs.
Playwrights Horizons is supported in part by public funds from the National Endowment for the Arts, the New York State Council on the Arts with the support of Governor Andrew Cuomo and the New York State Legislature and the New York City Department of Cultural Affairs. In addition, Playwrights Horizons receives major support from The Andrew W. Mellon Foundation, The Shubert Foundation, the Peter Jay Sharp Foundation and the Time Warner Foundation.
Lindsey Ferrentino (Playwright). Playwrights debut. Lindsey's play Ugly Lies the Bone (Laurents/Hatcher Award, Kesserling Prize, Blackburn finalist, Outer Critics Circle nomination) opened at Roundabout Underground and had its European premiere at The National Theatre in the UK. Running at the same time as This Flat Earth (Edgartown Foundation New Play Award), Lindsey's play Amy and the Orphans is currently in previews at the Laura Pels Theatre at Roundabout. Next fall, her newest, The Year to Come, will premiere at La Jolla Playhouse. She has received the Cole Porter Playwriting Prize, Holland New Voices Award, Paul Newman Award, and is the only two-time finalist for the Kendeda Playwriting Prize. Lindsey is currently under commission for new plays from South Coast Rep, The Geffen, Roundabout and MTC. BFA: NYU. MFA: Hunter and Yale School of Drama.

Rebecca Taichman (Director). Playwrights: Familiar by Danai Gurira, Stage Kiss by Sarah Ruhl, Milk Like Sugar by Kirsten Greenidge. Broadway: Indecent by Paula Vogel (Tony Award, Obie Award, Outer Critics Circle Award, Lucille Lortel nomination), Time and the Conways (Roundabout). Select Off-Broadway: School Girls by Jocelyn Bioh (MCC); How to Transcend A Happy Marriage, The Oldest Boy by Sarah Ruhl (LCT); Orlando by Sarah Ruhl (CSC); Orpheus (NYCO); Dark Sisters (MTG/Gotham). Regional includes productions at Yale Rep, La Jolla Playhouse, Shakespeare Theatre Company, Old Globe, ART, Oregon Shakespeare Festival, McCarter and Woolly Mammoth. Rebecca is a resident director at Roundabout, a Henry Crown Fellow at The Aspen Institute and a graduate of Yale School of Drama. rebeccataichman.com
Cassie Beck (Lisa). Playwrights: The Whale, The Drunken City (Theatre World Award), Prayer for My Enemy. Broadway: The Humans (Tony Award Best Play, Drama Desk Ensemble Award), Picnic. Other Off-Broadway: The Humans (Roundabout); By the Water (MTC/Ars Nova); The Insurgents (LAByrinth); Happy Hour, Oohrah! (Atlantic); Smudge (WP). Regional: Elemeno Pea (South Coast Repertory/Humana), Prelude to a Kiss (Huntington), The Cherry Sisters Revisited (Humana), Three Sisters (Williamstown), The Consultant (Long Wharf). TV: "Chicago Med," "Elementary," "Almost There," "Shameless." Web Series: "Accidental Wolf." @cassiebeckster
Ella Kennedy Davis (Julie). Playwrights debut. Los Angeles: Matilda, Mary Poppins, Peter Pan (Fancy Feet Theatre). Television: "Blue Bloods," "The PET Squad Files," "Nickelodeon Wildcard."
Lynda Gravátt (Cloris). Playwrights: Miss Witherspoon. Broadway: Cat on a Hot Tin Roof, Doubt, King Hedley II, 45 Seconds from Broadway. Off-Broadway: Skeleton Crew (Drama League nomination, Atlantic); 20th Century Blues (u/s, Signature); The Hummingbird's Tour (St. Clement's Theatre); Zooman and the Sign, King Hedley II (Signature); Intimate Apparel (Roundabout). Regional: Arena, Geva, Hartford Stage, Indiana Rep, Mark Taper Forum, McCarter, Westport Country Playhouse. TV: "The Good Wife," "30 Rock," "Person of Interest," "Elementary," every "Law and Order," "The Hoop Life." Film: Roman Israel, Esq.; Delivery Man; Violet & Daisy; The Bounty Hunter, others. Lynda has three Audelco Awards, a Helen Hayes Award and a Distinguished Alumni Award from Howard University.
Lucas Papaelias (Dan). Playwrights: Essential Self-Defense (Drama Desk nomination, Best Original Music in a Play). Broadway: Once (original cast), Cyrano with Kevin Kline. Other Off-Broadway: These Paper Bullets (Atlantic), Once (NYTW), Jack's Precious Moment (59E59), Father Comes Home From the Wars, Part I (The Public), US Drag (stageFarm), Romeo & Juliet (Delacorte), Walk Two Moons (Lortel), Cellini (Second Stage). Regional: Airness, Slasher (Humana); These Paper Bullets (Geffen, Yale Rep); Once (ART), American Buffalo, Lobby Hero (Geva); Dead End (Huntington). TV/Film: "The Knick," "It's Always Sunny in Philadelphia," "How to Make It in America," "Blue Bloods," "Law & Order," School of Rock, Ordinary World, What Alice Found, WTC View. Instagram: @bywayz
Ian Saint-Germain (Zander). Playwrights debut. New York: Tamburlaine (Theatre for a New Audience), Flash Gordon (Piper Theater). Television: "The Americans." Awards: Silver Key, 2016 New York City Scholastic Award for Playwriting, BYPN World Dignity Award in Music (sponsored by the United Nations).
Christine H. Kim (Cellist). Playwrights debut. Tours and performances with East Village Opera Company (Grammy nomination), Sheryl Crow, Bruno Mars, Adele, David Foster, Mary J. Blige, Andrea Bocelli, Mick Jagger, U2 and Fergie. Film: Annie. TV: "Saturday Night Live," "Late Night with David Letterman," "Late Night with Jimmy Fallon," "The View." Kim is also a musical coordinator and a graduate from the Juilliard School.
Playwrights Horizons is dedicated to cultivating the most important American Playwrights, composers and lyricists, as well as developing and producing their bold new plays and musicals. Under Artistic Director Tim Sanford and Managing Director Leslie Marcus, Playwrights builds upon its diverse and renowned body of work, counting 400 writers among its artistic roster. In addition to its onstage work each season, Playwrights' singular commitment to nurturing American theater artists guides all of the institution's multifaceted initiatives: our acclaimed New Works Lab, a robust commissioning program, an innovative curriculum at its Theater School and more. Playwrights has been recognized with numerous awards and honors, including six Pulitzer Prizes, 13 Tony Awards and 39 Obie Awards. Prior artistic directors include André Bishop and Don Scardino. Robert Moss founded Playwrights Horizons in 1971 and oversaw its first decade, cementing the mission that continues to guide the institution today.
Notable productions include six Pulitzer Prize winners - Annie Baker's The Flick (2013 Obie Award, 2013 Susan Smith Blackburn Prize), Bruce Norris's Clybourne Park (2012 Tony Award, Best Play), Doug Wright's I Am My Own Wife (2004 Tony Award, Best Play), Wendy Wasserstein's The Heidi Chronicles (1989 Tony Award, Best Play), Alfred Uhry's Driving Miss Daisy and Stephen Sondheim and James Lapine's Sunday in the Park with George - as well as Ms. Baker's Circle Mirror Transformation (three 2010 Obie Awards including Best New American Play); Lisa D'Amour's Detroit (2013 Obie Award, Best New American Play); Samuel D. Hunter's The Whale (2013 Lortel Award, Best Play); Kirsten Greenidge's Milk Like Sugar (2012 Obie Award); Jordan Harrison's Marjorie Prime (2015 Pulitzer finalist); Lucas Hnath's The Christians (2016 Obie Award, 2016 Outer Critics Circle Award, 2015 Kesselring Prize); Robert O'Hara's Bootycandy (two 2015 Obie Awards); Max Posner's The Treasurer, Adam Bock's A Life and A Small Fire; Taylor Mac's Hir; Danai Gurira's Familiar; Anne Washburn's Mr. Burns, a post-electric play; Sarah Ruhl's Stage Kiss and Dead Man's Cell Phone; Gina Gionfriddo's Rapture, Blister, Burn; Dan LeFranc's The Big Meal; Amy Herzog's The Great God Pan and After the Revolution; Bathsheba Doran's Kin; Edward Albee's Me, Myself & I; Melissa James Gibson's This (2010 Susan Smith Blackburn Prize finalist); Doug Wright, Scott Frankel and Michael Korie's Grey Gardens (three 2007 Tony Awards); Craig Lucas's Prayer For My Enemy and Small Tragedy (2004 Obie Award, Best American Play); Adam Rapp's Kindness; Lynn Nottage's Fabulation (2005 Obie Award for Playwriting); Kenneth Lonergan's Lobby Hero; David Greenspan's She Stoops to Comedy (2003 Obie Award); Kirsten Childs's The Bubbly Black Girl Sheds Her Chameleon Skin (2000 Obie Award); Richard Nelson and Shaun Davey's James Joyce's The Dead (2000 Tony Award, Best Book); Stephen Sondheim and John Weidman's Assassins; William Finn's March of the Falsettos and Falsettoland; Christopher Durang's Betty's Summer Vacation and Sister Mary Ignatius Explains It All For You; Richard Nelson's Goodnight Children Everywhere; Lynn Ahrens and Stephen Flaherty's Once on This Island; Jon Robin Baitz's The Substance of Fire; Scott McPherson's Marvin's Room; A.R. Gurney's Later Life; Adam Guettel and Tina Landau's Floyd Collins; and Jeanine Tesori and Brian Crawley's Violet.