Chip Deffaa's AN IRVING BERLIN TRAVELOGUE Album Set for Dec. 3rd Release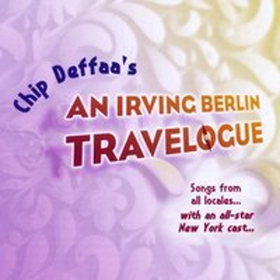 ASCAP Award-winning writer/producer Chip Deffaa's new CD, "An Irving Berlin Travelogue," will be released December 3rd. The album is an outgrowth of shows celebrating Berlin that Deffaa has been presenting at his base in New York, the 13th Street Theater. It features Broadway performers singing rare--and in some cases, never-before-recorded--songs by Berlin. The album includes such Broadway pros as Jon Peterson ("Cabaret"), Charlie Franklin ("Book of Mormon"), Giuseppe Bausilio ("Hello, Dolly!"), Seth Sikes ("The Band's Visit"), Jackson Demott Hill ("Finding Neverland"), Alex Dreier ("Billy Elliot"), Matthew Nardozzi ("Dracula"), Analise Scarpaci ("Matilda"), and more. Richard Danley is the music director. The album, which will officially be available from Amazon, CDBaby, iTunes, Footlight Records, etc. on December 3rd, may be pre-ordered here now: https://store.cdbaby.com/cd/chipdeffaasanirvingberli
This album--the 25th album Deffaa has produced--gathers for the first time songs Berlin wrote about different lands: China, France, Germany, Arabia, Spain, and so on. Considered the foremost authority on Berlin's music, Deffaa spent years researching the songs he chose for the collection. "Some are extremely rare. Berlin was not only one of the most gifted songwriters of all time, he was also one of the most prolific, " Deffaa notes. "Berlin would add songs to the score of a hit Broadway show, months after it opened, striving to make an already-great show even better. Some of these songs--which were unknown to the opening-night critics and were never recorded--are excellent, and I'm delighted to give them their first recordings today.
"Seth Sikes--who's the hottest singer in the nightclubs these days--has the honor of making the first-ever recording of 'I've Got to Get Back to Texas.' It's a natural fit.. Seth is not just a superb song stylist, he's actually from Texas. Seth also gets to premiere a first-rate Berlin song called 'Homeward Bound.' Ellis Gage makes the first-ever recording of 'The Land of the Argentine.' Charlie Franklin, from Broadway's 'Bridges of Madison County,' shines on two unknown Berlin songs, 'San Francisco Bound' and 'Home Again'--singing for the first time Berlin's complete original lyrics for the latter. Rob Maitner, who first impressed me in shows like 'Urinetown' and 'Fairy Tales,' has a ball with 'Harem Life.' Michael Townsend Wright, whose work on stage, screen, and television I've enjoyed since he was a regular on the 'Uncle Floyd' TV show 25 years ago, outdoes himself on the first-ever recording of 'Virginia Lou.' It might be the best work he's ever done.
"Jackson Demott Hill and Alex Dreier--who played brothers for years in 'Finding Neverland' on Broadway--still clearly have that brotherly bond, as they romp joyously together through 'Dear Old Broadway.'" Many of the pros on the album have appeared in shows Deffaa has written and directed over the years: Tyler DuBoys, Clark Kinkade, Keith Anderson, Rayna Hirt, Emily Bordonaro, Jonah Barricklo, Rachel Hundert, Michael Kasper. The cast also includes such stalwarts of Deffaa's theatrical family as Alec Deland, Jenn Spottz, Lynelle Johnson Steffan, Mariah Hill, Ryan Muska, Dylan Adams. And Deffaa notes the album also marks the professional recording debuts of several artists-to-watch. "Erich Schuett is just at the beginning of his career, but he belongs in this distinguished company; the promise is there," Deffaa notes. "This is the first album to feature Analia Heredia and Tyqaun White; it certainly won't be the last. And newcomer Jack Corbin's tender, heartfelt rendition of 'Araby' augurs well for his career. I'm proud of all of the artists on this album--the seasoned pros like Jon Peterson, who've been dazzling audiences for decades--and the newcomers like Schuett and Heredia, taking their first turns in the spotlight."
Deffaa's ongoing Irving Berlin project has been developed at New York's venerable 13th Street Theater, with support from the theater's founder, Edith O'Hara, and its current artistic director, Joe Battista. "I'll always feel indebted to the wonderful Edith O'Hara--there's no one else quite like her--for giving me carte blanche to develop any of my projects at her theater," says Deffaa. With her blessings, he mounted his "Irving Berlin Ragtime Revue," which broke box-office records at the 13th Street Theater, and followed it up with other shows celebrating Berlin. Deffaa hopes to return to the theater with "Irving Berlin: In Person" next summer. "An Irving Berlin Travelogue" will get its first radio exposure on David Kenney's "Everything Old is New Again" (WBAI-FM). now celebrating its 40th year on the air.
Steve Garrin is the associate producer of the new album, along with Logan and Lawson Saby. Slau Halatyn is the recording engineer. Frank Avellino is the art director. Don Brown did music preparation. For more info or to order a copy of "An Irving Berlin Travelogue," please visit: https://store.cdbaby.com/cd/chipdeffaasanirvingberli.