TEDxAsburyPark Announces First Dozen Speakers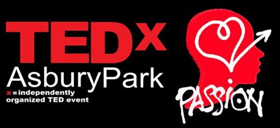 TEDxAsburyPark, one of the largest and highest-rated TEDx conference on the East Coast, today announced the first dozen speakers who will speak at the Saturday, May 19th "Passion" event held at the Paramount Theatre on the Asbury Park Boardwalk. Speakers, who will perform for an audience of 1500, will include a supermodel-turned-feminist advocate, leading dancers and choreographers, explorers, business leaders, an LGBTQ pioneer, a "comic book man," and more.
"Passion drives Asbury Park, beginning with Bruce Springsteen's poetry and culminating in the city's rich design, entertainment, and innovation culture," said Brian Smiga a co-founder of TEDxAsburyPark and Alpha Venture Partners. "Each year our all-day TEDxAsburyPark event sells out because 90% of our passionate audience recommends it to friends. Our 1500 guests will fill their minds and souls with passion in science, ideas, dance, music, design - and get to know the other idea-passionate guests in our crowd."
Passion drives ideas, people, and communities to action. Passion makes leaders. Passion combined with knowledge creates new ideas worth spreading. Passion can lead both to creation and destruction, to inspiration, suffering, grit, compassion, and extraordinary service. In its sixth year, TEDxAsburyPark will feature a full day of entertainment including TED-style talks by myriad speakers as well as art, musical acts, comedy, dance, and theatrical performances all tied to this year's theme of "Passion."
TEDxAsburyPark is an annual volunteer-organized event dedicated to education, community, innovation, and "ideas worth spreading." Each year, a different theme culminates in a stimulating day of nonfiction theater. Well over 100 businesses, nonprofit leaders, professionals, students from local universities, and sponsors plan, manage, and fund the all-day event.
Tickets are now on sale at TEDxAsburyPark.com
Information on the first dozen speakers can be found below. More speakers will be announced as we approach the event in May.
Michael Blake (New York, NY) Michael Blake has his MFA in dance and has won the 2010 Bessie Award. He currently teaches Contemporary Dance in NYC and is a teaching artist in the BA and Graduate Dance programs at Hunter College. Dance artists over 50 years of age have withstood the test of time by defying what some see as the limitations of age. For these extraordinary artists, age is not an obstacle when it comes to achieving sustained artistic discovery and excellence. They reveal the relevance and passion of longevity and perseverance in every step they take. We must create a different relationship to our aging, not only for those of us who are older but for all dancers who will eventually age and face the same issues with passion, joy, and artistic fulfillment. Michael shares that it is a blessing to continue his dance life for this long. He turns 60 years old this year, has had both hips replaced, and still lives for the chance to dance every day. "Dance is life-affirming, and I am so lucky to have found it, or did dance find me?" Michael will speak and also choreograph and perform with other dancers over age 50 at TEDxAsburyPark.
Lauren Cox (New York, NY) Lauren Cox is a performer, teacher, choreographer, and poet originally from the San Francisco Bay Area, now residing in Harlem. She has studied dance extensively including Jazz, Contemporary, Modern, Ballet, Haitian Cultural Dances, Afro-Brazilian, Salsa, Street Styles, Improvisation, and more. She has performed with Gwen Stefani, Alicia Keys, Pharrell, and has done national commercials and worked off-Broadway, has a degree in sociology, and speaks 3 languages. She currently teaches for Joffrey Ballet School in New York City. Using spoken word and dance, Lauren will present "The Edelweiss and When Passions Are Stirred," the story of her grandparents, Elsa & Eugene, and how their passion for one another challenged the status quo and shaped the life of her mother and herself. An Edelweiss plant has a short but bold life; it is rare and grows in the harshest environment. Thriving at altitudes of 9,000 ft., it symbolizes sacrifice and opposition, passion to bloom, and strength to survive. Lauren has taught and performed in India, Hong Kong, Bolivia, Brazil, Colombia, Canada, across the US, and now on the TEDxAsburyPark stage.
Dr. Nicholas Despotidis (Morganville, NJ) Nick is a pioneer in the use of corneal reshaping of contact lenses which are used to slow down or prevent the deterioration of eyesight in children and young adults. He is the lead author of the book My Children Are Nearsighted Too and the newly released A Parent's Guide to Raising Children with Healthy Vision. He will discuss how his passion for healthy eyesight lead him to discover that the current myopia epidemic is much more than a vision problem. It's also a physical manifestation of a broader problem: Social Myopia. His shares his passion by combining expertise with foreboding to enlighten us about the cause and prevention of both myopias. Dr. Despotidis is an optometrist, speaker, author and leader in the field of vision care.
Peter Gray (Norfolk, MA) Gray is a research professor at Boston College whose work focuses on the role of play in human evolution and development. He is author of the book Free to Learn and authors a regular blog for Psychology Today.
Karen Kendra Holmes (Silver Spring, MD) Karen Kendra Holmes works for the Federal Government as a Safety Officer. She has won many awards as a passionate and highly effective public servant and volunteer in the National and State (MD) Guards, and many national and local community service and first responder organizations. LGBTQ Nation selected Karen as one of the Top 50 Transgender Americans You Need to Know in 2017. Karen will share her passion for helping others transition and to foster acceptance and support from those around them, and how life can be fulfilled by being true to oneself and to others. Karen educates others who are not transgender to foster understanding that she and others live normal lives, and are doing good things in our community, state, and country.
Scott Hopek (Wyckoff, NJ) Born in Pennsylvania, as the son of a plumbing and heating contractor, Scott's dad taught him from an early age to always leave things better than the way he found them. His mindset of "making things better" has led to a successful 21-year career, building teams and generating revenue in the media and entertainment industry, most recently as President, NY Region at iHeartMedia. Over the years, Scott has leveraged his unique ability of being able to balance an analytic mindset with creative thinking to drive positive organizational change. This has earned him the reputation of being a turnaround leader. What happens when your passion is out of control? Scott's talk will 1) expose the underbelly of passion; 2) demonstrate how quickly passion can turn into addiction; and 3) offer practical advice for how to regain control of your passion.
Simon Nynens (Little Silver, NJ) Don't expect a boring presentation. Expect a true story about struggles, real life tests, vulnerability, and yes, some fairy tales. Simon is a Dutch immigrant who is the CEO of Wayside Technology Group in Wall, NJ and is focused on forward thinking and employee-empowered leadership. He is a philosopher and guest lecturer at universities. A graduate of the Harvard Business School, he serves on the board for the New Jersey Technology Council (NJTC) and has received the Ernst & Young Entrepreneur of the Year 2011 Award in the Technology Services.
Paulina Porizkova (New York, NY): Supermodel Paulina Porizkova was first a cover girl as a child refugee in Sweden before she became one in the fashion business in Paris in 1980. Never content to be just a pretty face, she turned to movies and TV, and later to writing. You can read Paulina's NY Times Op Ed piece "America Made Me a Feminist". Paulina has lived in four very different countries: Czechoslovakia, Sweden, France, and the U.S. She will share the commonalities, differences, and perceptions of women and how these four countries have shaped her as a person and as a woman.
Christopher Powell (Gwynedd, PA) Chris says "I've been a "spectator" in my life-interested in many things but never passionate about any one thing. To my mother's great dismay and angst, I had no clear path: I stumbled through life reacting to things as they came to me. Last month - amazingly, I found myself stumbling toward the South Pole. For me, it made me realize that sometimes you find your passion - and sometimes it finds you." Chris Powell is an accomplished tech industry executive, now serving as Chief Marketing Officer of Commvault, a $2.4B publicly traded software company headquartered in NJ. Chris graduated from Penn State University and is an avid (though self-described terrible) athlete - running, biking, and tackling triathlons. Perpetually seeking opportunities that can become great stories, Chris pushed himself to new limits in January 2018 by participating in the South Pole Energy Challenge expedition led by Robert Swan, the first person to walk unassisted to the North and South Poles. Never one to choose the ordinary path, Chris' training included dragging a steel sled through his neighborhood and cryotherapy sessions; he has many new stories to tell.
David Harry Stewart (Los Angeles, CA) David Harry Stewart is a founder of AGEIST, a media company whose purpose is to reinvent how life after 50 is lived, experienced, and understood. For 35 years he has been a highly successful award-winning photographer. His photographs have appeared in GQ, Esquire, Harper's Bazaar, Glamour, Wired, Forbes, Interview, Time and on multiple covers for The New York Times Magazine and New York Magazine. Commercial clients include Vice Media, Nike, Adidas, Google, ZipCar, Coors, AT&T, Coke, Philip Morris, Toyota, Lexus, BMW, Corona and American Eagle. He speaks internationally as an authority on how life after 50 is now lived. The over-50s are a critically important demographic. Their political, social, and economic standing makes them the most powerful generation to have ever lived. Millions of these self-empowered people are living passionate vital forward-looking lives. They are very much not done yet. Strangely, they are often overlooked to the point of being invisible. We are witnessing the first generation with over five decades of life experience who may very well live another 50 years. Leaning on his experience from AGEIST, David will illuminate, using stories and images, the passion and curiosity that typifies this influential and massively overlooked age group.
Sebastian Terry (Los Angeles, CA) Sebastian Terry is an inspirationalist who, after the loss of a friend, created a list of 100 Things that he wanted to do to find purpose. Known worldwide for pursuing an incredible list of 100 Things that he wants to achieve before he dies, Sebastian Terry's story is surprisingly not about a bucket list. It's about something more far-reaching: permission, choice, growth, and connection. "I thought initially that it would take me 100 Things to reach a state of fulfillment, but it's taken me 72 things to realize that 'ticks' are just the beginning. The key to growth and happiness is finding out who you are on a primal level and then being that person, each and every day." Now an author, TV host, and speaker, Sebastian focuses his time on empowering peer-to-peer altruism.
Michael Zapcic (Long Branch, NJ) Michael Zapcic is a podcaster, TV personality, and comic book expert and assistant manager at Jay & Silent Bob's Secret Stash for more than 15 years. Michael's passion for comics has fueled a career filled with amazing stories and uncanny experiences. Michael reveals his "secret origins" as a comic book nerd and pop culture lover. His childhood fascination with classic stories of right and wrong, good vs. evil, all set against a four-color backdrop, has evolved into a life and career of amazing stories and uncanny adventures. His lifelong devotion to the comic book medium allowed Michael to step off an unfulfilling path that was prescribed for him by family and friends and instead, to pursue a life with meaning, purpose and passion. Michael's message is broadcast as a member of AMC's Comic Book Men TV show and each week through the internet via his podcasts "I Sell Comics" and "The Ming and Mike Show."
In the spirit of ideas worth spreading, TEDx is a program of local, self-organized events that bring people together to share a TED-like experience. At a TEDx event, TEDTalks video and live speakers combine to spark deep discussion and connection. These local, self-organized events are branded TEDx, where x = independently organized TED event. The TED Conference provides general guidance for the TEDx program, but individual TEDx events are self-organized.
TED is a nonprofit organization devoted to Ideas Worth Spreading, usually in the form of short, powerful talks (18 minutes or fewer) delivered by today's leading thinkers and doers. Many of these talks are given at TED's annual conference in Vancouver, British Columbia, and made available, free, on TED.com. TED speakers have included Bill Gates, Jane Goodall, Elizabeth Gilbert, Sir Richard Branson, Monica Lewinsky, Philippe Starck, Ngozi Okonjo-Iweala,Sal Khan and Daniel Kahneman.
TED's open and free initiatives for spreading ideas include TED.com, where new TED Talk videos are posted daily; the Open Translation Project, which provides subtitles and interactive transcripts as well as translations from thousands of volunteers worldwide; the educational initiative TED-Ed; the annual million-dollar TED Prize, which funds exceptional individuals with a "wish," or idea, to create change in the world; TEDx, which provides licenses to thousands of individuals and groups who host local, self-organized TED-style events around the world; and the TED Fellows program, which selects innovators from around the globe to amplify the impact of their remarkable projects and activities.
Related Articles View More New Jersey

Stories

Shows
More Hot Stories For You