Review: THE OLD SETTLER at The Summit Playhouse-A Stirring Family Story with Humor and Heart
Review: THE OLD SETTLER at The Summit Playhouse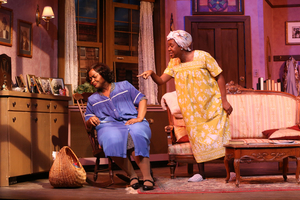 "Just because you're up here in the north, doesn't mean it's any different than the south." by Elizabeth in The Old Settler
Community theatres add vibrant life and culture to a town and its surrounding area. The Summit Playhouse is a shining example of a charming venue that showcases talented individuals. And now, with The Old Settler on stage through March 11, it's a great opportunity to see a top-notch production. The play is written by John Henry Redmond, and meticulously directed by Di Shawn J. Gandy. The Summit Playhouse is the longest running community theatre in New Jersey and one of the oldest continuing operating community theatres in the United States. The Old Settler is the theatre's 331st main stage production.
Set in Harlem during WWII, the story is an affecting comedy that portrays two African American sisters navigating their lives. Elizabeth Borny is a middle aged unmarried woman considered an "old settler" who lives with her contentious, yet loving sister Quilly. Elizabeth decides to rent one of her rooms to a young man, Husband from South Carolina who has come north in search of his girlfriend, Lou Bessie. The situation becomes complicated as Lou Bessie turns out to be very engaged in Harlem's social scene, while Husband and Elizabeth become romantically involved to the consternation of Quilly.
The company for The Old Settler has actors with impressive backgrounds and theatrical experience. They bring John Henry Redmond's stirring, engaging play to full life on the Summit stage. The cast includes Diane Parker as Elizabeth Borny, Derek Simmons as Husband, Karen Stefano as Quilly, and Rachelle Carey as Lou Bessie.
Some of our favorite moments include Elizabeth and Quilly returning home from a funeral; Husband first arriving at the apartment; Quilly asking Husband to bring her home some food from a local restaurant; Lou Bessie enthusiastically describing the social scene in Harlem; Husband asking Elizabeth to go out for a late meal; Quilly yelling at the user of their party line phone; Lou Bessie insisting that she be called Charmaine; Quilly telling Elizabeth about racial discrimination on the train; Husband appearing in a bright red suit; Elizabeth coaxing Quilly to sing with her; and Elizabeth talking to Quilly about their sisterhood and family bonds.
We applaud the Production Team for creating an authentic setting for The Old Settler. The Team includes Producer, Lynn Polan; Assistant Director, Sheleah Harris; Stage Managers, Christine Petruzell & Patty O'Neill; Set Design and Construction, Roy Pancirov; Scenic Artist, Gordon Wiener; Costume Design, Ann Lowe and Ruth Scott; with Lighting Design by Mark Henderson and Ed Whitman.
With spring weather soon unfolding, now's the time to enjoy theatre that is accessible, entertaining, and memorable. We know our readers will enjoy visiting The Summit Playhouse and seeing The Old Settler.
The Old Settler runs for 2 hours and 20 minutes including a 15-minute intermission. The Summit Playhouse is located on 10 New England Avenue, Summit, NJ 07901. For more information and to purchase tickets, visit https://www.thesummitplayhouse.org/ or call (908) 273-2192. You can also contact summitplayhouseinfo@gmail.com.
Photo Credit: Sandra Nissen Photography