NJPAC Announces Arts Education Summer Camp
Learn more about the camp here!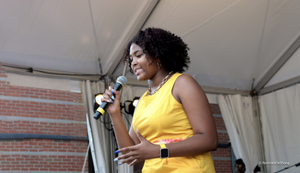 Be a part of NJPAC's legendary Performing Arts Summer Program, part of the Colton Institute for Training and Research in the Arts. This dynamic initiative supports and advances NJPAC's Arts Education programs including the best-in-class hip hop, jazz & poetry and theater classes happening this summer.

Financial aid is available!

No student is turned away for financial needs. 10% sibling program discount. For more information about our enrollment policies visit njpac.org/summer. All programs take place at NJPAC's Center for Arts Education, 24 Rector Street in Newark, NJ, unless otherwise noted.

Registered students can enjoy:
Community Meeting: Daily social check-in with your classmates (included as part of your class time).
In The Mix: A student-driven, collaborative, and multidisciplinary program with a civic engagement focus. It's a safe space for students to discuss and produce art as activism while building their social and emotional skills (free add-on).
Creative Coaching: One-on-one mentorship with a professional NJPAC teaching artist (free add-on).
Parents and guardians are invited to participate in our parent committee:
NJPAC Arts Education offers families an opportunity to strategize with a collective of parents, guardians and caregivers and assist in the development of activities that nurture their child's development, showcase teaching artists and build community at the Center for Arts Education.

Program Descriptions, Dates and Cost
Dates: July 10-August 11
Drop Off Time: 8:30AM
Class Time: 9:00AM-4PM
Ages: 9-18
Tuition: $1,250

Musical Theater: Learn the fundamentals of musical theater, including vocal technique and choreography, then amaze your family and friends with a live performance on the Victoria Theater Lizzie & Jonathan Tisch Stage.

Acting: Open to all levels and abilities. Bring your actors' tools of body, voice and imagination and hone them while rehearsing for a showcase you'll perform live on the Victoria Theater Lizzie & Jonathan Tisch Stage.

Hip Hop: Celebrate the 50th anniversary of hip hop by remixing the old school and incorporating the new. Students will also learn hip hop history, culture, production, emceeing, song creation and much more!

City Verses: Jazz & Poetry: Calling all teen musicians, singers, poets and writers! You have a story to tell - and we want to hear it. Ignite your creativity by exploring, experimenting and expressing yourself in a two-week program led by professional musicians and poets. More details coming soon. Email artseducation@njpac.org for more information.

Dates: July 24-August 4
Drop Off Time: 8:30AM
Class Time: 9:00AM-4PM
Ages: 13-18
Tuition: $500 (Wait List available, registration is not open yet.