Interview: Lisa G. Andreacchi as Eleanor Roosevelt in MADDIE & ELEANOR at The Growing Stage 2/3 to 2/12
Interview: Lisa G. Andreacchi as Eleanor Roosevelt in MADDIE & ELEANOR at The Growing Stage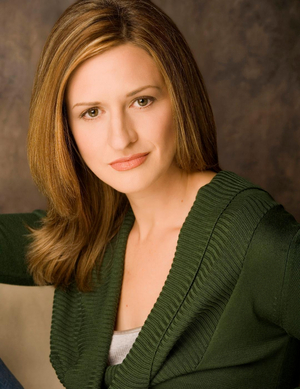 The Growing Stage (TGS), The Children's Theatre of New Jersey, located in the historic Palace Theatre in Netcong is proud to present the world premiere production of MADDIE & ELEANOR by playwright Martha King De Silva, directed by TGS's Executive Director, Stephen L. Fredericks. The show will be on stage from February 3 to February 12.

MADDIE & ELEANOR, the 2022 Laurie Award Winner from The Growing Stage's New Play-Reading Festival, introduces audiences to Maddie Leonard, who returns home after her first day in fourth grade, fed up with school-yard bullies and flaky ex-best friends. As she turns to her beloved iPhone for solace, she gets an unexpected surprise with a magical visit by Eleanor Roosevelt. As Maddie and Eleanor navigate their budding relationship through old and modern technologies, they inspire each other, laugh with one another, and discover a universal truth: friendship transcends everything.
MADDIE & ELEANOR features the talents of 7 professional performers that include Lisa G. Andreacchi as Eleanor Roosevelt. We had the pleasure of interviewing Lisa about her career and the upcoming show at The Growing Stage.
Lisa is absolutely delighted to be back at the Growing Stage for Maddie & Eleanor. Past TGS credits include Elf, Miss. Nelson is Missing, Narnia, Frosty, and many others. Other regional theater credits include: Company, Mame, Gold Dust, The Mikado, Steel Magnolias, and Cabaret. Lisa holds a BA in Voice Performance, and a MA in Teaching, and also sings classical music. Classical music credits include performances with the Colorado and New Jersey Symphony Orchestras, Colorado's Central City Opera, London's Richard Alston Dance Company.
We are fascinated that you have such impressive credits in classical music. When did you first discover your passion for it?
Thank you for that question! I'd say it probably goes back to freshman year of high school when I was first introduced to classical choral music. I was definitely enthralled with the full sound of the more mature high school singing voices and the more complex harmonies. I was so grateful to my choir teacher who taught us so much about music making as a group, and who gave us agency over our own creative process in music making. That was a real gift and it inspired me to go on to study music in college.
Can you tell us a little about your education and its effects on your career?
Sure! I have a bachelor's degree in vocal performance and a master's degree in teaching (music). Both gave me many opportunities to perform, mostly in classical choirs, solo classical music and musical theater. I'd say that my undergraduate degree gave me a strong belief in myself, that I could trust my instincts as a performer, which every artist needs. During my master's degree, I learned more about professionalism and performance skills. I learned a great deal about how to prepare for a performance, how to practice on my own effectively, and how to create a process for myself that I could return to over and over again. Both of these aspects have helped me to have fun while I'm out there working!
Who are some of the people who have influenced your theatrical interests?
That's a tough question because there are so many! My high school theater teacher instilled in me a deep feeling of magic about the theater that has never left me. My college theater director, Dr. Marilyn "Cookie" Hetzel, was an innovative director that had a huge influence on me as well.
I would say overall the strongest influencers, including my high school and college teachers, have all been theater teachers and/or directors who worked with casts in a way that made teamwork and the feeling of ensemble paramount, and who were encouraging of everyone's creative impulses. I would be remiss if I didn't mention Stephen Sondheim's body of work which has been a huge influence in my life.
The Growing Stage has been a driving force behind professional children's theatre for many years. Why do you think they have been so successful?
Yes, they sure are! I'm sure there are many different elements involved in their success, but I would say that The Growing Stage is a foundationally strong organization with excellent leadership, a clear and meaningful mission, and many wonderful staff, artists and volunteers. I have worked with them in for many years as an actor, and several of those as a teacher too, and I've seen how they truly work to serve the families in their community, and how they do so in a variety of innovative and collaborative ways. They have a LOT of heart at the Growing Stage, and I believe children and families can feel that and want to be a part of it too. And, I love being a part of it as an actor!
Tell us about your role as Eleanor Roosevelt in Maddie & Eleanor.
In Maddie & Eleanor, I get to play a version of Eleanor Roosevelt that takes place during the late 30's and early 40's, years during which she was the First Lady and giving her regular radio talks from The White House. We see her struggle with social justice issues, a war, and a strained relationship with her eldest daughter, all through the lens of a developing friendship with a modern young girl from the present day. Although the play is not a biography of the former First Lady, it does include very real aspects of her life and evokes what seems to be an accurate picture of a who she was as a woman far ahead of her times. In her dealings with Maddie, Eleanor shows us the great impact that an independent minded compassionate and progressive woman can have on the younger generation of today.
We'd love to know more about the team for Maddie & Eleanor at The Growing Stage.
Our director, Steve Fredericks, has put together a terrific team, cast and crew, of veteran TGS-ers, and it's quite a thrill for me to find myself among this talented and fantastic group of people! This play, Maddie & Eleanor, was the winner of the Growing Stage's 2022 New Play-Reading Festival, and so Steve and the cast will have a unique opportunity to work closely with the playwright, Martha King De Silva, to get it from paper to full scale production and stage its world premiere. Steve has such a solid vision for the show and it's a great experience to work with him again! I'm looking forward to seeing how Lori Lawrence costumes this show, as she always creates such a beautiful palate for the stage. I'm also excited to be working with the epitome of professionalism, Becky Nitka, once again as our Stage Manager. If you want to know more about who will be on stage in Maddie & Eleanor, you can find some cast interviews on The Growing Stage website: www.growingstage.com/news/
Why do you think this show is an important and entertaining one for children and families?
I think there are so many things about Maddie & Eleanor that are both important and entertaining for all ages in the audience! One of the most delightful aspects of Martha King De Silva's play, is that she has created a lovely story of one of the most progressive thinking women of the 21st century befriending a young modern girl. Because of that scenario, the play seems to shine a light on how our belief systems as a society have progressed over the last 70+ years. Yet, the theme of the play is about the nature of friendship and the deep and powerful impact the love of a friend can have in our lives, and how that remains timeless.
I think young audience members will relate to Maddie and some of the challenges related to being nine years old, such as friendships, school and technology, and how she works through her problems and finds solutions. I think adults might enjoy watching some of the historical aspects of Eleanor Roosevelts life as well as relating to some of the challenges of parenting that occur in both timelines, the 1940s as well as in the current day. It's possible too that audience members may become interested in finding out more about Eleanor Roosevelt or about the United States in the 1940s; I know I certainly have. Lastly, the beautifully developed theme of friendship in this play will no doubt resonate with every audience member.
Can you share with our readers any of your future plans?
Sure thing! Currently, I'm focused on three ongoing endeavors: continuing my love of acting - hopefully at TGS and other local venues, continuing to do classical solo and choral work, and continuing to perform with my husband in a 70's rock band. Working in all three of these different genres provides me the opportunity to connect with all different kinds of audiences in all different kinds of settings, which brings me a lot of joy! Given what we've all been through with the pandemic over the past few years, it's something I cherish more now than ever.
The Growing Stage is located at 7 Ledgewood Avenue, Netcong, NJ 07857. Performances of MADDIE & ELEANOR are on Saturdays at 4:00PM, Sundays at 2:00PM; and a special Opening Night Performance, February 3rd at 7:30PM. Ticket prices are $28 for adults, $22 for seniors and $18 for children. To purchase tickets, please visit www.growingstage.com or call (973) 347-4946. Group rates and season packages are available.
Photo Credit: Robert Kim