DJ Felix Hernandez to Open NJPAC's 2017 Sounds of the City Series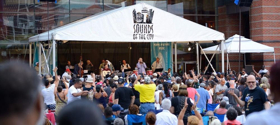 It's been hailed by The New York Times as "Newark's town social" and it's the hottest music scene in New Jersey's largest city on Thursday nights in July and August.
In celebration of its 20th anniversary season, New Jersey Performing Arts Center (NJPAC), in collaboration with the Horizon Foundation for New Jersey and M&T Bank, announces the return of the Horizon Foundation Sounds of the City free outdoor concert series.
NJPAC is pleased to announce the addition of M&T Bank as the presenting sponsor this year which, along with ongoing support from Horizon Foundation and other sponsors, helps underwrite the program costs. M&T becomes the newest member of NJPAC's Co-Chair Circle, representing one of the organization's largest sponsors, and will also collaborate with NJPAC Arts Education in the fall to bring additional music education opportunities to K-12 public school students throughout the state.
Attended by thousands of music and dance fans who enjoy great entertainment under the stars, Horizon Foundation Sounds of the City is presented at no cost to the community in NJPAC's Chambers Plaza.
An exciting lineup of diverse musical artists is in place for the anniversary season, beginning on Thursday, July 6 at 5 p.m. with the traditional opener, DJ Felix Hernandez and his "Rhythm Revue Dance Party."
The party continues every Thursday through Aug. 24, with a stellar array of established artists and rising stars, performing music ranging from soul and hip-hop to the grooves of Latin and jazz. This year's headliners include Jon B. (July 13); Kurtis Blow and Universal Hip-Hop Museum (July 20); Septeto Santiaguero (July 27); Tower of Power (Aug. 3); Louis Prima Jr. & The Witnesses (Aug. 10); Black Sheep / Das EFX (Aug. 17), and Talib Kweli (Aug. 24).
"There is something magical about how music brings the community together," said Jonathan R. Pearson, Executive Director of The Horizon Foundation. "Horizon is celebrating our 85th anniversary this year and we remain fully committed to the great city of Newark. More than 3000 of our employees come to Newark every day to work. They have become invested in the city donating thousands of volunteer hours for community projects in Newark. Horizon has contributed millions of dollars to non-profit organizations for health and cultural programs throughout Newark and Essex County."
"We have a long track record of support events that contribute to the quality of life in the communities we serve," said M&T Bank Regional President Tom Comiskey. "Sounds of the City has become a familiar sign of summer in Newark and we look forward to working with NJPAC to present this free concert series and other programs that benefit the entire community."
The eight-performance series also offers food and beverages from popular food trucks on the plaza, as well as an open-air bar. NJPAC's acclaimed restaurant, NICO Kitchen + Bar, will be open during performances.
In the event of inclement weather, scheduling advisories may be found at njpac.org. For more information, visit www.njpac.org/buy-tickets/horizon-foundation-sounds-of-the-city.
---
Horizon Foundation Sounds of the City 2017:
Thursday, July 6
Felix Hernandez's "Rhythm Revue Dance Party"
The popular host of "Rhythm Revue," now in its 31st year on the New York area airwaves, spins the dance hits.
Thursday, July 13
Jon B.
This Grammy-nominated singer and songwriter ("Someone to Love") specializes in a distinctive brand of soul and R&B. Thursday, July 20
Kurtis Blow
Hip-hop pioneer Kurtis Blow arrives with his group, dedicated to inspiring audiences through the power of hip-hop. Thursday, July 27
Septeto Santiaguero
Opener: 3D Rhythm of Life
The dance floor is sure to heat up with the arrival of one of Cuba's most essential bands. Thursday, Aug. 3
Tower of Power
Sponsored by Institute of Jazz Studies at Rutgers Newark
For nearly 50 years, this R&B band, known for its hearty horn section, has specialized in a groove-based brand of urban soul. Thursday, Aug. 10
Louis Prima Jr. & The Witnesses
Sponsored by the Gia Maione Foundation
Backed by a swinging eight-piece band, singer
Louis Prima
Jr. continues the boisterous jazz tradition of his famous father. Thursday, Aug. 17
Black Sheep / Das EFX
Opener: DJ Wallah
Legacy Hip Hop Dance performance
One night with two of the hottest duos from the 90's hip-hop scene. Thursday, Aug. 24
Talib Kweli (as DJ set)
DJ Spintelect
Legacy Hip Hop Dance performance
This acclaimed rapper's outings as a solo artist include collaborations with
Kanye West
, Just Blaze and
Pharrell Williams
.
---
The Horizon Foundation for New Jersey is committed to working alongside those who can help us improve our neighbors' health, inform their health decisions and inspire them to lead healthier, more fulfilling lives. The Foundation's funding pillars are Caring, Connecting and Creating. Horizon Blue Cross Blue Shield of New Jersey is the sole member of The Horizon Foundation for New Jersey, both of which are independent licensees of the Blue Cross and Blue Shield Association. For more information please visit Community.HorizonBlue.com.
New Jersey Performing Arts Center (NJPAC), located in downtown Newark, N.J., is America's most diverse performing arts center, and the artistic, cultural, educational and civic center of New Jersey - where Great Performances and events enhance and transform lives every day. NJPAC brings diverse communities together, providing access to all and showcasing the state's and the world's best artists while acting as a leading catalyst in the revitalization of its home city. Through its extensive Arts Education programs, NJPAC is shaping the next generation of artists and arts enthusiasts. NJPAC has attracted nearly 10 million visitors (including over 1.5 million children) since opening its doors in 1997, and nurtures meaningful and lasting relationships with each of its constituents.
Related Articles View More New Jersey

Stories

Shows
More Hot Stories For You