BWW Review: GHOST THE MUSICAL is Charismatic at Hamilton Stage in Rahway
Editor's Note: We wish to thank the BWW writers who contributed to this review.
Ghost The Musical is being presented at the Hamilton Stage of the Union County Performing Arts Center (UCPAC) in Rahway through Sunday, March 10. It is a lively and touching adaptation of the popular 1990 blockbuster movie by the same name that starred Patrick Swayze and Demi Moore. The production features a book and lyrics by Bruce Joel Rubin with music and lyrics by Dave Stewart and Glen Ballard. Romance, intrigue, inspiration, laughs, and more make for a superlative theatrical experience.
GHOST The Musical is a romantic fantasy. Sam and Molly, a happy, longtime couple live together in Brooklyn. But when they are mugged in their neighborhood at gunpoint, Sam loses his life and becomes a ghost, trapped between this world and the next. He soon learns that his beloved Molly is in danger and with the assistance of a psychic, Sam attempts to communicate with Molly in hopes of protecting her. This is a fascinating tale of a love that transcends life and death.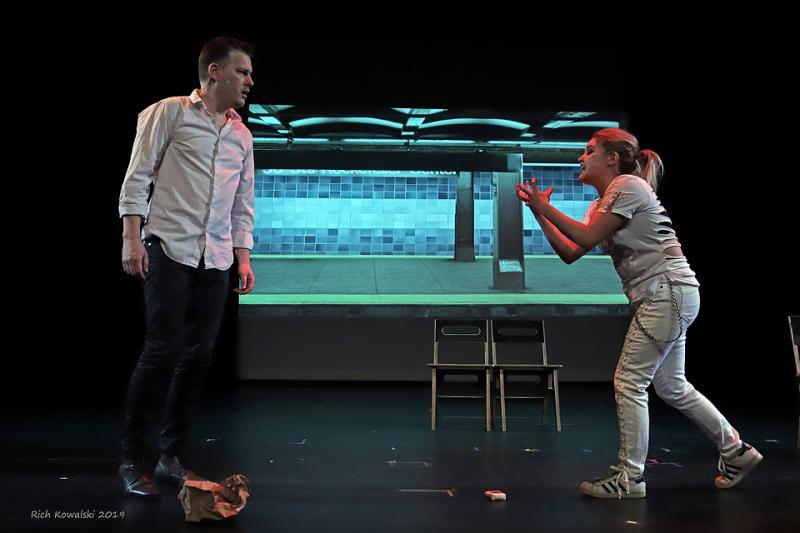 UCPAC has assembled a multitalented cast that makes Ghost, The Musical shine bright. It includes Kelly Baron as Molly; Craig M. Tiede as Sam; Mimi B. Francis as Oda Mae; Jason Cesare as Carl; Taylor McQueen as Clara; James Fasulo as Willie Lopez; Marcus McPherson as Orlando/Doctor/Ensemble; Chandy Bennett as Subway Ghost/Ensemble; Richard J. Colonna as Hospital Ghost/Ensemble; and Daisha Davis as Louise/Ensemble. The Ensemble also includes Stacy Smith-Valez, Serena Marie Williams, Jason Binnix, Brendan Joel Bartlett, Krista Megan Gonzalez, and Stephanie Heim.
The show features a great selection of songs that include "Here Right Now" by Molly, Sam and Carl; "Ball of Wax" by Hospital Ghost and Ensemble; "With You" by Molly; "Focus" by Subway Ghost; "I'm Outta Here" by Oda Mae and Ensemble; and the Righteous Brothers' classic, "Unchained Melody" by Sam and Molly. The score evokes the dynamism of its New York City setting song after song. The Pit Orchestra musicians are Alex Golden, Rachel Cohen, Mariana King, Lydia Paulos, Ethan Hack Chabot, David Mayers, Zachary Rosalinsky, Steven Holzer and Kyle Breen.
The Production Team has done an excellent job of bringing Ghost The Musical to the Rahway stage. The Team is comprised of Director, Brian Remo; Music Director, Alex Golden; Choreographer, Lea Sargiotto; Associate Producer, Jessica Foerst; Dance Captains, Justin Binnix and Krista Megan Gonzalez; Costumes, Sue Hawley; Scenic Design, Brian Remo; Set Construction, Russ Ortiz; Lighting Design, Heather McLeod; Sound Design, Alex Gilson; and Props, Stacey Smith Valez.
We applaud UCPAC for making Ghost The Musical available to area audiences. Fans of the film and newcomers alike will be delighted by this charismatic show.
Ghost The Musical is being performed at Hamilton Stage, 360 Hamilton Street in Rahway through March 10th. Shows are scheduled for Friday at 8:00, Saturday at 8:00 and Sunday at 2:00. There is plenty of free parking adjacent to the theatre and Rahway is convenient stop for NJ Transit trains. For information on all shows at UCPAC, please visit http://www.ucpac.org/events or call 732.499.8226.
Photo Credit: Rich Kowalski

Related Articles View More New Jersey

Stories

Shows
Marina P. Kennedy writes articles and reviews for Broadwayworld.com on productions in New York City and New Jersey. She is the Editor in Chief of (read more...)