BWW Interview: NJ Actress Brigid Harrington Talks Career and Exciting Next Steps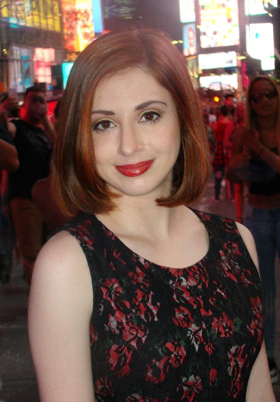 Broadwayworld.com caught up with New Jersey's own, Brigid Harrington, the 18-year old Broadway actress, singer and dancer. She will soon be starting her Freshman year studies at Notre Dame University in South Bend, Indiana where she will double major in Film/TV/Theatre and Political Science, with a minor in Voice. We had the opportunity to learn about her career and some of her plans for the future.
Brigid has appeared on Broadway: Mary Poppins (Jane Banks), The 23rd Annual Gypsy of the Year (Mary Poppins, 1st runner up for Best Stage Presentation). Regional: Irving Berlin's White Christmas (Susan Waverly, Walnut Street Theatre), Ah, Wilderness! (Muriel McComber, East Lynne Theater Company) TV: The Disney Channel, voice of "Koko" in Chuggington. FX's Louie, Discovery ID's Momsters. Other work includes: featured voice over/singer on several Nickelodeon shows, many National TV and radio commercials, the feature films Benji The Dove (Julie), and Lullaby (Sarah), and the web series Redheads Anonymous. Brigid was the lead (Molly) in the initial workshop/reading of "Middle School: a Story of Survival" directed by Lonny Price. Brigid originated the role of "Charlotte" in the new musical Once 'Round The Circle by Shanan Estreicher. Favorite live performances: Michael Mitnick Concert at Joe's Pub, Broadway Sessions at the Laurie Beechman Theatre, and America's Got Talent Season 5 with her sister Shannon at the Hammerstein Ballroom. Brigid has also been working on several developmental projects.
When did you know you were destined for a career in performing arts?
When I was about 4 years old, I participated in a community arts program in my home town of Barnegat, NJ and performed on stage for the first time. That was all it took. Patty Clark Brescia still runs this program and she got me started. When I got older, I volunteered to help her in that same program and continued to do it throughout my professional career. It helped give me the passion to not only continue in the arts but to start my own Community Arts Outreach Program.
Who do you credit with inspiring your career?
I have been lucky to work with so many talented people from when I was very young right up to today. Each one of them has inspired me in some way. That's the great thing about the Broadway community-everyone is so giving and once you are part of it, you are part of it forever. I can't name just one, two, or ten of these people because so many have helped me on every step of my journey and they continue to inspire me every day.
What have been some challenges of juggling your career as an actress and your schooling?
I have found that challenging myself is the biggest challenge of all. I went to a performing arts school for my first year of high school and I just didn't find it challenging-both performance-wise and, most importantly, academically. I transferred to my hometown high school and was able to take more advanced classes, and was really supported by my principal and guidance counselor. I was able to push myself academically and graduate 5th in my class, while all the time working professionally. I credit taking the harder route and transferring my sophomore year with opening the doors to getting into a great university.
Why did you select Notre Dame University as your college?
I did a lot of research starting in my sophomore year of high school. I talked to just about everyone I knew on Broadway and got their advice. I looked at the pros and cons of so many great schools, but ultimately I found one that was perfect for me -and that was The University of Notre Dame. I knew I was a perfect fit for Notre Dame, but I didn't know if they knew it. I applied early decision along with a couple other schools and when Notre Dame accepted me early, my decision was made. I didn't even apply or audition for any other school after that. I wanted a university where arts and academics are valued, and that has an overall level of excellence in everything they do. I am so happy to have found a home at Notre Dame.
Tell us a little about what you expect from your studies and your time in South Bend.
I'm really excited about receiving training in the FTT program (Film/Television/Theatre). I want to learn and experience everything. I really want to explore every aspect of the art of acting and take risks that I have not been able to take thus far. I want to have the opportunity to perform and grow as an actor. I also look forward to vocal training. The professors and the facilities are world class and I can't wait to get started. I'm equally excited about my other major, Political Science. As an actor, I have always been involved in issues that affect us all and have volunteered to serve the community. I really want to be in the Washington DC program and work and learn in DC for a semester. When I graduate I want to be able to not only continue my professional career as an actor, but I also want to make a positive impact off the stage in the world of politics.
What are some of your favorite things to do in your free time?
I don't have a lot of free time! But, anytime I can read, listen to music, watch a movie, eat or sleep... is a good time. I love the time I spend with my family-especially my younger sister Shannon. She is a professional actor also, and anytime we get to do something together it's always special.
What advice can you give other young people aspiring to be a part of the profession?
Do your own thing and don't stop.
Anything else, absolutely anything you want BWW NJ readers to know.
I just want everyone to know how thankful I am. Answering these questions and looking back makes it clear to me that so many people help you throughout your life. You have to work hard and be the best you can be, but you can't do it alone.
You can follow
Brigid Harrington
by visiting
http://brigidharrington.com/
and on social media, Facebook and Twitter.
Photo Credit: Courtesy of Brigid Harrington