Interview: Andrea Morales and BURIED CHILD at The Shakespeare Theatre of NJ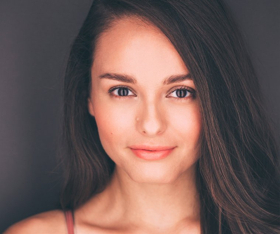 Buried Child, written by Sam Shepard and directed by Paul Mullins will be performed at The Shakespeare Theatre of New Jersey from September 19 through October 7. The Pulitzer Prize-winning drama marks the first time that the Theatre will present a Sam Shepard play. It is a stunning allegory about America, a darkly funny and disturbing depiction of the American dream gone wrong. This modern classic comes to life on the Madison stage.
Broadwayworld.com New Jersey had the pleasure of interviewing Andrea Morales who plays Shelly in Buried Child.
Morales is in her first season with The Shakespeare Theatre. Recently she was at the Eugene O'Neill Theatre Center in #nowall. Past theatre favorites include Pinkolandia at Two River Theater and Macbeth with the Heart of America Shakespeare Festival. Developmentally she's worked on such on plays such as Rebels 'Til Death by Gina Femina at Playwrights Horizons, Stupid Kid by Sharr White at The New Group, Las Hermanas Padilla by Tony Meneses at The Signature Theatre and the living'life of the daughter mira by Matthew Paul Olmos at The Lark. Recent TV/film credits include Bull, The Blacklist and Hearts Beat Loud. She holds an MFA from the University of Missouri - Kansas City.
Were you interested in theatre as a child? If so, tell us a little about your early experiences.
I was involved in the theatre as a young kid. I had lots of energy and my mom was always looking for things that would keep me entertained. I happened upon a community theatre production of A Midsummer Night's Dream and got hooked. However, I kind of fell away from theatre after that until college when I really picked it up again and eventually changed my major.
We'd love to know about your performing arts education and the MFA program at University of Missouri in Kansas City.
UMKC was one of the best decisions I've ever made. The three year program enabled me to grow as a person and artist. The small class size (there were eight of us and then we ended up as a class of six) enabled me to get lots of attention from all the professors. We were given ample opportunity to work on shows in Kansas City theaters, outside of the school. I will be forever grateful for my training.
What are some of the challenges of balancing a film and stage career?
I would say that the longer I work the more I realize that both stage and film are all one. I'm thankful for the work whether it's a gust star, film or a play. Whichever comes brings something new and exciting for me to work on and experience. All I'm searching for in my career is finding truth through my character's perspective. Whenever I get to do that, I'm living my best life.
How has your experience been at The Shakespeare Theatre of New Jersey?
I feel so lucky to have found such a wonderful company. It really feels like an artistic oasis. The rehearsal space at 3 Vreeland is near beautiful woods. I'm lucky to be here with such talented people.
Tell us a little about your role as Shelly in Buried Child.
Shelly is a strong woman caught in the crosshairs of a deep family secret. She knows that there is something wrong and stops at nothing to figure out what has happened to this family. She's strong enough to stay and she is also strong enough to leave. I'm really lucky that I get to play her.
Why do you think Buried Child will appeal to metro area audiences?
Sam Shepard created an instant classic in this show. It's dark and funny. It's shocking and odd. It's unapologetic. You want to go on this adventure with this family. It won a Pulitzer. There are so many reasons to come see this play.

Anything else, absolutely anything you want our BWW readers to know.
Sam Shepard passed away last year. This play was published in 1977 and yet it feels current. I'm so happy that The Shakespeare Theatre of New Jersey is honoring his work by producing his play. He was a force of nature and he wrote that force down on paper. I'm thrilled to be able to be a part of this exciting piece of theatre.
Can you share some of your plans for the future?
I'm excited to be getting back out on the audition train. I have a busy season coming up and hope to book some fun TV work. I can't wait for more opportunities to come my way!
To learn more about Andrea Morales, please visit: http://www.andreamorales.us/.
Follow Andrea on Instagram @ajmorale
Tickets for Buried Child are now on sale. The F.M. Kirby Shakespeare Theatre is located at 36 Madison Avenue, Madison, NJ 07940. For more information, visit their Box Office, call 973.408.5600 or go to their web site at https://www.shakespearenj.org/.
Photo Credit: Courtesy of Andrea Morales
| | |
| --- | --- |
| Vote Now for the 2022 BroadwayWorld New Jersey Awards | |
| voting ends in | |