Click Here for More Articles on STUDENT CENTER - HIGH SCHOOL EDITION
Apply Now For Paper Mill's 2019 Rising Star Awards, Statewide High School Musical Competition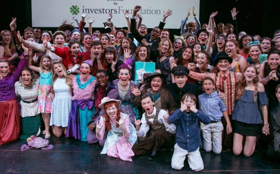 As one of the nation's leading theaters, Paper Mill Playhouse has a well-earned reputation for launching both performers and shows for the Great White Way. The theater was the recipient of the Regional Theatre Tony Award. Since their inception in 1996, the Paper Mill Playhouse Rising Star Awards for Excellence in High School Musical Theatre presented by the Investors Foundation have ignited the careers of many notable performers, all of whom attended high school in New Jersey.
Among the early nominees and winners are Academy Award winner Anne Hathaway (Les Misérables), Tony Award winners Laura Benanti (Gypsy) and Nikki M. James (The Book of Mormon), Tony nominee Rob McClure (Chaplin), Shanice Williams, star of NBC's The Wiz Live! and Olivier Award nominee Jared Gertner (The Book of Mormon).
Any New Jersey school that produces a legally-licensed musical between January 17 and April 14, 2019, is eligible to participate. The application for schools to participate is now available online at http://www.papermill.org/education/rising-star-awards/award-application.html. Applications are accepted on a first-come, first-served basis and only the first 100 schools to apply will be able to participate in the program. The deadline for submissions is Wednesday, January 9, 2019 at 5PM.
The Paper Mill Playhouse Rising Star Awards Presented by the Investors Foundation are modeled after the Tony Awards, and Paper Mill Playhouse's program serves the entire state of New Jersey, with 100 entered productions from public, private and parochial high schools. Paper Mill Playhouse conceived and created the awards in 1996 to give schools the opportunity to showcase their musical arts programs on a statewide level. The musicals are adjudicated by Paper Mill Playhouse throughout the spring by a group of 70 evaluators, with each school receiving four independent evaluations. Schools nominated for Outstanding Overall Musical and Leading Actor/Actress nominees perform at the event, and award recipients are presented with an engraved crystal award from Tiffany & Co. The 2019 Paper Mill Playhouse Rising Star Awards Presented by the Investors Foundation ceremony will take place at Paper Mill Playhouse on Tuesday, June 4, at 7:30pm, featuring presenters from Broadway and beyond. The awards ceremony is broadcast live on television and online through Paper Mill Playhouse's video partners, Hometowne Television (HTTV).
Paper Mill Playhouse also awards $5,000 in scholarships at the Paper Mill Playhouse Rising Star Awards Presented by the Investors Foundation. Five $1,000 cash scholarships are given to outstanding individual students who plan to continue studying theater performance or technical theater in college. Beginning in 2019, students seeking to become arts educators can apply for the Mickey McNany Arts Education Scholarship, named for the late founding director of the Paper Mill Playhouse Theatre School. Paper Mill Playhouse is pleased to award a prize of $500 to a school receiving the 2019 Educational Impact Award, which acknowledges a school that successfully connects the musical to the district's curriculum, using the production as a teaching tool for the greater student body and local community. Through the Rising Star "Theater for Everyone" Inclusion and Access Award and a partnership with the New Jersey Theatre Alliance and the New Jersey State Council on the Arts, Paper Mill Playhouse will present a cash award of $1,000 to a school to recognize excellence in the promotion and practice of creative inclusion of students and adults with disabilities as performers, designers, musicians and production staff. Additionally, this award seeks to recognize and reward a school that takes steps to ensure their performances are accessible to audiences with disabilities.
Lastly, students receiving final nominations in the lead and supporting acting categories receive a scholarship to Paper Mill Playhouse's competitive Summer Musical Theatre Conservatory, a professional training program, which, along with advanced classes in singing, acting and dance, offers the nominees an opportunity to perform onstage at Paper Mill Playhouse in the season finale concert, "New Voices of 2019, Learn Your Lessons Well".
For additional information, please visit www.papermill.org.
Photo via: https://papermill.org/education/rising-star-awards/
Related Articles
More Hot Stories For You