Miami City Ballet Presents PROGRAM TWO: A Jerome Robbins Centennial Celebration Featuring West Side Story Suite and More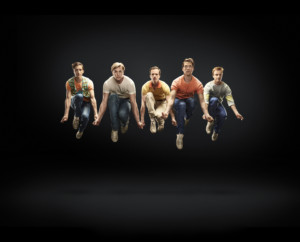 The modern love story based on Shakespeare's Romeo and Juliet, West Side Story Suite, returns in Program Two. Miami City Ballet's own Sharks and Jets rumble, fall in love, dance, and sing in this abbreviated version one of the greatest Broadway musicals. A sold-out smash-hit by Miami City Ballet in 2013, the vibrant West Side Story Suite returns in celebration of legendary choreographer Jerome Robbins' 100th birthday.
In honor of legendary choreographer Jerome Robbins' 100th birthday, Miami City Ballet is dedicating Program Two to his groundbreaking work, featuring the company premieres of the enchanting Circus Polka, the shocking The Cage and charming duet Other Dances, along with audience favorites In the Night, to Chopin's ravishing piano music, and West Side Story Suite, based on one of the greatest and best-loved of all Broadway musicals.
To celebrate the great composer at New York City's famous Stravinsky Festival in 1972, Robbins created Circus Polka for dozens of little girls, to be danced by students from School of American Ballet. Back then, Robbins himself was the ringmaster urging the children on and on; during MCB's company premiere of the pièce d'occasion, enjoy a surprise cameo appearance as the ringmaster. Miami City Ballet's Program Two will make history, presenting Artistic Director Lourdes Lopez as the first woman in the role of Ringmaster. In Other Dances, Robbins created a lyrical and charming extended duet for the reigning stars of classical ballet: Mikhail Baryshnikov and Natalia Makarova. The Cage, the first hit Robbins created for NYCB more than 65 years ago, still shocks with its deadly female and fierce community of voracious creatures.
Returning favorites include In the Night, demonstrating three stages of love - flirtation, passion and intimacy - experienced through three pas de deux danced against a star-studded night sky and Chopin's ravishing piano music; and West Side Story Suite, back by popular demand, with its show-stopping music by Leonard Bernstein.
Miami City Ballet performs in three locations across South Florida: Miami-Dade, Broward and Palm
Beach counties. Program Two: Jerome Robbins Celebration will be performed as follows:
January 12 - 14 Adrienne Arsht Center for the Performing Arts, Miami
January 27 - 28 Broward Center for the Performing Arts, Fort Lauderdale
February 2 - 4 Kravis Center for the Performing Arts, West Palm Beach
TICKETS:
Tickets to Program Two: Jerome Robbins Celebration start at $25 and are available at the box office, by calling 305.929.7010 or 877.929.7010 (Monday - Friday, 10 am - 5 pm) or online at miamicityballet.org.
ABOUT MIAMI CITY BALLET:
Miami City Ballet, now in its 32nd season, has been led by Artistic Director Lourdes Lopez since 2012. Lopez was recently named one of "The Most Influential People in Dance Today" by Dance Magazine. MCB was founded in 1985 by Miami philanthropist Toby Lerner Ansin and Founding Artistic Director Edward Villella. The Company has 51 dancers and a repertoire of more than 100 ballets. MCB performs for nearly 100,000 patrons annually during its South Florida home season in Miami, Fort Lauderdale, West Palm Beach and Naples, and tours to top theaters domestically and internationally.
Miami City Ballet School, the official school of Miami City Ballet, is one of the most respected ballet training academies in America. The School's renowned faculty, challenging syllabus and affiliation with Miami City Ballet make it a place where all students - from children to adults - can receive comprehensive dance training. The School trains approximately 400 students, ages 3-18, in its year- round program, and 400 during its summer programs, granting nearly $500,000 in scholarships annually. More than 500 adults participate in a vibrant community division.
Miami City Ballet is headquartered in Miami Beach, Fla., at the Ophelia & Juan Js. Roca Center, a facility designed by renowned architectural firm Arquitectonica.
FUNDING
Major funding for Miami City Ballet is provided by the Ford Foundation, the John S. and James L. Knight Foundation, the Louis B. Mayer Foundation and The Shubert Foundation.
Miami City Ballet is sponsored in part by the State of Florida, Department of State, Division of Cultural Affairs, and the Florida Council on Arts and Culture. Miami-Dade County support is provided by Miami-Dade County Department of Cultural Affairs and the Cultural Affairs Council, the Miami-Dade County Mayor and Board of County Commissioners with additional support provided by the City of Miami Beach, Cultural Affairs program, and the Cultural Arts Council. Palm Beach County support is provided in part by the Board of County Commissioners, the Tourist Development Council and the Cultural Council of Palm Beach County. Broward County funding is provided in part by the Broward County Board of County Commissioners as recommended by the Broward Cultural Council and Greater Fort Lauderdale Convention & Visitors Bureau.
Miami City Ballet is a registered trademark of Miami City Ballet, Inc.
MIAMI CITY BALLET - HOME THEATER ADDRESSES:
Adrienne Arsht Center for the Performing Arts of Miami-Dade County
Ziff Ballet Opera House
1300 Biscayne Boulevard
Miami, FL 33132
Broward Center for the Performing Arts
Au-Rene Theater
201 S.W. Fifth Avenue
Ft. Lauderdale, FL 33312
Kravis Center for the Performing Arts
Alexander W. Dreyfoos, Jr. Concert Hall
701 Okeechobee Boulevard
West Palm Beach, FL 33401
Related Articles View More Miami

Stories

Shows
More Hot Stories For You