SHOW
DATES
THEATRE

HOT PICK!





Vic's Mix by Rubberband Dance


Hillsborough Community College's Visual and Performing Arts Series presents  Vic's Mix performed by Rubberband (Montreal) on February 10 & 11 at 7:30 pm in the
2/10 - 2/11/2023


HCC Mainstage Theatre
14th Street and Palm Avenue
Tampa

Disney's Aladdin Jr.


Greasepaint Theatre for Youth presents Disney's Aladdin Jr. For tickets and information, visit the website.
2/7 - 2/7/2023

Pierson Elementary Auditorium
Pierson

Disney's The Lion King Kids


Introduce theatre to your classroom today! Explore, Create and Share the arts with this easy-to-use, multi-media program.
2/10 - 2/10/2023

Boggy Creek Elementary
Kissimmee

Madagascar Jr


Take a journey out of the zoo and onto the stage with your favorite crack-a-lackin' friends from the blockbuster DreamWorks film.
2/9 - 2/10/2023

Auditorium
Margate

The World Goes 'round


"Sometimes you're happy and sometimes you're sad ? but the world goes 'round." Life (with its glories, indignities, hopes and quiet dreams) is the subject
2/9 - 2/11/2023

Black Box Theatre
Ft Myers

Ain't Misbehavin'


River Of Grass Theatre
1/27 - 2/12/2023

Pembroke Pines Theater Of The Performing Arts
17195 Sheridan St
Pembroke Pines

Ain't Misbehavin'

1/27 - 2/12/2023

River Of Grass Theatre
17195 Sheridan St
Pembroke Pines

Little Shop Of Horrors


A down-and out skid row floral assistant becomes an overnight sensation when he discovers an exotic plant with a mysterious craving for fresh blood. Soon
1/27 - 2/12/2023

The Belle Theatre
2708 Santa Barbara Blvd.
Cape Coral

Little Women

2/3 - 2/12/2023

Fort Myers Theatre
16120 San Carlos Blvd
Fort Myers

Roald Dahl's Matilda The Musical Jr


El Dorado Middle School
1/20 - 2/12/2023

Sands Theater Center
124 N Florida Ave
Deland

TOOTSIE


Call it "musical comedy heaven" (Rolling Stone). Call it "the most uproarious new musical in years!" (The Hollywood Reporter). Call it Tootsie ! This laugh-out-loud
2/7 - 2/12/2023

The Kravis Center for the Performing Arts
701 Okeechobee Blvd.
West Palm Beach

Best of Broadway


2022 Broadway World Award Nominee For Best Cabaret Show For Miami John Lariviere is a cabaret, concert and jazz singer regularly appearing at theatres and
2/13

Edgewater Estates
23315 Blue Water Circle
Boca Raton

The Philadelphia Orchestra


Nathalie Stutzmann, Principal Guest Conductor Gil Shaham, violin Nathalie Stutzmann was recently named Philadelphia Orchestra's new Principal Guest Conductor, a three-year term involving a regular
2/13

The Kravis Center for the Performing Arts
701 Okeechobee Blvd.
West Palm Beach

Best of Broadway


2022 Broadway World Award Nominee For Best Cabaret Act For Miami John Lariviere is a cabaret, concert and jazz singer regularly appearing at theatres and
2/14

Esplanade at Traditions
12753 SW Barelli
Port St. Lucie

Monty Alexander: Love Notes


Grammy-nominated pianist MONTY ALEXANDER's style includes a range of jazz and Jamaican musical expressions—the American Songbook and the blues, gospel and bebop, calypso, and reggae.
2/14

The Kravis Center for the Performing Arts
701 Okeechobee Blvd.
West Palm Beach

The Philadelphia Orchestra


Nathalie Stutzmann, Conductor Nathalie Stutzmann was recently named Philadelphia Orchestra's new Principal Guest Conductor, a three-year term involving a regular presence in the orchestra's subscription
2/14

The Kravis Center for the Performing Arts
701 Okeechobee Blvd.
West Palm Beach

Disney's Aladdin Jr.


Greasepaint Theatre for Youth presents Disney's Aladdin Jr. For tickets and information, visit the website.
5/10 - 2/15/2023

Joppa Campus Gymnasium
Pace

Gospel Gala Tasha Cobbs Leonard


Powerhouse gospel singer-songwriter, TASHA COBBS LEONARD rose to fame with her Grammy Award-Winning single "Break Every Chain." Revered as one of the most glorious voices
2/15

The Kravis Center for the Performing Arts
701 Okeechobee Blvd.
West Palm Beach

Annie Jr


It's upbeat plot and flamboyant characters have made Annie one of the most beloved musicals in history--what girl hasn't dreamed of performing the title role
2/15 - 2/16/2023

St. Charles Borromeo Parish Center
21505 Augusta Ave
Port Charlotte

Enlightenment Festival: Life | Death


Enlightenment Festival: Life | Death PATRICK DUPRE QUIGLEY, CONDUCTOR During an age of high mortality, Johann Sebastian Bach experienced the stark and tenuous nature of
2/16

St. Sophia Greek Orthodox
2401 SW 3rd Ave.
Miami

Oliver Herbert, cello Xiaohui Yang, piano


Cellist Oliver Herbert is one of the classical music world's fastest rising stars, consistently praised for his virtuosity, musical instincts, youthful exuberance and sophisticated musical
2/16

The Kravis Center for the Performing Arts
701 Okeechobee Blvd.
West Palm Beach

Seussical Kids


Beginning in the Jungle of Nool, the Cat in the Hat, our narrator, tells the story of Horton, an elephant who discovers a speck of
2/16

North Broward Preparatory Campus
7600 Lyons Rd
Coconut Creek

Disney's Moana Jr.


Available January 2020
2/17

Timber Creek Hs Auditorium
1001 Avalon Park Blvd
Orlando

Enlightenment Festival: Life | Death


Enlightenment Festival: Life | Death PATRICK DUPRE QUIGLEY, CONDUCTOR During an age of high mortality, Johann Sebastian Bach experienced the stark and tenuous nature of
2/17

St. Philip's Episcopal
1121 Andalusia Ave.
Coral Gables

Freaky Friday One Act Edition


A brand-new One Act Edition based on the Disney Channel original movie.
2/15 - 2/17/2023

Auditorium
Weston

Disney's The Little Mermaid


In a magical kingdom fathoms below, a beautiful young mermaid longs to leave her ocean home to live in the world above. Adapted from Disney's
2/8 - 2/18/2023

Auditorium
Groveland




Back to the Main Page | Browse Local Theatres
---
Latest Miami Metro Reviews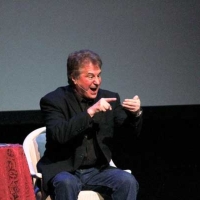 Review: Say 'I Do' To TIL DEATH DO US PART...YOU FIRST!
by David McKibbin - January 23, 2023
Til Death Do Us Part…You First! is a show that combines fast-paced Catskills-style comedy with a grounded sense of pathos. Even behind Fogel's mask of self-deprecating humor, audiences can see a man on a journey to find acceptance. If you have a friend or relative in the Lonely Hearts Club, tickets ...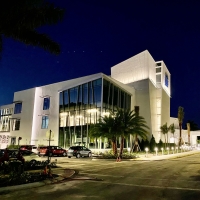 Review: SWEET CHARITY at Maltz Jupiter Theatre
by Richard Cameron - January 17, 2023
From exhilarating choreography, broadway belts, hysterical physical comedy, vibrant costumes, radiant sets, ingenious videos, and lighting Sweet Charity proves Maltz Jupiter Theatre is a sweet opportunity for Broadway-bound productions....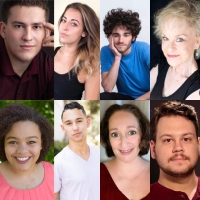 Review: TAP DANCING THROUGH AUSCHWITZ Is A Beam Of Light In Our Dark World
by David McKibbin - December 23, 2022
What did our critic think of TAP DANCING THROUGH AUSCHWITZ at The Arts Garage?...
BWW Review: New City Players Takes Us Home for the Holidays With IT'S A WONDERFUL LIFE
by David McKibbin - December 05, 2022
This year, New City Players just created what could possibly be a brand-new Christmas tradition with their production of It's A Wonderful Life, which opened on December 2 at Island City Stage....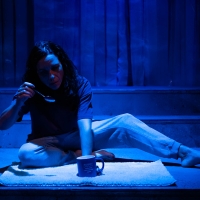 BWW Review: WATER BY THE SPOONFUL at New City Players
by David McKibbin - May 04, 2022
The COVID-19 pandemic has taught us some valuable lessons about life. When we are isolated, there will always be someone to turn to as our family in times of hardship, even if they are not blood relatives. Moreover, the people who hurt us in the past can still be there to help us heal. While Quiara ...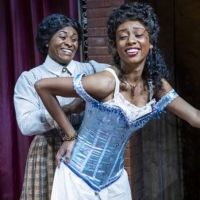 BWW Review: INTIMATE APPAREL Feels Right At Home in Palm Beach Dramaworks' Post-Shutdown Season
by David McKibbin - April 14, 2022
You have three more performances of Lynn Nottage's play about finding love and following your dreams at Palm Beach Dramaworks....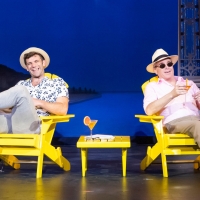 BWW Review: DIRTY ROTTEN SCOUNDRELS at Maltz Jupiter Theatre
by Richard Cameron - April 01, 2022
The Tony nominated musical hit DIRTY ROTTEN SCOUNDRELS offers side slitting laughs to welcome back the iconic award winning theatre. This outrageous comedy is sure to deliver the laughs and levity we all need after the past two years," said Andrew Kato, Producing Artistic Director and Chief Executiv...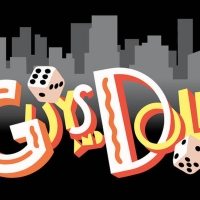 GUYS AND DOLLS Opens April 1st at Lauderhill Performing Arts Center
by Carol Kassie - March 09, 2022
MNM Theatre Company, North End Theatre Company, and the City of Lauderhill present what is often called 'the perfect musical comedy! Set in Damon Runyon's mythical New York City, with music and lyrics by Frank Loesser and book by Abe Burrows and Jo Swerling, Guys and Dolls is a classic beloved by t...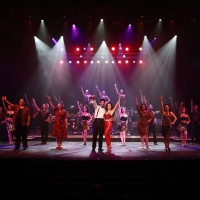 BWW Review: ON YOUR FEET at The Miracle Theatre
by Richard Cameron - March 01, 2022
Andy Señor Jr. Direction of Gloria Estefan's and Emilio's life story ON YOUR FEET is sexy, flashy and flawless. Get On Your Feet and run to the box office to secure your seats....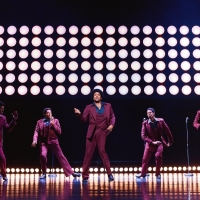 BWW Review: AIN'T TOO PROUD National Tour Comes To Ft. Lauderdale
by Richard Cameron - February 22, 2022
Temptations Moves and Music Magnified in Broadway National Tour. AIN'T TOO PROUD - THE LIFE and TIMES of the TEMPTATIONS is captivating Broadway's Musical Lovers. Don't miss this gifted cast and Tony Award winning Musical. Direct from Broadway company are Marcus Paul James as Otis Williams and Elij...