Click Here for More Articles on SHAKESPEARE SPOTLIGHT
Photos: First Look at TSC's A MIDSUMMER NIGHT's DREAM
Tennessee Shakespeare Company, in partnership with the University of Memphis' Department of Theatre and Dance, presents Shakespeare's comedy A Midsummer Night's Dream directed by Stephanie Shine, beginning tonight, June 4, and playing through June 21 at the U of M's Theatre located on Central Avenue. BroadwayWorld has a first look at the cast in action below!
The southern-infused production will feature the company's largest cast in its seven seasons and will explore the expansiveness and technical capabilities of the U of M mainstage. The team of professional designers consists of present U of M faculty and alumni, and the cast features talented U of M actors interning alongside performers of Actors' Equity Association assembled from around the nation.
Directed by TSC's Stephanie Shine (Romeo and Juliet, A Wonderful Life: A Live Radio Play, Southern Yuletide), A Midsummer Night's Dream places Duke Theseus' court in World War II America and the peaceful though mischievous fairie kingdom in the spanish-moss strewn bayous of turn-of-the-19th century Louisiana. Big Band, Swing, Cajun, and Creole music will be played live on stage by the hard-working, busking men of the French Quarter.
Since the 17th century, Shakespeare's most magical comedy has been one of his most-produced on English-speaking stages. Likely written around 1595, chronologically joining the script with Romeo and Juliet, Love's Labor's Lost, and The Merchant of Venice - A Midsummer Night's Dream is unusual when compared to the rest of Shakespeare's canon. It has no readily identifiable main source. Shakespeare was inspired by the writings of Plutarch, Chaucer, Ovid, as well as folklore, but his magical play of chaos is likely his very own creation. Uniquely, he orchestrates four main themes, all entirely different, without relegating any to secondary status.
Shakespeare's symphony of a narrative telescopes in a finite period of time. He weaves together the waking and sleeping worlds; loving and violent worlds; the spirit and mortal worlds; day and night; male and female; jealousy and compassion in a musical romp that is Shakespeare's first deep consideration of the relationship between art and humanity.
The world of the Court, where Duke Theseus has violently triumphed over and won Queen Hippolyta, begins to spin off its seasonal axis as the nighttime spirit world ruled by Oberon and Titania tilts in a petty feud. Racing into the dark woods amid these shifts are four young lovers ruled by their hearts and Bottom's group of musical hard-working men rehearsing ambitiously their self-scribed play. Fairie Robin Goodfellow (Puck) is the link between all the worlds, wreaking havoc through magic transformation of the heart and head (that of a donkey).
Out of the discord comes concord and a seeing of the world with "parted eye." An evening of genuine playmaking and love transforms into marriage and celebration, which begets blessings bestowed on all the worlds, all humanity, all spirituality.
A Midsummer Night's Dream features a professional, Equity ensemble from around the country and Memphis. Returning to TSC are Rachel Brun* as Helena, Shaleen Cholera as the Indian boy, Dave Demke* as Egeus, Caley Milliken* as Hermia, Charisse Norment as Peaseblossom, Jerry Rogers as Snug, Joey Shaw as Peter Quince, and Phil Darius Wallace* as Theseus/Oberon.
New to the company are Jon Castro (Memphis) as Lysander, Noah Duffy (Seattle) as Puck, Jason Eschhofen (Memphis) as Flute, David Hammons (Memphis) as Starveling, Adam Hogue (Memphis) as Snout, Roman Kalei (Memphis) as Demetrius, Kaitlyn Maurer (Memphis) as Mustardseed, Emily McCormick (Memphis) as Cobweb, G. Valmont Thomas* (Seattle) as Bottom, and Stephanie Weeks* (New York) as Hipployta/Titania.
The design team includes, from the University of Memphis, Janice Benning Lacek (costumes), Brian Ruggaber (scenic and properties), Ben Fichthorn (lighting), and Paul Revaz (technical director). The music arranger/director is Joey Shaw, and TSC's First Folio script and analysis is provided by Canada's Neil Freeman. The stage manager is Rachel Dooley-Harris*, with Shaleen Cholera and Megan Gardner.
All performances are general admission (first come/first seated) and will be played on the indoor Mainstage at the University of Memphis' Theatre Building, located on campus at 3745 Central Avenue. All tickets are $33 and are on sale now. For tickets, call 759-0604 or go to www.tnshakespeare.org.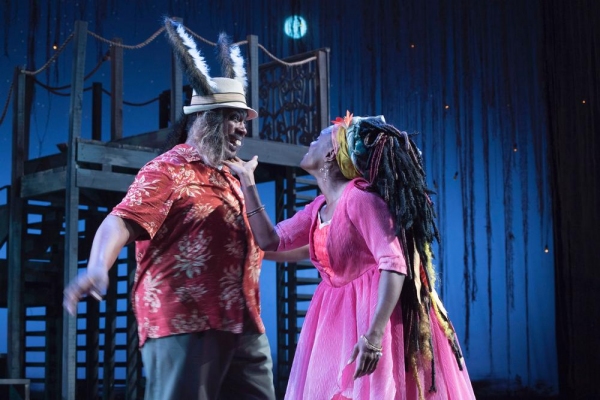 G Valmont Thomas (Bottom) and Stephanie Weeks (Titania)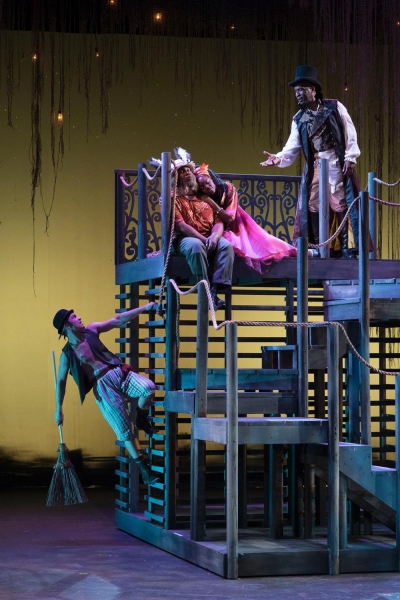 Noah Duffy (Puck), G Valmont Thomas (Bottom), Stephanie Weeks (Titania), Phil Darius Wallace (Oberon)

Rachel Brun (Helena), Jon Castro (Lysander), Caley Milliken (Hermia), Roman Kalei (Demetrius)

Phil Darius Wallace (Oberon)