The Kilroys Set To Host 29th Annual LA Stage Alliance Ovation Awards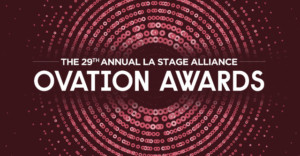 The Kilroys have been set to host the 29th Annual LA Stage Alliance Ovation Awards Ceremony on Monday, January 28, at the Theatre at Ace Hotel in downtown Los Angeles. Red carpet arrivals begin at 6pm and the ceremony begins at 7:30pm.
For the past five years The Kilroys, an LA-based collective of playwrights/producers, continuing the fight to achieve gender balance in the American theatre, have been advocating for equal representation on American stages, and have released an annual list of under-produced plays by woman, trans, and non-binary writers. Despite some measurable progress, they still have a long way to go before they strike that balance. As 2019 approaches, The Kilroys are thrilled to introduce a fresh new gang of fearless leaders. These women will seize the reins and continue the fight for equality, creating random acts of disruption along the way.
This year's ceremony is directed by Jer Adrianne Lelliott, with musical direction by Gregory Nabours. Scenic advisor is Tom Buderwitz, lighting design is by Azra King-Abadi, sound design is by Cricket Myers, and projection design is by Jason Thompson and Kaitlyn Pietras. Production stage manager is Cate Cundiff. Assistant stage managers are Morgan Zupanski and Brooke Baldwin. Producers are Marco Gomez, Mark Seldis, Eric Sims, and Max Oken.
Sponsors for this year's Ovation Awards ceremony are DOMA Theatre Company, UCLA School of Theater, Film & Television, F&D Scene Changes Ltd., USC School of Dramatic Arts, Bakers Man Productions, Venture Hill Entertainment LLC, Seven Waves Entertainment LLC, Requiem Media Productions LLC, Variety, and Ken Werther Publicity.
The Theatre at Ace Hotel is located at 929 S. Broadway in downtown Los Angeles. More information about ticket purchases and other details about the Ovation Awards ceremony on January 28 can be found at www.lastagealliance.com/ovationawards.