The Kilroys Announce New Members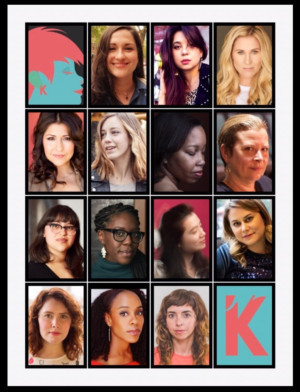 New year, new Kilroys! For the past five years The Kilroys, an LA-based collective of playwrights/producers continuing the fight to achieve gender balance in the American theater, have been advocating for equal representation on our American stages, and have released an annual list of under-produced plays by women, trans, and non-binary writers. Despite some measurable progress, we still have a long way to go before we strike that balance. So, as we approach 2019, we are beyond thrilled to introduce a fresh new gang of fearless badass leaders. These women will seize our reins and continue the fight for equality, creating random acts of disruption along the way, while the OG Kilroys will serve as an advisory board supporting the current class.
Introducing... the new class of Kilroys: Jaclyn Backhaus, Hilary Bettis, Jennifer Chambers, Claudia de Vasco, Emma Goidel, Christina Ham, Jessica Hanna, Monet Hurst-Mendoza, Obehi Janice, Hansol Jung, Chelsea Marcantel, Caroline V. McGraw, Bianca Sams, and Gina Young.
Jaclyn Backhaus is a playwright, mother, and co-founder of Fresh Ground Pepper. Her plays include Men on Boats (Clubbed Thumb, Playwrights Horizons), India Pale Ale (Manhattan Theatre Club, winner of the Horton Foote Prize), You On The Moors Now (TRE, Hypocrites) and Folk Wandering (Pipeline Theatre Company).
Hilary Bettis is a Brooklyn-based playwright and TV writer. She wrote on "The Americans" for the final two seasons, and is an alum of the Sundance TV Lab. Bettis has developed plays with Roundabout, Alley Theatre, O'Neill National Playwrights Conference, New York Theatre Workshop, among others. She is a graduate of The Juilliard School. www.HilaryBettisWriter.com
Jennifer Chambers is a Los Angeles-based director who has worked at The Geffen, South Coast Rep, IAMA Theater, Barrington Stage Company, CalArts, Antaeus, Boston Court and The Echo. She developed and directed the world premieres of The Cake by Bekah Brunstetter, Bed by Shelia Callaghan and Better by Jessica Goldberg. She directed the short film, See You Soon and is one of the founders of Right Hand Path Productions. jennifergchambers.com
Claudia de Vasco has been both a performer, producer, & leader in the theatre (and screen) in Texas, Minneapolis, and California. She is currently on the Artistic Circle for Chalk Rep Theatre in LA, and will be stepping up as Artistic Producing Director in the New Year. Claudia is the Managing Director of Emerging Arts Leaders/LA. She is a former Jerome Foundation Many Voices Fellow at the Playwright's Center.
Emma Goidel is a Brooklyn-based writer and co-founder of Orbiter 3, Philadelphia's Barrymore Award-winning producing playwrights collective. Her plays--which include THE GAP, A KNEE THAT CAN BEND, and LOCAL GIRLS--have been produced and developed at Ars Nova, Azuka Theater, Clubbed Thumb, EST, the Foundry, InterAct, LAByrinth, Playwrights Realm, Playwrights' Center, NYSAF, and more.
Christina Ham was named one of "The Top 20 Most-Produced Playwrights of the 2018-19 Season" by American Theatre magazine. A graduate of the University of Southern California and a MFA in Playwriting from The UCLA School of Theater, Film, and Television, she writes on Netflix's The Chilling Adventures of Sabrina. www.christinaham.com
Jessica Hanna is a Los Angeles based Director/Producer and co-founder of Bootleg Theater. Recent directing credits: Lisa Dring's Death Play, Brandon Baruch's No Homo, John Ross Bowie's Four Chords and a Gun, Georgette Kelly's I Carry Your Heart, Pricilla, Queen of the Desert at Celebration Theatre and Kerri-Ann McCalla's The Willows. All premieres, developed with the playwrights. JessQueen.com
Monet Hurst-Mendoza is an NYC-based playwright and arts advocate from Los Angeles, CA. She is an alum of the Emerging Writers Group at The Public Theater, the R&D Group at The Civilians, WP Playwrights Lab, and the Van Lier Fellowship at New Dramatists, and has held residencies with SPACE on Ryder Farm and The MITTEN Lab. She is a proud affiliate of Rising Circle Theater Collective, where she co-facilitates INKtank/PlayRISE-a developmental writers lab and new works festival for emerging playwrights of color.
Obehi Janice is an award-winning writer, actress and comedian whose multi-genre work spans from stage to screen. She is a member of the 2018-19 Emerging Writers Group at The Public Theater, a Luminary Artist at the Isabella Stewart Gardner Museum and a past recipient of a TCG Fox Foundation Resident Actor Fellowship as well as a Creative Residency at SPACE on Ryder Farm. Her plays include Ole White Sugah Daddy, Era Era, Selah, African Tea, along with one-woman shows FUFU & OREOS and Obehi Janice: Casanova. An alum of Georgetown University, Obehi's work has been featured in American Theatre Magazine, NPR, and For Harriet, among other publications. Originally from Lowell, Massachusetts, Obehi splits time between Brooklyn and Los Angeles, where she is currently a staff writer on HULU's Castle Rock. obehijanice.com.
Hansol Jung is a playwright and director from South Korea. Productions include Cardboard Piano (Humana Festival at Actors Theater of Louisville), Among the Dead (Ma-Yi Theatre Company), No More Sad Things (co-world premiere at Sideshow Theatre, and Boise Contemporary Theatre), Wolf Play (Actors Rep) and Wild Goose Dreams (La Jolla Theater and The Public Theater). She has translated over thirty English musicals into Korean, including Evita, Dracula, Spamalot, and The 25th Annual Putnam County Spelling Bee, while working on several award winning musical theatre productions as director, lyricist and translator in Seoul, South Korea. Jung holds a Playwriting MFA from Yale School of Drama, and is a proud member of the Ma-Yi Theatre Writers Lab.
Chelsea Marcantel is an LA-based writer, director, and collaborator. Reared by Cajuns in southwest Louisiana, she has previously lived and made theatre in the Midwest, Appalachia, and New York City. In 2016, Chelsea completed a Playwrights Fellowship at The Juilliard School. Her plays include Airness, Everything is Wonderful, Tiny Houses, and Ladyish. She is a member of the inaugural Writers' Room playwrights' unit at Geffen Playhouse, and has three world premieres slated for 2019. www.ChelseaMarcantel.com
Caroline V. McGraw is a playwright and screenwriter. Her work has been seen around the country, recently at Page 73, Lesser America, SCR/Pacific Playwrights Festival, IAMA Theater, and City Theatre. She is working on commissions from Yale Rep, Manhattan Theatre Club/Sloan Foundation, and South Coast Rep. Graduate of Yale School of Drama Playwriting.
Bianca Sams is an Actor/Writer hailing from the San Francisco Bay Area. A graduate of New York University's Tisch School (B.F.A.), she earned the distinction of being Tisch's first ever Triple Major (Acting, Dramatic Writing, Africana Studies). She received her M.F.A. from Ohio University. Her original works are lyrical investigations of found stories out of today's headlines or the pages of history, that ask audiences to face their own complex love affair with misery. Her plays include: Rust On Bone, Simply Bess, Battle Cry, and At the Rivers End. Awards and honors include Ingram New Works Fellow (Nashville Rep), Warner Brothers TV Writing Workshop, The Playwright Center Core Apprentice (2014), Kennedy Center/Eugene O'Neill New Play Conference fellow, TRI Research Fellowship (OSU), T. S. Eliot Acting Fellowship, Tracking Board 2016 Young & Hungry List, and WriteHerList 2017. She is currently working as a writer on Titans (WB/DC.com). Bianca's represented by Echo Lake Management and Abrams Artists.
Gina Young is a playwright/director/performer and creator of SORORITY, a hub for queer and feminist performance in Los Angeles, and Feminist Acting Class, an experiment in deconstructing actor training. Her work has been presented by The Hammer Museum, REDCAT, LAPP/LAX Festival, USC's Visions & Voices Series, The Association for Theatre in Higher Education Conference and the Women's Center for Creative Work. She is a winner of the Humanitas/PLAY LA Prize and the Jane Chambers Award for Playwriting. www.ginayoung.com
THE KILROYS are a gang of playwrights and producers in LA who are done talking about gender parity and are taking action. They mobilize others in their field and leverage their own power to support other marginalized theater artists. The founding members are Zakiyyah Alexander, Bekah Brunstetter, Sheila Callaghan, Carla Ching, Annah Feinberg, Sarah Gubbins, Laura Jacqmin, Joy Meads, Kelly Miller, Meg Miroshnik, Daria Polatin, Tanya Saracho, and Marisa Wegrzyn. www.thekilroys.org