National Geographic Live STANDING AT THE WATER'S EDGE Comes to The Broad Stage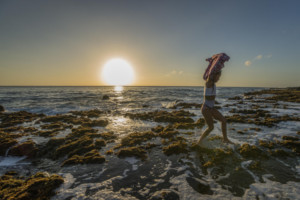 The Eli and Edythe Broad Stage in Santa Monica presents the second event of the National Geographic Live series during The Broad Stage's 2017-18 Season - Standing at the Water's Edge with marine biologist and National Geographic photographer, Cristina Mittermeier. The event includes a post-show Q&A with Mittermeier.
Photojournalist Cristina Mittermeier knows the power of water: the power to give life when it is respected, and the power to destroy when it is misused. During her time with the Kayapó people in the Amazon, she documented a society that relied on their local waterway to survive-and found their way of life threatened by a massive new dam. In British Columbia, she found First Nations protecting their sacred headwaters, and in Hawaii, a new community of indigenous peoples seeking to reclaim their connection to the sea. She learned that one concept bound these three disparate communities together: "Enoughness," or taking only that which you need. Cristina said in a recent interview with Cosmopolitan, "I realized photography was a powerful way to start conversations about conservation. I started to attend nature photography conventions, and I realized most photographers didn't engage in environmental or conservation issues. I would raise my hand and ask, 'How can we inspire conservation groups with our images?' "I decided to start my own foundation, the International League of Conservation Photographer. My mission [was to make] the argument that communications and storytelling are critical to the advancement of conservation. Within two years, we were raising money and sending photographers [including myself] all over the world to do conservation work." National Geographic Live is the live events division of National Geographic. With a broad roster of talent including renowned photographers, scientists, authors, filmmakers and adventurers, National Geographic Live's critically acclaimed programs have connected with audiences worldwide for over a century. Currently, National Geographic Live events are held in more than cities around the world, including, Seattle, Tampa, Los Angeles, Florence and Calgary. In each of these cities, speakers share behind-the-scenes stories from the front lines of exploration onstage alongside stunning imagery and gripping footage. For more information, visit
natgeolive.com
. This National Geographic Live event is sponsored by The Great Courses. About Cristina Mittermeier
Cristina is a Mexican-born marine biologist and photographer who specializes in conservation issues. As a writer and a photographer for the past 25 years, her work centers on the delicate balance between human well-being and healthy ecosystems. As a writer and series editor of her own publishing company, Earth
In Focus
editions, Cristina has produced 24 stunning coffee-table books on conservation issues and her work has been published in prestigious scientific publications including Science and Nature as well as in more popular publications and magazines, including National Geographic. She is the founder and former president of the International League of Conservation Photographers (ILCP) and was recently recognized as one of the World's top 40 Most Influential Outdoor Photographers by Outdoor Magazine and is the recipient of the 2011 Nature's Best/Smithsonian Conservation Photographer of the Year award and the North American Nature Photographer's Association 2010 Mission Award. She is also the 2016 recipient of the Imaging Alliance "Photographers who Give Back" Award. Cristina is one of Sony's Artisans of Imagery, she sits on the board of the WILD Foundation, and is part of Conservation International's Chairman's Council. As a public speaker she has given presentations in forums ranging from the Conference of the Parties to the Convention on Biological Diversity (CBD) to the TEDx stage. Cristina is the founder and President of SeaLegacy, a non-profit organization dedicated to furthering the cause of ocean conservation through visual storytelling and photography About The Broad Stage
The Broad Stage, beginning its landmark 10th season, offers theatre, dance, film, opera, jazz, world music, musicals, symphony and chamber orchestras, family programming and more. Each genre features superlative talent from every generation and around the globe. No other performing arts center west of the 405 can boast such consistently stellar lineups of performers, including André Watts,
Anna Netrebko
, Sir James Galway,
Sutton Foster
, Preservation Hall Jazz Band,
Mikhail Baryshnikov
,
Patti LuPone
, Aaron Neville, Lee Ritenou, Dave Grusin, Joshua Redman, Lil Buck,
Bobby McFerrin
,
Helen Hunt
, Academy of St Martin in the Fields and many others. In addition to The Broad Stage, The Edye, our 100-seat black box theater, presents new, developing and innovative work in theatre, music and dance as part of our Under the Radar Series, as well as offerings from our other genres. Featuring younger, emerging artists, chamber pieces and plays, programming at The Edye reflects the dynamic nature of the space and allows for the latest, most exciting artists to be booked on short notice. The Broad Stage's Education and Community Programs offer opportunities for cultural exposure through various student events, currently reaching more than 20,000 children, parents, educators and community members every year. ABOUT NATIONAL GEOGRAPHIC PARTNERS LLC
National Geographic Partners LLC (NGP), a joint venture between National Geographic and 21st Century Fox, is committed to bringing the world premium science, adventure and exploration content across an unrivaled portfolio of media assets. NGP combines the global National Geographic television channels (National Geographic Channel, Nat Geo WILD, Nat Geo MUNDO, Nat Geo PEOPLE) with National Geographic's media and consumer-oriented assets, including National Geographic magazines; National Geographic studios; related digital and social media platforms; books; maps; children's media; and ancillary activities that include travel, global experiences and events, archival sales, licensing and e-commerce businesses. Furthering knowledge and understanding of our world has been the core purpose of National Geographic for 129 years, and now we are committed to going deeper, pushing boundaries, going further for our consumers ... and reaching over 760 million people around the world in 172 countries and 43 languages every month as we do it. NGP returns 27 percent of our proceeds to the nonprofit National Geographic Society to fund work in the areas of science, exploration, conservation and education. For more information visit
natgeotv.com
or
nationalgeographic.com
, or find us on
Facebook
,
Twitter
,
Instagram
,
Google+
,
YouTube
,
LinkedIn
and
Pinterest
.
More Hot Stories For You