Culture Clash BORDERTOWN NOW Opens June 3 at Pasadena Playhouse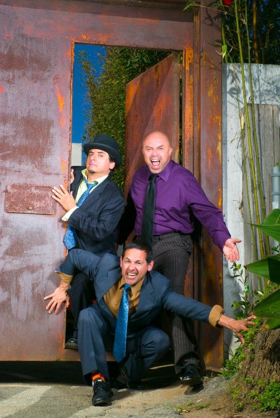 Pasadena Playhouse, the State Theater of California is presenting Culture Clash, revisiting their hit Bordertown twenty years later, with Bordertown Now from Wednesday May 30 to Sunday June 24 at Pasadena Playhouse.
In this aptly timed production, Los Angeles' own political satire troupe -- return to the southern border to investigate the state of affairs once again. Re-imagined, remixed and fully reloaded, Bordertown Now is an irreverent look at the people at the center of one of America's most hot-button controversial issues, and the walls that divide us all. Infused with their trademark satirical approach, the nation's number one Chicano/Latino performance trio messes with the boundaries of theater and comedy to break down the divisions between cultures. In the community spirit of the show, there will be a post-show conversations after every performance on different topics including immigration, border policy, and more, led by topic experts. The current list of speakers include: Lalo Alcarez, cartoonist of La Cucaracha (first nationally syndicated Latino politically themed daily comic strip); Susana Bautista, executive director of Pasadena Museum of Contemporary Art; Jonathan Fung, Matathi Benjamin and Jean Grant of Immigration Resource Center, San Gabriel; Oscar Garza, producer of KPCC FM "The Frame," and Kelly Lytle Hernández, UCLA Professor of History and African American Studies and Interim Director of the UCLA Ralph J. Bunche Center for African American Studies. Additional speakers will be added; for latest list please visit PasadenaPlayhouse.org. Also Mike Kinman, Rector of All Saints Church, Pasadena; Alex Nogales, President and CEO of the National Hispanic Media Coalition; Luis J Rodriguez, Poet Laureate of Los Angeles; artist Ana Serrano; Angelica Salas, Executive Director of the Coalition for Humane Immigrant Rights; Roberto Suro of USC Sol Price School of Public Policy; and representatives from the Alhambra Latino Association, Dream Team Los Angeles, Self Help Graphics. Tickets start at $25 for Bordertown Now and are available at pasadenaplayhouse.org. as is the schedule of speakers of the post performance discussions. Variety said of the original in 1999, "Bordertown is based in part on nearly 100 taped interviews of a vast cross-section of border denizens. The work spotlights the historical highs and lows of U.S.-Mexican relations ... offering a well-executed montage of colorful characters providing a moving, often hilarious, view of life on both sides of the busiest border crossing in the world."
Danny Feldman
,
Pasadena Playhouse
Producing Artistic Director, said, "For more than a year, the immigration debate has been in the news on a daily basis. It is so rare to be able to present a new work that directly responds to our ever-changing world. Who better to examine this issue than the iconic troupe
Culture Clash
, making their Playhouse debut. Through humor, satire, sentiment and curiosity, they manage to bring us closer to the humanity at the center of the border issues."
Culture Clash
said, "It's important for Americans to sit in a room and hear the points of view of other human beings. It's harder to be mad at somebody when you are face to face having a conversation with them. This is how we create empathy and hopefully change." "In 1998 when we wrote the original Bordertown, we were obsessed with the border. We wanted to know: how could a line in the sand (some say a scar) divide and polarize people with such intensity? Was their humor there? Was there hope? Were there members of single families now divided into two? We understand now more than ever the sacrifices that our parents and grandparents made, not just for family, but for country!"
Culture Clash
's
Richard Montoya
,
Ric Salinas
and Herbert Sigüenza are joined by Sabina Zúñiga Varela. Varela appeared with
Culture Clash
in
Chavez Ravine
: An L.A. Revival at the
Kirk Douglas
Theatre on the occasion of the troupe's 30th anniversary in 2015. Bordertown Now is directed by Obie Award-winning artist
Diane Rodriguez
. She began her career as an ensemble member in the politically conscious,
El Teatro Campesino
and now is Associate Artistic Director of the Tony Award winning
Center Theatre Group
in Los Angeles. In 2016
President
Barack Obama
appointed her to the National Council on the Arts, a body that advises the Director of the National Endowment for the Arts. The scenic designer is
Efren Delgadillo
, Jr.; costume designer Jenny Foldenaur; lighting designer
Lap Chi Chu
; sound designer Adam Phalen, and projection designer Yee Eun Nam. The Los Angeles Times said that
Culture Clash
has "a little something for everybody - filling the [venue] with a warm and surprisingly optimistic community spirit despite the nation's uncertain political future." The East Bay Express said they are a "trio of bad-ass Chicanos... they are fearless and they're working overtime to keep us honest."
Culture Clash
was established in 1984 in San Francisco's historic Mission District at the height of the performance art and standup comedy boom. While a political world was exploding in Central America the Boys were clowning but soon began to sharpen their satirical and political chops in the spirit of their hero
Bertolt Brecht
. By the early 90's they were a budding theater force storming the nations premier regional stages and festivals. The decade of the 90's saw many commissions and the rise of sight specific work, which planted The Boys in cities and regions not steeped in a Chicano sensibility. This made
Culture Clash
outliers in places like Miami, NYC, Washington DC, Chicago, Boston which led the group directly back to the border regions of the US and the Southwest, armed with new skills. This artistic journey is at the heart of what you will experience now. Investigative, journalistic, ethnographic and artistic imbued with a responsibility and desire to excavate the most compelling stories. The act of finding and telling these stories remind us of the strength of our America. It reminds us on the deepest and most basic levels of the human lives involved in the shadow-lands and that each life is a story worth telling and hearing. The Border Angel, Agent, Crosser and even Vigilante is not just a statistic. Life. Precious life. Like water. Whether your ancestors traveled through Ellis Island or a trickle of brown river water around a bend, there was a path and a journey and a rugged kindness perhaps a lantern or Christian Charity or Teddy Roosevelt's "Square Deal" offered to ALL. This ethos reminds us that we are human and artists in a grand experiment of immigrants. Love The Boys -
Culture Clash
!
Richard Montoya, Herbert Siguenza. Bottom: Ricardo Salinas
Photo provided courtesy of Culture Clash