BWW Review: ALADDIN AND HIS WINTER WISH Panto Makes Laguna Playhouse Merry
The silly, family-friendly fun of those British-borne Pantos (the shortened, more familiar name of pantomimes) are back for a third holiday season in row at Orange County's Laguna Playhouse, this time with a story wrapped around the infamous tale of a smart-aleck street urchin who discovers a magic lamp hiding a genie that grants wishes. Filled with adorkable, slapstick humor, cleverly repurposed pop songs, and a seemingly endless parade of dad jokes, Lythgoe Family Panto's amusing new production ALADDIN AND HIS WINTER WISH continues its playfully droll run in Laguna Beach, CA through December 31, 2017.
While, sure, the show isn't exactly what most would expect from a scripted stage comedy, ALADDIN AND HIS WINTER WISH is still undeniably merry---particularly because of its unapologetic use of its out-in-the-open theatrical machinations.
As this is a panto, the show (like most of its ilk) subscribes to the time-honored tradition of reworking a well-known fairy tale and then skewering it with a self-aware, meta-sensibility---throwing in vaudevillian-like gags, light and (mostly) inoffensive jokes, topical (and, often, location-based) humor, and plenty of audience participation to keep everyone part of the fun. And like most pantos, the show does indeed break the fourth wall at almost every opportunity---and encouraging the audience to be just as much of a participant in the proceedings as the actors are on stage.
If, like myself initially, the latter makes you nervous or isn't your cup of tea, no worries...the whole interactive thing becomes so infectious, you'll find yourself giddily cheering the hero and loudly booing at the villain like everyone else in the audience, too. (Fun fact: many in attendance of this show's opening night performance are, apparently, veterans of the panto-viewing experience and they were certainly not afraid to show it or let everyone around them know it).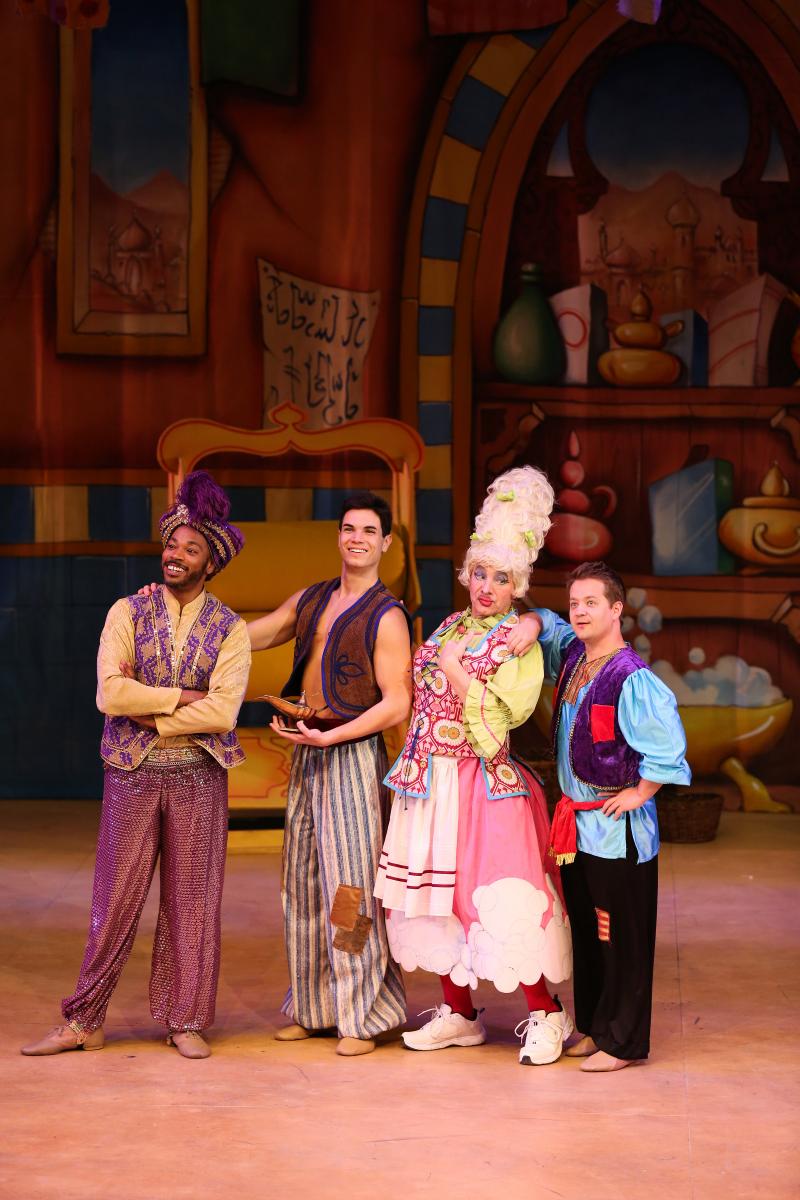 Campy and whimsical in the most G-rated way possible, this playfully safe yet still irresistibly entertaining musical comedy isn't meant to be intelligent farce or even a humorously-tinged commentary on contemporary life. Nope... it's all just silly, mirthful fun designed to keep kids enthralled and their parents snickering at jokes so juvenile, they're pretty much funny all over again. Even the multi-genre songs incorporated into the show involve a mass audience-pleasing mixture of oldies and contemporary chart-toppers, ensuring everyone watching has something to like.
But fair warning to all panto-newbies: because this is a family-friendly theater experience, be prepared and be okay for young kids (and, yep, their parents) who have no concept of whispering to be audibly talking over everything... dialogue, musical moments, heck, even quiet scene transitions. But, again, no worries necessary---the plot and comedy is sooo the opposite of subtle that you're likely not to miss any important details, laughable lines, or even narrative-driving plot points despite the extra-elevated noise level around you.
So here's the gist: Bad guy Abanazar (the funny Josh Adamson) wants to get his hands on a magic lamp buried deep within an impenetrable cave so he can be even more wealthy and powerful and, perhaps, usurp the throne of the Sultan (the hilarious Barry Pearl). Info from his "Slave of the Ring" (the flexible Alexis Gilbert) forecasts that some poor peasant is his only way to get the lamp from the cave.
And, yep, as you may have guessed, that poor dude is our central hero Aladdin (instantly-likable heartthrob Jason Gotay), a known street-wise petty thief who steals to feed his family and other poor peeps in his neighborhood. Like most guys who have their name in the title, he has a long list of seemingly impossible dreams he wishes would come true---which he feels is still possible even with the thinnest of chances. Aladdin is essentially a good kid with a big heart, always helping out his not-so-bright bro Wishee Washee (the energetic Jason Earles) and his laundromat-managing single mom, Widow Twankey (the wonderful Jason Graae, in full-on campy awesomeness). Watch out, audience (particularly in the front row), Widow Twankey is on the prowl and quite horny.
While out in the streets of Bagroba on one of his schemes, Aladdin has a bumpy meet-cute with the Sultan's daughter, the Princess (the luminous Kira Kosarin), who herself is trying to break free from the confines of the palace walls. Though she initially finds the young man annoying, she eventually saves Aladdin from arrest, and, yep, begins crushing right back (who wouldn't?).
But later, under the hypnosis of Abanazar, however, the Sultan is "convinced" into sentencing Aladdin to be executed anyway, despite the Princess' vehement protests. Unbeknownst to anyone, Abanazar instead poaches Aladdin away and forces him to retrieve that lamp from the cave. Things don't go as planned during the mission, trapping Aladdin inside the cave for, um, eternity. Luckily, Aladdin inadvertently rubs the lamp he's supposed to steal and triggers the appearance of the all-powerful, all-comedic Genie (the fierce and fabulous Jay Donnell), who, naturally, grants Aladdin his wish to become a rich Prince---elevating him to a level of wealth that would surely convince the Sultan that he's good enough to marry the Princess!
Meanwhile, in between the dad jokes, audience interactions, and fabulous dancing, the audience boos at villainy, cheers for Aladdin and the Genie, laughs at the Widow Twankey, and even participates in an oddly-placed sing-along led by the kids' fave character Wishee Washee. It's no spoiler to say that, of course, there's a happy ending---which somehow involves Aladdin's winter wish coming true---even here in the hot desert dunes of Bagroba.
Written by Kris Lythgoe, and featuring outstanding choreography from director Spencer Liff (So You Think You Can Dance), the show is a visual treat on top of being a fun and frothy pop music showcase, which includes cheeky uses of tunes from Bruno Mars, Coldplay, Earth Wind and Fire, Katrina and the Waves, Carly Rae Jepsen, and more. The colorful, whimsical sets designed by Ian Wilson feel like delightful illustrations blown up to life-size from a children's book, while the costumes provided by Albermarle Productions are sparkly and rainbow bright. Lighting designer Glenn Powell fulfills each scene's mood perfectly, particularly in the scenes inside the cave. And, yaasss, bonus points to the production for dressing comedically-gifted Graae in some of the show's most hilarious drag that even RuPaul would applaud.
Musical director and principal accompanist Keith Harrison is the hardworking man bopping on the side of the stage providing music for this talented, well-assembled cast. In essence, these actors and dancers made the whole panto concept work much more convincingly. Aside from some lovely vocals from Nickelodeon star Kosarin and Broadway vet Gotay (yay for Broadway actors getting to show off some riffing on pop songs!), the laughs were truly never-ending thanks to the comic stylings of former Hannah Montana star Earles, the delicious, hammy villainy of Adamson, the adorable fumbling of Pearl, the beaming sass of Donnell, and the over-the-top, scene-stealing of Broadway/cabaret funnyman Graae throughout the show.
It's not really that difficult to have fun watching this show when it's clear the cast themselves are having fun with the material, silly and far-fetched as it may be. The dancing ensemble members (some of whom are young kids) should also be commended for their incredible, dynamic footwork.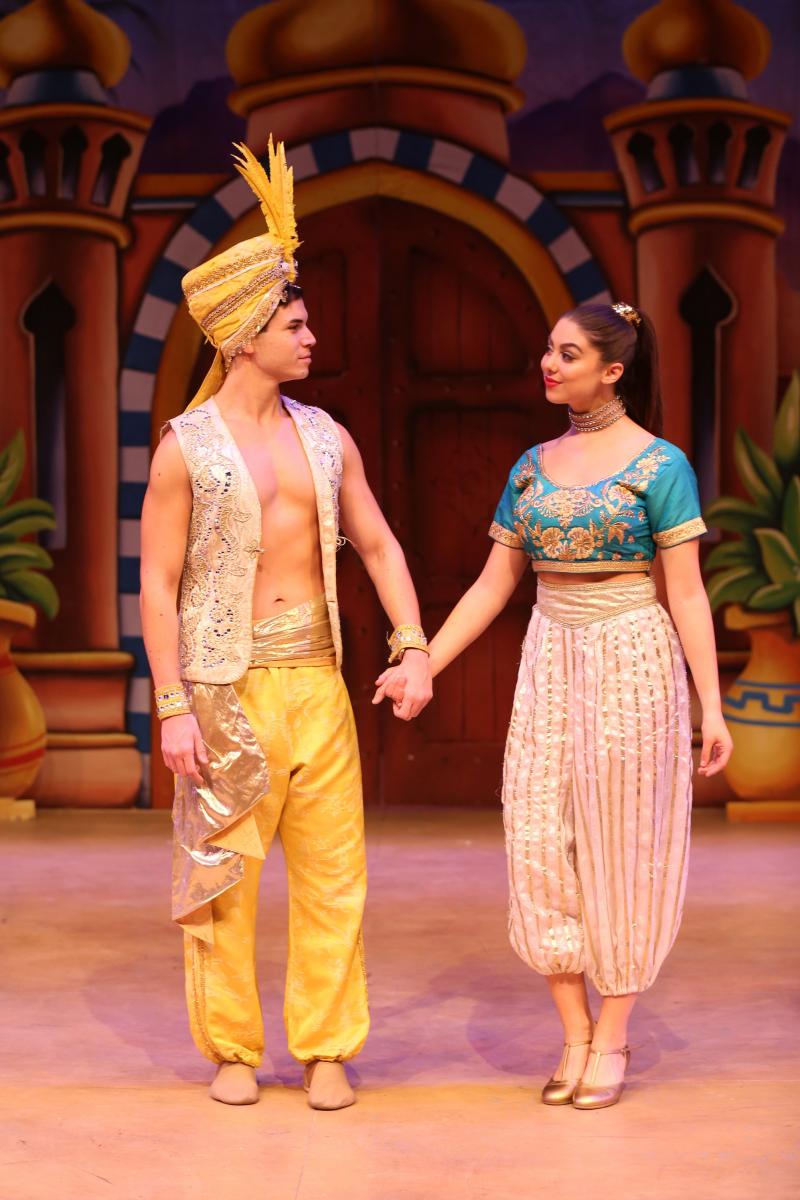 While my eyebrows went up at some of the show's minor peculiar choices (I love me some Bollywood choreography, but I was initially confused as to why the show opened with "Jai Ho"---thinking to myself, do the show creators know India is not an Arabic country?), I eventually learned to just buy into the show's many tangents and idiosyncrasies and enjoy the show purely for what it is not: a typical book musical. Once the silliness takes hold, it's hard not to sway out of it. Remember, kids, it's a panto!
Besides, ALADDIN AND HIS WINTER WISH (winter?!) purposely departs from traditional logic to begin with and, yes, takes quite a few liberties with the original Middle Eastern folk tale of Aladdin---incorporating the main plot of the Arabian story with some elements of the more familiar Disney retelling, then sprinkles it generously with some out-there scenarios and songs designed to make it as madcap as possible. And let's not forget: there's a friggin laundromat owned by a horny widow in the middle of the village.
It's cheeky holiday(-ish) fun for the whole family and a nice transitional theater piece to introduce young audiences to the wonder of live musical theater. That's a great enough reason to come check out this funny panto.
Follow this reviewer on Twitter: @cre8iveMLQ.
Photos from the Laguna Playhouse's production of ALADDIN AND HIS WINTER WISH by Cathy Cunningham Photography.
-------
The Laguna Playhouse Production of the Lythgoe Family Panto ALADDIN AND HIS WINTER WISH continues performances through December 31, 2017. The Laguna Playhouse is at 606 Laguna Canyon Road in Laguna Beach. For more information or to purchase tickets, call (949) 497-ARTS or visit lagunaplayhouse.com.