OTHELLO: A Powerful New Production Comes To Notre Dame.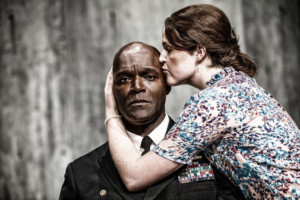 The Notre Dame Shakespeare Festival's Professional Company production of The Tragedy of Othello, the Moor of Venice is now in rehearsals. Shakespeare's powerfully relevant tragedy comes to Notre Dame in a compelling and contemporary new staging, set in a world torn apart by jealousy, mistrust, and racial strife ? a world not unlike our own. Othello cast & company members are now available for media interviews between July 31 ? August 3, 2018; Othello opens August 14, with 15 performances through August 26.
Starring in the title role is Esau Pritchett, a powerful and commanding actor who's appeared on popular television shows including NBC's The Blacklist, Netflix's Luke Cage and Orange is the New Black, HBO's The Night Of, and many more. Pritchett is also a veteran stage actor who earned rave reviews in productions for Broadway's Vivian Beaumont Theater, Alabama Shakespeare Festival, Orlando Shakespeare Festival, and Pennsylvania Shakespeare Festival, among many others.
Portraying Iago is Robert Ramirez, a versatile (and very busy) stage actor who's appeared in dozens of theatres and festivals across the country. He has performed with the New York, Utah, Great River, Illinois, Alabama, Baltimore and Wisconsin Shakespeare Festivals, as well as with numerous theatres in New York City. His most recent directing credits are at American Players Theatre and the Arkansas Shakespeare Theater. Additionally, Robert has been an award-winning voice artist and narrator of audiobooks for over two decades.
Appearing as Desdemona is Delaney Feener, a remarkable young talent returning to the Notre Dame Shakespeare Festival for her second season. Hailing from Sacramento, California, Delaney is a recent graduate of DePaul University, and was a 2017 winner of the prestigious Princess Grace Award, a foundation dedicated to identifying and assisting emerging theatrical talent. Her recent credits include Cinderella in Into the Woods, Richard in Richard III, Yelena in Uncle Vanya, and Mary Dalton in Native Son.
Othello's director, Cameron Knight, is an actor, director, and acting coach who returns to the Notre Dame Shakespeare Festival for his third season. Knight was seen on Notre Dame stages last year as Benedick in Much Ado About Nothing; he has also directed for Shakespeare Theatre Company and Carnegie Mellon University, and has performed for Oregon Shakespeare Festival, Texas Shakespeare Festival, Alabama Shakespeare Festival, and the Kennedy Center.
Additional Notre Dame Shakespeare Festival company members available for interviews include Paul Hurley, Maggie Kettering, Eric Ways (ND class of '18), assistant director Abigail Schnell (ND class of '18), composer and sound designer Kevin Krizmanich, lighting designer Kevin Dreyer, and scenic designer Marcus Stephens, as well as the Notre Dame Shakespeare Festival's Ryan Producing Artistic Director Grant Mudge.
To schedule or coordinate your interview with the NDSF company, please contact Audience Development Manager Jason Comerford by email at shakes@nd.edu, or by phone at 574.631.3777.