Photo Flash: Promo Shots for Town Hall Arts Center's DIRTY ROTTEN SCOUNDRELS, Begin. 9/13
The first production in Town Hall Arts Center's 2013-2014 Season will be Dirty Rotten Scoundrels, book by Jeffrey Lane, music and lyrics by David Yazbek. Based on the film "Dirty Rotten Scoundrels" written by Dale Launer and Stanley Shapiro and Paul Henning. Dirty Rotten Scoundrels is directed and choreographed by Nick Sugar, Henry Award winning director of Town Hall's 2012 production of The Who's Tommy and 2010 Henry Award winning production of RENT. Musical direction is by Donna Kolpan Debreceni, Henry Award Winner, The Who's Tommy.
Featured in this production is Keegan Flaugh as Lawrence, recently seen in Minimum Wage at The Avenue Theatre and in Town Hall's production of The Sound of Music last season. Back after closing last season at Town Hall in HAIR is Tim Howard as Freddie, recently seen at the Arvada Center in Man of La Mancha. We also welcome Rachelle Wood as Christine for her first production at Town Hall. She was most recently in Equinox Theatre's production of Bat Boy: The Musical.
Based on the popular 1988 film, centers on two con men living on the French Riviera. After meeting, they attempt to work together only to find that this small French town isn't big enough for the two of them. A hilarious battle of cons ensues that will keep audiences laughing, humming and guessing to the end!
Town Hall's production opens September 13, 2013 and runs through October 13, 2013. Show times are Thursdays, Fridays & Saturdays at 7:30 p.m. (& 2:00 p.m. on 9/28) & Sundays at 2 p.m. (& 6:30 p.m. on 10/6).
Reserved seat tickets are currently on sale, priced $20.00-$40.00 at the Town Hall Arts Center box office, 303-794- 2787 ext. 5 (Monday - Friday: 10 a.m. to Noon/ 1 p.m. to 5 p.m., Saturday Noon to 4 p.m. and 1 Hour prior to Shows) or on-line at www.TownHallArtsCenter.com . In a continuing effort to make plays at Town Hall Arts Center accessible to all, ten value seats at $10 each will be made available on a first-come-first-served basis one-hour prior to each published curtain time.
Photos by: Michael Ensminger

Rachelle Wood, Tim Howard, Keegan Flaugh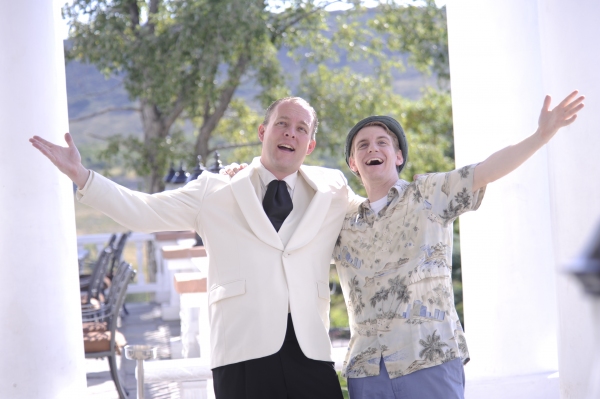 Keegan Flaugh, Tim Howard