Denver Center for the Performing Arts Names UCHealth Official Health Care Partner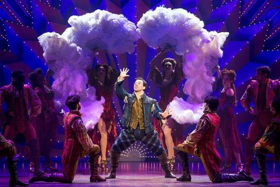 As they spend months on the road, traveling from city to city, performers may face health care challenges including injuries, illness and reduced access to preventive medicine. Now, artists visiting Denver and performing at the Denver Center for the Performing Arts (DCPA) will have new options all season long, with UCHealth - the official health care partner of the DCPA.
To kick off the partnership, UCHealth is welcoming new cast members by supplying them with their own "welcome to Colorado" health care kits that include tips on adjusting to our high altitude and dry climate.
"The endurance of the performing arts at our altitude requires optimal health," said Janice Sinden, DCPA President & CEO. "The DCPA's commitment to providing unforgettable shared experiences includes the visiting artists from Broadway. The cast and crews will benefit from UCHealth's regular health and wellness assessments, as well as UCHealth's resources in altitude and sleep medicine. Our partnership with UCHealth is an incredible opportunity not only for us to have one of the region's leading health care providers offer care for our cast and crew, but to reach our audience in unique ways throughout the season as well."
UCHealth will offer DCPA staff and all touring productions and performers access to the wide array of health care services at clinics across the Front Range, from checkups and flu shots to massage, chiropractic and acupuncture services. One of UCHealth's newest locations, Steele Street Medical Center in Cherry Creek, will provide members of visiting DCPA Broadway companies exceptional care, with its convenient location, after-hours urgent care access, and the ability to book appointments online.
"Performing multiple shows each day, while travelling across the nation, is physically demanding," said Dr. Julia Kavanagh, a physician with UCHealth's Steele Street Medical Center. "We're honored that we will be able to help these artists perform at their peak levels by providing excellent, individualized health care."
The partnership will also include opportunities for UCHealth patients to connect with cast members, visits to hospitals from DCPA Education, discounted ticket opportunities for families of long-term UCHealth patients, a social media video series highlighting health and wellness as it relates to arts and performances and patient experience events provided through UCHealth's "Moments to Shine" program.
"We are very excited to become more involved with the arts community in Denver and beyond," said Manny Rodriguez, UCHealth chief marketing and experience officer. "Theater-goers attend concerts, plays and musicals to escape into a magical world of imagination and adventure. The last thing cast and crew members want to be worried about is their health care. We are thrilled to be able to show support for the DCPA and visiting performers while also engaging with patrons in special events focused on wellness - so they may all live extraordinary lives both inside and outside the theatre."
UCHealth is an innovative, nonprofit health system that delivers the highest quality medical care with an excellent patient experience. UCHealth combines Memorial Hospital, Poudre Valley Hospital, Medical Center of the Rockies, UCHealth Medical Group, Broomfield Hospital, Grandview Hospital and University of Colorado Hospital into an organization dedicated to health and providing unmatched patient care in the Rocky Mountain West. With more than 100 clinic locations, UCHealth pushes the boundaries of medicine, providing advanced treatments and clinical trials and improving health through innovation.
The Denver Center for the Performing Arts (DCPA) is the largest non-profit theatre organization in the nation, presenting Broadway tours and producing theatre, cabaret, musicals, and innovative, multimedia plays. Last season the DCPA engaged with more than 1.2 million visitors, generating a $150 million economic impact in ticket sales alone. Additionally, DCPA Education serves more than 105,000 students of all ages and skill levels through classes, in-school programs, matinees and audience engagement opportunities. Follow the DCPA on social media @DenverCenter and through the Denver Center for the Performing Arts News Center.
Photo from the cast of the Broadway hit "Something Rotten!", which will run in Denver during the month of October.