Pianist Andrew Von Oeyen Comes to The Dallas Opera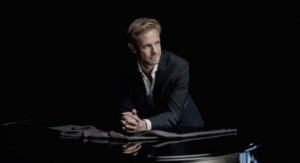 The Dallas Opera is proud to present an afternoon of magnificent orchestral works and one of the most gifted pianists in classical music today. American pianist Andrew von Oeyen and The Dallas Opera Orchestra will perform a genuinely exciting twentieth-century masterworks: Sergei Rachmaninoff's Piano Concerto No. 3 in D minor.
The second half of the program showcases the acclaimed Dallas Opera Orchestra, led by the internationally renowned Mrs. Eugene McDermott Music Director Emmanuel Villaume, performing Ludwig van Beethoven's Symphony No. 7.
This extraordinary concert performance takes place on Sunday, April 22, 2018 at 2:00 p.m. in the acoustically pristine setting of the Margot and Bill Winspear Opera House at the AT&T Performing Arts Center. Tickets are on sale now, ranging from $25-$75, and are available by calling The Dallas Opera Ticket Office at 214-443-1000 or by visiting dallasopera.org/events.
"Although most, if not all, of the superlatives have been taken, to describe the world-class artistry of pianist Andrew von Oeyen and Music Director Emmanuel Villaume, the opportunity to experience them in the same performance is rare,' explains Dallas Opera Interim General Director and CEO Kern Wildenthal. "We expect a remarkable afternoon of music, unlike anything The Dallas Opera has offered the public before."
Piano Concerto No. 3 in D Minor, Op. 30 by Sergei Rachmaninoff - Universally regarded as one of the most challenging and electrifying of all the Romantic Era concertos, "Rach 3," as it is known, has been thrilling audiences since its world premiere in 1909. Although the work features lush strings and prominent woodwinds, the spotlight is on the piano and the rare world-class musician who can measure up to both the artistic and physical demands of this fierce twentieth-century masterpiece. American pianist Andrew von Oeyen, hailed worldwide for his elegant and insightful interpretations, balanced artistry and brilliant technique, has (according to The Los Angeles Times) "indisputable gifts and an extravagantly thorough and effortless technique...(he) seems incapable of misarticulating a musical sentence." The Chicago Tribune agrees that this extraordinary artist "leaves you convinced that he can do absolutely anything he likes with a keyboard." Performed with The Dallas Opera Orchestra under the baton of "expert conductor" (The Wall Street Journal) Emmanuel Villaume, patrons can anticipate one of the most exhilarating live performances in North Texas this year!
Symphony No. 7 in A Major, Op. 92 by Ludwig van Beethoven - The composer called his seventh symphony, which premiered in 1813, "one of the happiest products of my poor talents" and audiences of the time agreed wholeheartedly, applauding, according to one contemporary newspaper account, "to the point of ecstasy." For today's Beethoven lovers, this symphony truly has it all: beauty, excitement, intensity, energy and pronounced dance rhythms. The second movement, often performed in concert as a stand-alone, is considered one of the composer's most popular orchestral pieces. Performed by The Dallas Opera Orchestra with internationally-acclaimed Music Director Emmanuel Villaume, who draws "an impressive array of colors from the orchestra" (New York Classical Review); TDO patrons may find themselves levitating out of their seats long before the final bows!
The Margot and Bill Winspear Opera House is located in the AT&T Performing Arts Center at 2403 Flora Street, Dallas, TX, 75201 in Downtown Dallas, in the Arts District.
Since his debut at age 16 with the Los Angeles Philharmonic and Esa-Pekka Salonen, Andrew von Oeyen has excelled in a broad spectrum of concerto repertoire - Bartok, Barber, Beethoven, Brahms, Chopin, Fauré, Ligeti, Liszt, Gershwin, Grieg, Mendelssohn, Mozart, Prokofiev, Rachmaninoff, Ravel, Schumann, Shostakovich, Tchaikovsky - with such ensembles as the Philadelphia Orchestra, Los Angeles Philharmonic, San Francisco Symphony, National Symphony, Detroit Symphony, Saint Louis Symphony, Seattle Symphony, Atlanta Symphony, Cincinnati Symphony, Berlin Symphony Orchestra, New Japan Philharmonic, Singapore Symphony, Grant Park Orchestra, Ravinia Festival Orchestra, Vancouver Symphony, Utah Symphony, Orchestre Symphonique de Marseille, Geneva Chamber Orchestra, Spoleto Festival USA Orchestra, Slovenian Philharmonic and Slovak Philharmonic. As both soloist and conductor he has led concerti and orchestral works by Haydn, Mozart, Beethoven, Ravel and Kurt Weill. On July 4, 2009, von Oeyen performed at the U.S. Capitol with the National Symphony in "A Capitol Fourth," reaching millions worldwide in the multi-award winning PBS live telecast.
Mr. von Oeyen has appeared in recital at Wigmore Hall and Barbican Hall in London, Lincoln Center in New York, the Kennedy Center in Washington, D.C., Boston's Symphony Hall, Zürich's Tonhalle, Tchaikovsky Hall in Moscow, Bolshoi Zal in St. Petersburg, Dublin's National Concert Hall, Royce Hall in Los Angeles, Herbst Theater in San Francisco, Sala São Paulo, Teatro Olimpico in Rome, in Bucharest, Hanoi, Macau, and in every major concert hall of Japan and South Korea.
Mr. von Oeyen's 2016/2017 engagements include, among others, a European and North American tour with the Prague Philharmonia (including performances as both soloist and conductor), appearances with the Vancouver Symphony, Jerusalem Symphony, Rochester Philharmonic, Calgary Philharmonic, Chicago's Grant Park Music Festival Orchestra and the orchestras of Grand Rapids, Oklahoma City, Wichita and Boise. He will also appear in recital in San Francisco and throughout Europe.
In June 2016, Mr. von Oeyen signed an exclusive recording contract with Warner Classics. His debut album under the label will be released in January 2017 and will include works for piano and orchestra by Saint-Saëns, Ravel and Gershwin. In 2013 Mr. von Oeyen released a critically acclaimed album of Debussy and Stravinsky piano works under the Delos Label (including two pieces written for him by composer, David Newman), following his 2011 award-winning album of Liszt works under the same label. 2013 also saw the release of the Chopin-Debussy-Ravel digital album "Andrew von Oeyen: Live in Recital."
Mr. von Oeyen, of German and Dutch origin, was born in the U.S. He began his piano studies at age 5 and made his solo orchestral debut at age 10. An alumnus of Columbia University and graduate of The Juilliard School, where his principal teachers were Herbert Stessin and Jerome Lowenthal, he has also worked with Alfred Brendel and Leon Fleisher. He won the prestigious Gilmore Young Artist Award in 1999 and also took First Prize in the Leni Fe Bland Foundation National Piano Competition in 2001. Mr. von Oeyen lives in Paris and Los Angeles.
EMMANUEL VILLAUME (Conductor)
French-born conductor Emmanuel Villaume has led captivating performances with the most prominent opera companies and symphony orchestras around the world. Now in his fifth season as Music Director of The Dallas Opera, Villaume led three productions in the 2017/18 season, beginning in October with performances of Saint-Saëns' Samson & Dalila. Following his critically acclaimed interpretation of Roméo et Juliette last season at New York's Metropolitan Opera, Villaume returned to the Met in November for performances of Thaïs, followed immediately by a special engagement at the Juilliard School for a concert with the Juilliard Orchestra and singers in an all-French program of masterworks featuring Debussy's La mer and Ravel's L'enfant et les sortilèges. He returned again to the Met for performances of Tosca in January. The New Year at The Dallas Opera began with performances of Korngold's rarely performed The Ring of Polykrates in February. A favorite at the Lyric Opera of Chicago, he returned for LOC's hotly anticipated new production of Gounod's Faust, earning consistent rave reviews. Maestro Villaume returns to conduct The Dallas Opera's season finale, Mozart's Don Giovanni, April 13th through the 29th. Villaume finishes his 2017-2018 Season in June with a new coproduction of Manon Lescaut at Barcelona's Gran Teatre del Liceu.
Maestro Villaume continues his tenure this season as Music Director and Chief Conductor of the PKF - Prague Philharmonia, a position he has held since 2015. Recent projects with the PKF include a Deutsche Grammophon recording with Anna Netrebko, Warner Classics releases with soprano Angela Gheorghiu, pianist Andrew von Oeyen, and tenor Bryan Hymel, and a special New Year's celebration concert at the Royal Opera House Muscat. Additional recent orchestral performances include at New York's Avery Fisher Hall for the 2014 Richard Tucker Gala and at Alice Tully Hall for concerts with the Juilliard Orchestra, the Los Angeles Philharmonic, the Grant Park Music Festival in Chicago, the White Nights Festival at the Mariinsky Theater in St. Petersburg, Russia, and a European concert tour of Iolanta with performances in Lucerne, Copenhagen, Monte Carlo, and London's Royal Albert Hall featuring soprano Anna Netrebko. Villaume returned to the Royal Opera House Muscat in December 2015 for a concert with the PKF and guest soprano Sondra Radvanovsky.
A frequent collaborator with major opera houses in the United States, Maestro Villaume has performed with the Metropolitan Opera for Roméo et Juliette, Madama Butterfly, Samson et Dalila, and Carmen; Lyric Opera of Chicago for Roméo et Juliette, La Bohème, Manon, The Merry Widow and Samson et Dalila; and the Washington National Opera for La Rodine, Norma, Le Cid, and Les Contes d'Hoffmann. He has conducted Madama Butterfly and Werther with the San Francisco Opera; Les Contes d'Hoffmann, La Rondine, and La Grande-Duchesse de Gérolstein with the Los Angeles Opera; La Rodine and Faust with the Opera Theatre of Saint Louis; and The Golden Cockerel, La Fanciulla del West, Les Pêcheurs de Perles, and The Grand Duchess of Gerolstein with Santa Fe Opera. At The Dallas Opera, he has conducted highly acclaimed performances of Eugene Onegin, Moby Dick, Norma, Faust, Le Nozze di Figaro, Carmen, and Iolanta. His participation in music festivals is equally exemplary, highlighted by numerous performances with the prestigious Spoleto Festival USA, where he served as Music Director from 2001 to 2010.
On the international stage, Maestro Villaume has appeared with the Royal Opera House, Covent Garden for Tosca, Manon, Les Contes d'Hoffmann, and La Rondine; Montreal Opera for La Vie Parisienne; Tokyo Bunka Kaikan for Der Rosenkavalier; Teatro Colón for Pelléas et Mélisande; and Bastille Opera for Rigoletto. Other performances in France include: Théâtre du Capitole Toulouse for Mignon; Opéra de Nice for Faust; and Opéra Marseilles for Pelléas et Mélisande, Samson et Dalila, Carmen, and Norma. Maestro Villaume has conducted for several opera companies in Germany, including the Bayerische Staatsoper for Les Contes d'Hoffmann; Deutsche Oper Berlin for Tosca; Hamburg Staatsoper for Der Fliegende Holländer; Bonn Opera for La Fanciulla del West; and Cologne Opera for La Bohème and Werther. Other lauded performances in Europe took place at Teatro La Fenice for Thaïs, Il Crociato, and L'Africaine; Teatro Regio di Torino for Ariane et Barbe-bleue and Les Contes d'Hoffmann; Martina Franca Opera for La Grande-Duchesse de Gérolstein; Teatro Real in Madrid for Les Contes d'Hoffmann and Werther; Opéra de Monte-Carlo for La Périchole and Werther;and the Klangbogen Festival in Vienna for Don Quichotte and Menotti's Goya with Plácido Domingo.
Born in Strasbourg in 1964, Emmanuel Villaume studied music at the Conservatoire de Strasbourg. He continued his education at Khâgne and the Sorbonne in Paris, where he received degrees in literature, philosophy, and musicology. As author of noted articles of musicology, Mo. Villaume was appointed Dramaturg of the Opéra National du Rhin in Strasbourg at the age of 21. He holds an honorary doctorate from the University of Indianapolis. Maestro Villaume makes his home in Paris and Dallas.
Founded in 1957, The Dallas Opera is an internationally-recognized innovator dedicated to the overall advancement of the operatic art form and the support of established and emerging artists, as well as the education and development of new opera audiences in North Texas-and beyond. These goals are achieved by commissioning and producing world-class opera; through ground-breaking institutes, national competitions and topical programs; and by presenting opera in both traditional and non-traditional formats and venues in order to attract patrons of every age, background, educational level, and ethnicity-while engaging with more than 87,000 people in our community each year. TDO is equally committed to the task of responsible stewardship and is managed with efficiency and accountability, to the highest possible standards.