Interview: Christopher J. Deaton And Samantha McHenry of DADDY LONG LEGS at Lyric Stage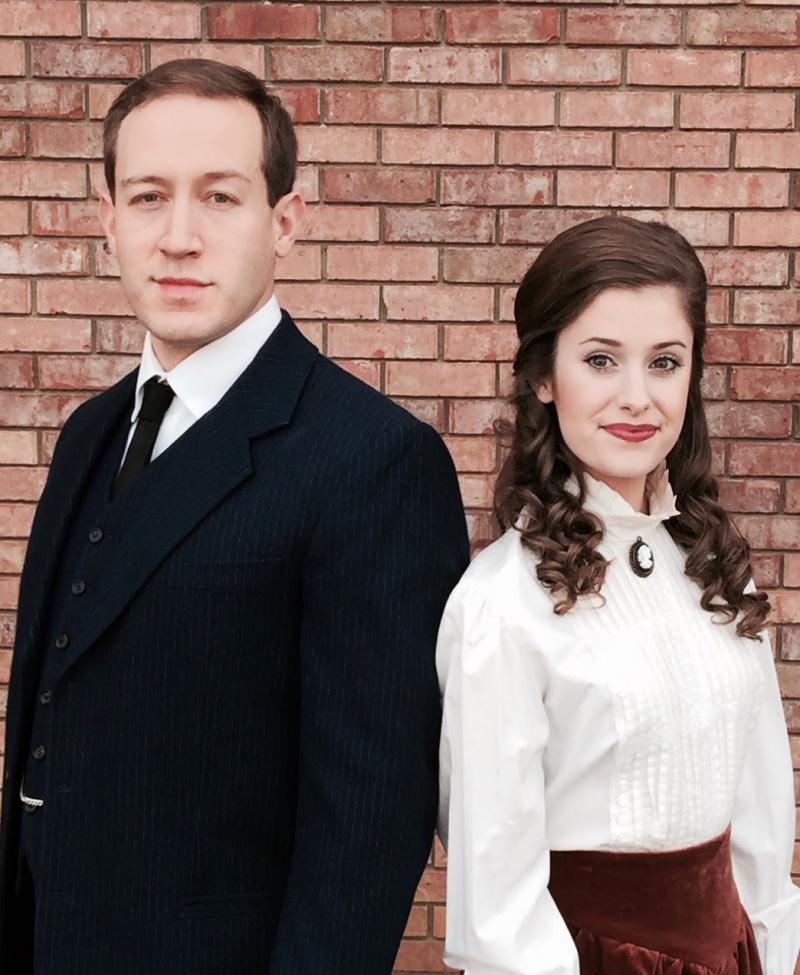 This weekend, DADDY LONG LEGS opens on the historic stage of Dallas' Majestic Theatre, marking Lyric Stage's second performance in their new home. We caught up with the groups' current leading man and leading lady as the pair prepared for their upcoming opening performance. For tickets and more information about the show, visit www.LyricStage.org
Q: You have both been in several
Lyric Stage
shows - what makes this one different?
Christopher J. Deaton: In recent history, Lyric Stage has become known for producing very large, impressive shows with casts of 25-35 actors and a 35-piece orchestra, which makes for a great experience that many will not get anywhere else, especially on a local stage in Dallas-Fort Worth. I think by the very nature of this show being a 2-actor and 3-piece orchestra show that it will feel and be different than many other shows in Lyric's recent production history, but in many ways is a return to Lyric's longstanding mission and commitment to what they produce. I love that there's nowhere and nothing to hide with two people on stage on a unit set. It forces the actors to be very dynamic and engaging, as well as very clear with their storytelling and what they're trying to convey. I think audiences are in for a real treat with this show, and I truly hope they enjoy it as much as we have enjoyed rehearsing it and putting it together.
Samantha McHenry: I was in South Pacific (Ensign Bessie Noonan) and Of Thee I Sing (Diana Devereaux) with Lyric Stage, both at the Irving Arts Center's Carpenter Performance Hall - so this is my first production with Lyric Stage at the Majestic Theatre. I am very excited about this venue - there is something so magical about the beautiful and historic Majestic Theatre. I'm pinching myself that I have the incredible opportunity to perform in such a special show in such a grand space! This will definitely make for a very different Lyric experience.
This will also be a very different show as there are only two of us in the entire cast. I have never been in a cast of only two actors, and I am loving the adventure of telling this beautiful story with Chris.
Q: This production of Daddy Long Legs at Lyric is the regional premiere, anything about that that is challenging or intimidating?
Chris: I've done many shows with Lyric Stage that many contemporary audiences have never seen and/or shows that are rarely produced due to their size, scope, etc, so there's frequently a sense of a production being the first - or only - time someone will see it - The Golden Apple being a great example of a rarely produced show that few will get the opportunity to see in their lifetime. There's also the thought/idea that no one in the audience has ever seen the particular production or performance you're doing at any given time, which is one of greatest things about theatre: it's living and is happening now. So, for me, there's no additional pressure than there is for any other show or production I've done because there's always the pressure of someone who's never seen exactly what we're doing in that moment. I think that helps keep all artists involved with the theatre accountable to the production, material, telling the story, and ensuring that each audience member walks away somehow moved or with something new, whether that something be good, bad, or indifferent. Of course, we hope it's good!
Samantha: I really don't find it intimidating, I actually find it much more exciting. It's such a blast that we get to create these characters and their world without much influence from past productions, and that audiences will not have many preconceived notions of what the show should look and sound like - we really get to make Jerusha and Jervis our own.
Q: The show is about a young woman who writes letters to her anonymous benefactor. The majority of this show is told in the form of written letters rather than scenes between the two of you on stage. Does this present any nuances to your process as an actor? Any challenges?
Chris: For me, it's proven to be very challenging in the way of memorizing the show since the convention of the show has little-to-no direct dialogue between the two characters - in the traditional sense of each person expressing their opinions, needs, wants, thoughts, etc back and forth to one another - nor, for my character (Jervis) at least, is there much in the way of monologuing. Samantha's character (Jerusha) may be composing a letter out-loud, but my character will have bits and pieces of those passages where he'll be reading in time and out-loud as the letters are being composed, which is a challenging tennis match, to be sure. It also requires me to know not just my lines or cue lines for what I say, but also the bulk of what her lines are - which is a lot - so that I can keep the letter reading as seamless and/or as natural as possible.
Samantha: It is definitely a challenge, as a majority of the show is told through monologues and solo songs. If we do sing/speak together, most of the time we are not actually in the same space, but writing/reading the same letter in our own worlds. It makes the scenes where we do connect much more exciting, because we actually get to look into each other's eyes and interact with a real scene partner. My favorite parts in the show are when I get to interact with Chris.
Q: Chris, what is it like working with Samantha?
Chris: In short, Samantha is great, but I knew that coming into rehearsals. I produced three National Tours of a production of Rudolph the Red-Nosed-Reindeer: The Musical, and when I hired Samantha in 2015 as a replacement "Girl Elf" for the second year of our tour, I sent her the script, score, and a video of our 2014 tour and said "please learn as much of this as you can, and we'll teach the rest and clean it in rehearsals." Well, she ended up showing up to the first day knowing everything. I mean literally everything - and better than most of us could even remember from doing it before. Our whole production team was impressed, and we of course were quick to rehire her for our 2016 tour as well. It should come as no surprise then that she showed up to the first day of rehearsals for Daddy Long Legs pretty much fully memorized/off-book, which is truly a feat given the amount she has to do in the show. However, it's not just her diligence in being prepared that makes her great. I've been a professional, union stage actor for a few moons now, and there aren't too many people I could think of from over the years who are as easy to work with as Samantha, and who are also always willing to try a scene a different way, take a note, or run something again to figure out or find what's best. She really wants to not only do and be her best, but to make the production the best it can be as well. Then of course she's just talented on top of that. All of which is to say, she's great and makes doing the show very easy for everyone involved. Plus she bakes cookies and cakes and brings them to rehearsals, so that's not too bad either.
Samantha: Working with Chris has been such a dream! I am having a ball -- he is hilarious and always making me laugh. I have known Chris for a few years now, he actually cast me in the National Tour of Rudolph the Red Nosed Reindeer (as an Elf!) just over two years ago. This is my first time getting to act and perform with him, and he is so immensely talented, I am always blown away and left speechless. He has a song in Act 2 that always has my jaw on the floor. Chris is extremely professional, and incredibly thoughtful. Above all, Chris is the definition of kind - I truly am the luckiest actress to get to work with him. He always gives 100%, and is very inspiring to me -- he is so easy to work with, and makes rehearsals so easy and fun. I am confident that I will be very sad when this show is over.
Q: What can audiences expect from the production?
Chris: The same great quality audiences have come to expect from Lyric Stage is the first thing that comes to mind. From the costumes, hair, and makeup, to the pit musicians, to the set, and everything in between, it will all look and be top notch, especially in the Majestic Theatre. On top of that, I think it's just going to be a great production of a show I've really come to enjoy doing. The music is beautiful, the story is sweet, and I think audiences will get to see something special with this two-person musical.
Samantha: This production will touch your heart! It is such a beautifully sweet story, and has me in tears by the end of each time we run through the show. It is such a unique musical with the storyline being told through Jerusha's letters, and only having two people in the cast. The audience really has a chance to fall in love with both of the characters, and will be rooting for each one.

More Hot Stories For You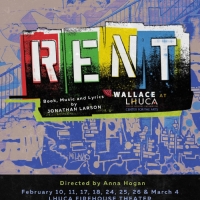 The Wallace Announces New Ticketing Initiative, Dates, Cast & Crew For RENT

November 28, 2022

The Wallace Theater and LHUCA has announced dates, cast, crew and a new ticketing initiative 'Pay What You Can' preview night for RENT!
---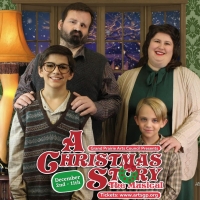 Grand Prairie Arts Council to Present A CHRISTMAS STORY THE MUSICAL in December

November 25, 2022

The Grand Prairie Arts Council will present A CHRISTMAS STORY THE MUSICAL, with music and lyrics by Benj Pasek and Justin Paul, book by Joseph Robinette, and direction by Kevin Velasquez. The show runs December 2 - 11, 2022, at the Uptown Theater.
---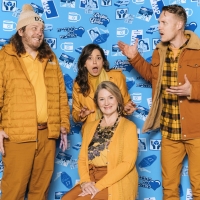 Stage West Presents The Holiday Charmer HANDLE WITH CARE, By Jason Odell Williams

November 23, 2022

How does someone cope with the loss (literally) of a much-loved relative on Christmas Eve, in a country where she doesn't speak the language?  Maybe life, or perhaps Fate, has a few surprises in store, in Jason Odell Williams' sweetly funny Handle with Care, which begins a 5-week regional premiere run Thursday, December 8.
---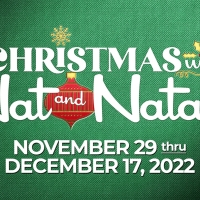 Casa Mañana's Reid Cabaret Theatre to Present CHRISTMAS WITH NAT AND NATALIE This Holiday Season

November 23, 2022

Casa Mañana's Reid Cabaret Theatre has completed phase 1 of its renovations and is thrilled to welcome patrons this holiday season. Christmas with Nat and Natalie features the music of the iconic father-daughter duo and will be the first show in the newly remodeled space.
---
Dallas Black Dance Theatre Presents BLACK ON BLACK Holiday Performances and Celebration

November 23, 2022

Dallas Black Dance Theatre (DBDT) presents the 13th annual Black on Black series. These performances showcase the choreographic skills of DBDT dancers and DBDT: Encore!  company members as they create works for their peers to perform in the intimate setting of the DBDT studios.
---