Kyle Christopher West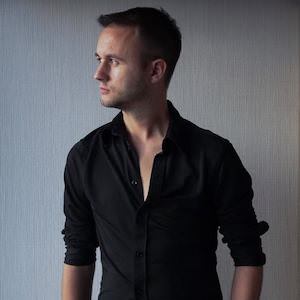 Kyle Christopher West is obsessed with the arts. Growing up on Cape Cod, Massachusetts, Kyle trained as a gymnast and dancer where he performed across the East Coast in productions of West Side Story, Damn Yankees, Joseph and the Amazing Technicolor Dreamcoat, Fame, Footloose and more. He began professionally choreographing summer stock musicals at the Cape's Academy Playhouse at only sixteen years old (working alongside director Kim Croker, sister of Broadway's Scott Ellis), and made his directorial debut with A Chorus Line just two years later.
Upon moving to New York City in 2004, Kyle continued his education working hands-on with various Broadway and off-Broadway productions. As a promotional marketing manager, Kyle worked under Broadway producer Barry Weissler (Chicago, Grease, Annie Get Your Gun) on the Christina Applegate revival of Sweet Charity, and for Ken Davenport (Spring Awakening, It's Only A Play, Godspell, 13) on his first New York productions. Kyle also worked closely with producer Tom D'Angora (Marvelous Wonderettes, Newsical) marketing Broadway's 42nd Street, Dracula, Little Women, Jersey Boys and Forbidden Broadway. Kyle spent his evenings working in various Broadway theatres on productions of Chicago, The Color Purple, A Chorus Line and Avenue Q, and he held management positions at Disney's New Amsterdam Theatre (Mary Poppins) and off-Broadway's I Love You Because.
Kyle has worked across the US as a producer, director, choreographer, costumer, scenic designer and production photographer. For his work, he has received many awards including the AriZoni Award of Excellence, MET Award, Annie Award, Bourne Actor's Award and BroadwayWorld Award, among others. Kyle relocated to Dallas, TX in 2014 and has recently been featured in a commercial for Ameican Airlines and in the 2017 marketing campaign for Broadway's Dear Evan Hansen. He is thrilled to promote Dallas and Fort Worth as a senior editor at BroadwayWorld.
MOST POPULAR ARTICLES
LAST 30 DAYS
LAST 365 DAYS
---
Tarrant Actors Regional Theatre Exits Fort Worth Community Arts Center; Mainstage Productions Shutter

May 25, 2020

After seven years of producing live theatre in Fort Worth, Tarrant Actors Regional Theatre (TART) has announced their plan to cease operations on all mainstage productions, effective immediately. With a mission to a?oeentertain, inspire, challenge, and educate its audiences through live theatre,a?? TART has produced both plays and musicals at The Fort Worth Community Arts Center since 2013.
---
Abandoned Arts: Inside Denton's Fine Arts Theater
April 26, 2020
---
Broadway's Ken Davenport and Rachel Hoffman join COLLEGE AUDITION PREP at Texas Woman's University

March 12, 2020

Texas Woman's University's College Audition Prep Program is back better than ever this year with two great options for high school musical theater and acting students: a new two week Intensive stay camp hosted by Texas Woman's University on their beautiful Denton, Texas campus OR a four day Weekend event packed with master classes, dance classes, mock auditions and college program overview presentations.
---
BWW Interview: Lorenzo Pugliese of THE SPONGEBOB MUSICAL at Bass Hall
February 10, 2020
---
MainStage Irving-Las Colinas Presents Kate Hamill's Adaptation of PRIDE & PREJUDICE

January 6, 2020

Welcome to the Bennet household, where love is a game and the stakes are higher than ever. MainStage Irving-Las Colinas kicks-off the new year with Kate Hamill's inventive adaption of Jane Austen's Pride and Prejudice directed by Dennis Yslas Trainor. Performances run January 24-February 8 in the Dupree Theatre at Irving Arts Center. Tickets range from $19-$28 and are on sale now at the Irving Arts Center Box Office (972-252-2787 / www.IrvingArtsCenter.com).
---
BWW Interview: Mariah Lyttle of THE COLOR PURPLE at Bass Hall and AT&T Performing Arts Center

December 23, 2019

Newcomer Mariah Lyttle hasn't exactly pounded the New York City pavement quite yet, but it's not a reflection on her motivation or hard work. In fact, the young actress barely crossed the graduation stage before headlining a regional production of THE WIZ, which closed only moments before she booked the coveted role of Celie in the latest THE COLOR PURPLE national tour. While back at home for the holidays with her family, Ms. Lyttle sat down to share how the role has helped her find her voice, and how this classic story inspires hope and faith in audiences of all backgrounds and beliefs.
---
BWW Interview: Courtnee Carter of ONCE ON THIS ISLAND at AT&T Performing Arts Center

December 14, 2019

It wasn't long after moving to New York City before actress Courtnee Carter made her Broadway debut understudying the lead character Ti Moune in the highly celebrated revival of ONCE ON THIS ISLAND. This week, we caught up with Ms. Carter while on tour with the show from Charleston, North Carolina where she now performs the role full time. She spoke about breaking down barriers and building a better community through love and hope. Read our full conversation below.
---
BWW Review: CATS is PAWSitively PURRfect at Dallas Summer Musicals

November 9, 2019

It's been 38 years since Andrew Lloyd Webber's mega-hit CATS made its stage debut. 42 years earlier, T.S. Eliot had unknowingly penned the musical's lyrics in Old Possum's Book of Practical Cats, his 1939 collection of feline inspired poetry. While his poems were an unexpected source material for a song-and-dance operetta, the family-friendly musical quickly became a Broadway landmark, adopting the tagline a?oeNow and Forevera?? during its impressive 18-year New York City run.
---
Queen Musical WE WILL ROCK YOU Rolls Into Irving at Toyota Music Factory

October 16, 2019

Written in 2002, the Queen and Ben Elton musical WE WILL ROCK YOU has taken the globe by storm, featuring record-breaking pop and rock hits of the 1970s and beyond. Following the success of the Oscar®-winning film "Bohemian Rhapsody," WE WILL ROCK YOU, recently returned to North America and is currently en route to Irving's Toyota Music Factory for one night only on Tuesday, October 22nd.
---
Photo Flash: Grand Prairie Arts Council's LEGALLY BLONDE Opens Tonight at Uptown Theater

October 4, 2019

LEGALLY BLONDE THE MUSICAL, presented by the Grand Prairie Arts Council, opens at the historic Uptown Theater on Friday, October 4, 2019, and runs through Sunday, October 13, 2019. The beautifully restored 1950's theater is located at 120 E Main St, Grand Prairie, TX 75050.
---
THE CHOIR OF MAN Returns to U.S. for Second North American Tour

August 15, 2019

Back by popular demand, the runaway international hit is coming back to the states! Known across the globe as a?oethe ultimate-feel good show, THE CHOIR OF MAN offers up 90 minutes of indisputable joy! It's a party. It's a concert. It's a pint-filled good time that combines hair-raising harmonies, high-energy dance, and foot-stomping choreography. The multi-talented cast of nine handsome blokes sings everything a?' pub tunes, pop, Broadway, classic rock a?' all to roof-raising heights. It's the best singing, dancing, stomping, concert pub-crawl you'll ever attend.
---
BWW Review: A Mouthful of Magic with Trigg Watson at Checkered Past Winery

July 2, 2019

I wasn't quite sure what to expect when I received an invitation to a Wine & Magic show located under an artsy Dallas apartment building. But being a sucker for live theatre, dinner and drinks (where's the dinner theatre, DFW?), I accepted with an open mind and empty stomach. And while I may not have left the captivating event with the secrets to the show, I did succeed in making some incredible eats disappear. And I'd do it again in a heartbeat.
---
A Not So Casual Affair with Corey Cott Ohlook Performing Arts Center

June 9, 2019

How do you celebrate an expansion eighteen years in the making? You throw a swanky, "Not So Casual Affair"!
---
BWW Interview: Brooke Singer of CRUEL INTENTIONS: THE 90'S MUSICAL at Dallas' Winspear Opera House

May 14, 2019

Texas-born Brooke Singer is no stranger to the stage. In fact, she's been performing professionally since before most of her peers had picked their first extra-curricular activity. And now, after years of sailing the world playing famous Disney characters like Belle and performing in the world premiere of the stage version of TANGLED, she's got an opportunity to show off her less family-friendly skills by taking the new stage musical version of the nostalgic 90's film Cruel Intentions on the road. We caught up between shows while the tour was stopped in sunny Washington DC. Read more, below:
---
Wizard of Oz Actress Adjusts Performance for Deaf Patrons

April 26, 2019

This weekend in Fort Worth, Texas, actress Molly Franco took the stage as Dorothy in Casa Mañana's production of THE WIZARD OF OZ. When Franco learned that members of the deaf community were in the audience on Thursday evening, she sought permission to adjust the blocking of the show's iconic song "Somewhere Over the Rainbow" to incorporate American Sign Language into her performance.
---
'John and Jen' Musical Opens Ritz Theatre 2019 Season Starring Dennis Clark and Kristen Gehling

March 22, 2019

The 2019 Ritz Theatre season will open with 'John & Jen' at 7:35 p.m. April 4-6 and at 2 p.m., April 7 at the Ritz Theatre, 111 W. Third St., Sheffield. Tickets are $20 for adults and $15 for students. 'John & Jen' is a musical with music by Andrew Lippa, lyrics by Tom Greenwald, and book by Lippa and Greenwald. Lippa went on to write the music and lyrics for the stage musicals 'Wild Party', 'The Addams Family' and 'Big Fish.'
---
Auditions Announced for AIDA at Plaza Theatre Company

February 22, 2019

Plaza Theatre Company is pleased to announce auditions for its upcoming production of Elton John and Tim Rice's AIDA. The production will be directed by JaceSon P. Barrus with assistant direction by Kimberly Billins-Oliver and Jay Cornils, stage management by Lindsay Batt, choreography by Tabitha Ibarra and assistant choreography by Eden Barrus and Alina Jennings.
---
Photo Flash: THE MANUFACTURED MYTH OF EVELINE FLYNN at Theatre Three

January 31, 2019

Dallas' newest musical, The Manufactured Myth of Eveline Flynn debuts tonight on the mainstage at Theatre Three. The musical is written by locals Ian Ferguson (music and lyrics) and Michael Federico (book) and runs January 31st-February 24th. The official opening night is scheduled for Monday, February 4th, but preview performances are open to the public. Tickets and more information can be found at www.Theatre3Dallas.com.
---
Photo Flash: NEWSIES at Plaza Theatre Company

January 30, 2019

This Friday, February 1st, Plaza Theatre Company opens DISNEY'S NEWSIES THE MUSICAL at PlazaCo's Dudley Hall location at 305 S. Anglin Street in Cleburne, TX opening on February 1st and playing thru March 2nd, 2019. Tickets are more information at www.plaza-theatre.com
---