WAITRESS to Hold Auditions for 'Lulu' at Playhouse Square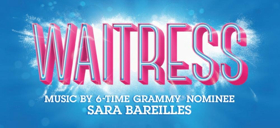 WAITRESS, the Tony nominated musical will be launching its National Tour at the Connor Palace Theatre on Tuesday, October 10, for a limited engagement and is looking for two young girls to perform the role of "Lulu" during the three-week run.
The character of "Lulu" is a sweet and carefree 4- to 5-year-old who appears in the production's final scene. Qualified young girls should be shorter than 4'2" and no older than 5 years and 3 months. Individual applicants are welcome, as are sets of twins or siblings.
The "Search for Lulu" will take place in Cleveland on Tuesday, September 12th at the Gund Dance Studio at IdeaCenter at Playhouse Square (1375 Euclid Avenue in downtown Cleveland). The audition will consist of the child reading two lines from the show. Parents should bring a current head shot and resume (if available) along with all contact information to the audition. Auditions will begin at 10AM and occur on a first come, first seen basis; no appointments will be taken.
For more information, visit playhousesquare.org/auditions.
Brought to life by a groundbreaking all-female creative team, this irresistible new hit features original music and lyrics by 6-time Grammy nominee Sara Bareilles ("Brave," "Love Song"), a book by acclaimed screenwriter Jessie Nelson ("I Am Sam") and direction by Tony Award winner Diane Paulus (Finding Neverland, Pippin, Hair).
Inspired by Adrienne Shelley's beloved film WAITRESS tells the story of Jenna - a waitress and expert pie maker, Jenna dreams of a way out of her small town and loveless marriage. A baking contest in a nearby county and the town's new doctor may offer her a chance at a fresh start, while her fellow waitresses offer their own recipes for happiness. But Jenna must summon the strength and courage to rebuild her own life.
Tickets are now available for WAITRESS, which opens its national tour at the Connor Palace at Playhouse Square October 17 through November 5 as part of the KeyBank Broadway Series at Playhouse Square. Show times are Tuesdays - Fridays at 7:30PM, Saturdays at 1:30 and 7:30PM, and Sundays at 1:00 and 6:30 PM. Tickets for all performances are currently on sale, and may be purchased at the Playhouse Square Ticket Office (1519 Euclid Avenue in downtown Cleveland), online at playhousesquare.org or by calling 216-241-6000. Group orders of 15 or more may be placed by calling 216-640-8600.
Playhouse Square is a world-class, not-for-profit performing arts center, arts education champion and downtown developer.