Roger Daltrey to Perform The Who's TOMMY with The Cleveland Orchestra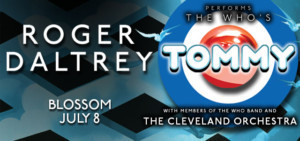 The Cleveland Orchestra announced a special event during its 50th anniversary Blossom Music Festival season: Roger Daltrey performs The Who's TOMMY with members of The Who Band and The Cleveland Orchestra. The Who's classic rock opera, Tommy, will be performed by The Cleveland Orchestra and vocalist Roger Daltrey, the iconic lead singer of The Who, on Sunday, July 8, 2018 at 8:00 p.m. at Blossom Music Center. This special event does not include an opening act.
Composed by The Who's legendary lead guitarist Pete Townshend and released in 1969, and featuring hits like "Pinball Wizard" and "I'm Free," Tommy is one of the most acclaimed and defining works of the rock era and an enduring album that resonates to this day. The groundbreaking double album was inducted into The Grammy Hall of Fame in 1998, and Roger Daltrey played the title role in the successful 1975 film of the same name. Recognized as one of the most influential rock bands in history, The Who were inducted into the Rock & Roll Hall of Fame in 1990.

Complete details of The Cleveland Orchestra's 50th Anniversary Season at Blossom Music Festival will be announced in February.
Ticket and Parking Information
Tickets to this special event will be offered during a pre-sale period to current Cleveland Orchestra subscribers and donors, as well as members of the Rock & Roll Hall of Fame, starting January 29, 2018 at 3:00 p.m. All tickets will be on sale on February 2, 2018 at 10:00 a.m. Patrons can purchase tickets through the Severance Hall Ticket Office or online at clevelandorchestra.com. Pavilion tickets start at $45 and lawn tickets are $35. For more information about purchasing tickets, call Cleveland Orchestra Ticket Services at 216-231-1111 or 800-686-1141, or visit clevelandorchestra.com.
This special one-night-only event is not included as part of subscriptions, lawn ticket book packages, or the Under 18s Free program for the 2018 Blossom Music Festival Season.
Paid parking in paved lots is available by advance purchase: $40 for premium parking in Lot A and $20 for Lots C/D/E. Parking in grass lots is free.
Special Security Policies for July 8
This concert will include increased security measures, due to the anticipated crowd size.

· Large, hard sided coolers; large, oversized bags; umbrellas; and wagons will not be allowed.
· Lawn chairs must be no higher than nine inches off the ground, the size of a standard beach chair. No camping chairs, bag chairs, folding chairs, or patio chairs are permitted. Chairs will be available for rent.
· Size restrictions will be placed on bags (no larger than 14"x12"x6").
· Increased security at the entry gates, including bag checks and metal detector screening.
· Guests may bring in a light picnic or snacks, packed into one (1) one-gallon, sealed clear zip-top bag. Please reserve one bag per person.
· Outside beer and thermoses will not be permitted.
· One factory sealed 750 ml bottle of wine per adult (over 21) will be allowed. Other than wine bottles, no glass will be permitted. Guests should bring their own plastic drinkware.
· One factory sealed or empty bottle of water (up to a gallon in size) is permitted per person. Other soft drinks are not permitted.
· No weapons of any kind will be permitted inside the venue, including but not limited to knives, guns, mace, etc.

Security policies and procedures are subject to change.
Guests are encouraged to purchase picnic options which are available for pre-order and pick-up onsite at the Blossom Music Center Special Events Center. More information will be available after the full 2018 Blossom season is announced in February 2018.
For a full list of security policies for this event, please visit https://www.clevelandorchestra.com/18-blossom--summer/18-blossom-festival---concerts/2018-07-08-Tommy/
Blossom Music Center, which opened in 1968, is celebrating its 50th anniversary during the 2018 season. The summer home of The Cleveland Orchestra, Blossom is located 25 miles south of Cleveland just north of Akron, Ohio. The Center's name honors the Dudley S. Blossom family, major supporters of The Cleveland Orchestra throughout its history. Blossom is situated in the rolling hills of Cuyahoga Valley National Park, which protects 33,000 acres along the Cuyahoga River between Akron and Cleveland. Blossom lies within the city limits of Cuyahoga Falls, an Ohio community first settled in the early 1800s, at 1145 West Steels Corners Road in Summit County. Blossom reopened in 2003 following the completion of the Blossom Redevelopment Project, which featured a highly-acclaimed renovation of the facility and improved patron amenities. The Blossom Redevelopment Project was the first major capital improvements project in the history of the facility, which serves more than 400,000 visitors each summer. The Blossom Music Festival is a smoke-free environment; smoking is not permitted at concerts and other events during the Blossom Music Festival.
Related Articles View More Cleveland

Stories

Shows
More Hot Stories For You