Tab Benoit, Bilal, Los Lonely Boys and More Coming Up at City Winery Chicago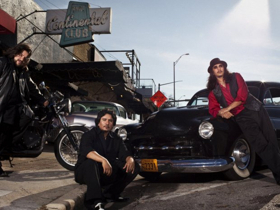 City Winery Chicago, 1200 W. Randolph Street, announces two nights with Texas power rock trio Los Lonely Boys, modern soul man Bilal and more.
The following shows go on sale to the public on Thursday, October 19 at noon at citywinery.com/chicago.
---
Lynne Jordan presents A Great Big Diva
Saturday, December 2; 1:00 p.m.
$12 advance/$15 day of show
Chicago's own Lynne Jordan has been thrilling audiences around the world with her vocal talents for 25 years, including sold out performances at City Winery venues in Chicago, New York and Atlanta. Now, under the guidance of Chicago composer and producer Ira Antelis with decorated LA-based playwright and co-writer AnDrew Barrett, Lynne Jordan delivers the first staged reading of her one-woman musical A Great Big Diva which incorporates the stories and music of Jordan's rich life and brings together all her formidable talents to the stage. Following this reading, the show will be refined, completed and brought to a stage in Chicago over the next year. This endearing performance will represent a unique opportunity to get an exclusive first look at this compelling material and music that will become A Great Big Diva.
Saturday, December 16
$35/$38/$42/$45
Louisiana born Blues star Tab Benoit is dedicated to drawing on his Cajun roots to fuel a long-standing discography of back-to-basics blues signatures, earning him several awards in the genre, including a 2006 Grammy nomination for Best Traditional Blues Album for Brother to the Blues, a collaboration with Louisiana's LeRoux. With a career spanning back to nightly impromptu gigs at the Blues Box, a local Louisiana institution, and a record deal with Justice Records, Benoit has produced over a dozen albums since 1993. Keeping in touch with his home state, Benoit also starred in the IMAX motion picture Hurricane on the Bayou, a documentary about Hurricane Katrina's effects and a call to restore the wetlands. Benoit returns to City Winery in celebration of his long career in blues.
Thursday-Friday, January 4-5
$35/$38/$42/$45
If there is one R&B artist for whom the neo-soul categorization seems limiting, it is Philadelphia native Bilal. None of his recordings resemble the sycophantic worship of soul artists who thrived in the '60 and '70s, and it isn't just because his voice -- classically trained, capable of singing opera in seven languages -- is so unique. While some inspirations are detectable, his recordings are wholly modern and increasingly creative. After being dropped from a major label, he went several years without releasing any solo material. Through evangelism from his peers and word of mouth from his early fans, Bilal has gained an insatiable following and is supported by sympathetic independent labels, where he was finally able to thrive creatively.
Amy Black presents The Music of Memphis & Muscle Shoals
Sunday, January 7; 7:00 p.m.
$12/$15/$18/$20
A Boston-based artist with storytelling and southern tradition in her blood, Amy Black has shared stages with artists such as Rodney Crowell, Emmylou Harris, Delbert McClinton, Chris Isaak, Suzy Boggus, Joey Ely, and the Courtyard Hounds. Her seamless blend of all things Americana, coupled with her soulful, smooth vocals and gift for bringing characters to life through song, make her an artist that pleases lovers of blues, folk, soul and country alike.
Wednesday, January 17
$15/$18/$22/$25
Davina & the Vagabonds have created a stir on the national music scene with their high-energy live shows, expert musicianship, sharp-dressed professionalism, and Sowers' commanding stage presence. With influences ranging from Fats Domino and the Preservation Hall Jazz Band to Aretha Franklin and Tom Waits, the band is converting audiences one show at a time, from Vancouver to Miami and across Europe. In 2011, Davina released her first full length, all original album Black Cloud. It was named one of the 10 best releases of the year by the Minneapolis Star & Tribune and awarded 4 ½ stars from Downbeat Magazine. Their two latest releases, Sunshine in 2014, and Nicollet and 10th in 2015, have been received to tremendous success, including a performance on the hit BBC2 show, "Later with Jools Holland," and have only furthered their place in the blues genre.
Los Lonely Boys with Lisa Morales
Saturday-Sunday, March 17-18
$40/$45/$50/$55
The Los Lonely Boys are a sibling trio (guitarist Henry Garza, bassist JoJo Garza, and drummer Ringo Garza Jr.) whose style draws equally from rock, blues, Tex-Mex, conjunto, and Tejano. The brothers recorded their eponymous debut album in 2003 at Willie Nelson's Pedernales studio in Austin, with Willie himself guesting on the sessions. The album quickly won the band a large national audience. Its lead single "Heaven" became a Top 20 pop hit, reached the #1 spot on Billboard's Adult Contemporary chart and eventually won a Grammy Award for Best Pop Performance by a Duo or Group with Vocal. After a prominent guest appearance on the 2005 Santana album All That I Am, Los Lonely Boys solidified their success with 2006's Sacred which brought two more Grammy nominations, 2008's Forgiven, and the holiday-themed Christmas Spirit. Meanwhile, the band continued to build its reputation as a singularly powerful live act. Their most recent album, Revelation, was released in 2014.
City Winery also announces Justin Ruff opens for Teedra Moses on Oct. 24 and Robert Gee opens for Loose Ends on Nov. 17.
All City Winery events are open to all ages and start at 8 p.m., unless noted.
---
Tickets go on sale to the general public on Thursday, October 19 at noon. Only members of City Winery Chicago's signature VinoFile program have access to ticket sales today in addition to receiving: a waiver of ticket service fees; free valet parking; Restaurant Loyalty Rewards, such as a free pair of VIP concert tickets for every $500 spent on food & beverage in the restaurant; exclusive membership-only events; and access to the proprietary City Winery Virtual Sommelier, which helps make suggestions for wines one might enjoy based on past consumption at the venue.
Tab Benoit, Eric Johanson, Bilal, Los Lonely Boys, Lisa Morales, Lynne Jordan, Amy Black, Justin Ruff, Robert Gee and Davina & the Vagabonds join a diverse mix of the most respected names in pop, rock, jazz, blues, world music, theater, dance, spoken word and comedy presented at City Winery Chicago, including previously announced headliners and supporting acts Incognito (Oct. 16, 7 & 9:30pm); An Evening with Randy Newman (Oct. 18-19); Henhouse Prowlers with Old Salt Union (Oct. 20); The Dayna Clay Band (Oct. 22, 1pm); Susan Werner (Oct. 22, 7pm); Craig Finn & the Uptown Controllers with John K. Samson (Oct. 23); Teedra Moses (Oct. 24); Poco featuring Rusty Young with Josh & Erika (of the Empty Pockets) (Oct. 25); Jeff Daniels with The Ben Daniels Band (Oct. 26, 7pm); Dave Alvin & Jimmie Dale Gilmore (Oct. 27); Betches of Comedy Brunch (Oct. 28; 1pm); Drew Holcomb and The Neighbors with Lewis Watson (Oct. 28, 7 & 10pm); Chicago Philharmonic Brunch - Music of Latin America (Oct. 29, 12pm); Sons of the Never Wrong with Jonas Friddle (Oct. 29, 7 pm); David Crosby & Friends (Oct. 30-31); Lizz Wright with Lyric (Nov. 1-2); Tim Reynolds & TR3 (Nov. 3); Jackie Greene & Anders Osborne with Cris Jacobs (Nov. 4; 5 & 8pm) The Accidentals with Jake Allen (Nov. 5, 11:30am); Victor Wooten Trio (Nov. 5, 5 & 8pm); An Evening with Herb Alpert & Lani Hall (Nov. 6-7); Mariza (Nov. 8); Ryan Montbleau Band with The DuPont Brothers (Nov. 9); The Revelers (Nov. 12, 1pm); Black Violin (Nov. 12, 5:30 & 8pm); Sharon Shannon (Nov. 13); Take Me to the River (Nov. 14); Loudon Wainwright III with Lucy Wainwright Roche (Nov. 15); Kandace Springs (Nov. 16); Loose Ends (Nov. 17, 7pm); Mike Doughty (Nov. 18); Chicago Philharmonic Brunch - True Crime Radio Stories (Nov. 19, 12pm); Jackopierce with Marie Miller (Nov. 19, 7pm); Badfinger featuring Joey Molland (Nov. 20); Miki Howard (Nov. 21); Joshua Davis (Nov. 22); The Verve Pipe (Nov. 24); Kurt Elling: The Beautiful Day (Nov. 25-26, 5 & 8pm); Marcus Johnson (Nov. 27); Nico Segal Presents: The JuJu Exchange (Nov. 28, 7pm); Earl Klugh (Nov. 29, 6:30 & 9pm); Rhett Miller with Matthew Ryan (Nov. 30); Ms. Lisa Fischer & Grand Baton (Dec. 2); Jeffrey Foucault & Kris Delmhorst (Dec. 3); The Secret Sisters with Brian Dunne (Dec. 4); Marc Roberge of O.A.R. (Dec. 5, 7 & 9:30pm); Joe Pug with Juanita Stein (Dec. 6); Shemekia Copeland (Dec. 9); Chicago Philharmonic Brunch - FairyTale Noël (Dec. 10, 12pm); Los Lobos with Matt Andersen (Dec. 10-11); Los Lobos with Future Stuff (Dec. 12-13); Dwele (Dec. 14, 7 & 9pm); The Empty Pockets with Nate Jones (Dec. 17, 7pm); Kris Allen with Marie Miller (Dec. 18); Bebel Gilberto (Dec. 19-20); Avery*Sunshine (Dec. 21, 7 & 9:30pm); Michael McDermott with Heather Horton (Dec. 22); Michael McDermott (Dec. 23, 5 & 8pm); Poi Dog Pondering (Dec. 26-30); BoDeans (Dec. 31, 7:30 & 11pm; Jan. 1, 5 & 8pm); FrEddy Jones Band with The Nadas (Jan. 12-13); Eric Benét (Jan. 19, 7 & 10pm); The Posies (Jan. 31); 10,000 Maniacs (Feb. 9, 7:30 & 10pm; Feb. 10, 5 & 8pm); Cyrille Aimee (Feb. 15); Alan Doyle (Mar. 2) and The Zombies (Mar. 19-20).
Opened in 2012, City Winery Chicago is a fully operational winery, restaurant with outdoor patio, concert hall and private event space located in the heart of the West Loop at 1200 W. Randolph, in the historic urban Fulton Market district. Once a refrigerated food distribution warehouse, the 1911 building has been transformed into a contemporary 33,000 square foot haven for those passionate about wine, music and culinary arts. The décor evokes the romance of being in wine country, from the exposed stainless steel fermenting tanks and French oak barrels, to the aroma of fermenting grapes. Chicago's only fully operation winery has produced dozens of in-house wines sourced from vineyards in California, Oregon, Washington, Argentina and Chile, including a Wine Enthusiast 92-point 2015 Verna's Vineyard Reserve Pinot Noir. With more than 400 unique producers from around the world City Winery is recognized with 2014 and 2015 Best of Awards of Excellence "for having one of the most outstanding restaurant wine lists in the world" by Wine Spectator. The globally inspired, locally sourced, wine-focused food menu is conceived for pairing and sharing. The concert hall accommodates up to 300 guests, all seated at tables with complete beverage and dining service, ensuring a comfortable "listening room" experience enhanced by a state-of-the-art Meyer Sound system. Riedel is the official and exclusive provider of glassware, showing City Winery's commitment to enjoying quality wine in a quality vessel. American Airlines is the Official Airline and Virgin Hotels Chicago is the Official Hotel of City Winery. For more information, visit www.citywinery.com.