Highlights from 2018 at the Auditorium Theatre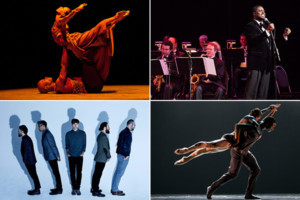 In the Auditorium Theatre's 129th year of existence, we honored the life and legacy of Dr. Martin Luther King, Jr. at the 13th annual Too Hot to Handel: The Jazz-Gospel Messiah; asked "What's This?" on Halloween with a special screening and the Midwest premiere of Disney in Concert's The Nightmare Before Christmas; and sang along to timeless classics like "December 1963 (Oh, What a Night)" and "Grease" with Frankie Valli & The Four Seasons. We reveled alongside the dancers from Alvin Ailey American Dance Theater; celebrated Ballet Nacional de Cuba's return to Chicago following a 15-year absence; highlighted top local dance companies, including Hubbard Street Dance Chicago and Giordano Dance Chicago; and got transported to Mexico with the colorful music and dance of Ballet Folklórico de México de Amalia Hernández. We also hosted the 14th year of our Hearts to Art summer camp, a performing arts camp for young people who have experienced the death of a parent; welcomed over 5,000 students to our Student Matinees; and brought thousands of people from across the city to the theatre through our ADMIT ONE program.
Other highlights of the year included some of our rental events: the annual residency of The Joffrey Ballet, which included the stunning North American premiere of Alexander Ekman's Midsummer Night's Dream; sold-out shows by Neil Young and David Byrne; President Bill Clinton's discussion of his book The President Is Missing; youth slam poetry competition Louder Than A Bomb; the return of Aida Cuevas and Lila Downs with the Mariachi Heritage Foundation; Death Cab for Cutie's one-night-only performance of its signature album Transatlanticism in its entirety; and the inspiring Hello Sunshine x Together Live event, which featured speakers such as Reese Witherspoon and Sophia Bush.
As 2018 draws to a close, we invite you to look back at the highlights of this year's presented shows at the Auditorium Theatre.
Too Hot to Handel: The Jazz-Gospel Messiah | January 13 + 14
The 13th annual presentation of Too Hot to Handel: The Jazz-Gospel Messiah had audience members singing and clapping along with soloists Rodrick Dixon, Alfreda Burke, and Karen Marie Richardson.
Les Ballets de Monte-Carlo - La Belle (The Sleeping Beauty) | March 3 + 4
Monaco's premier dance company brought artistic director Jean-Christophe Maillot's visually stunning reinterpretation of the classic fairy tale to the Auditorium's landmark stage.
Alvin Ailey American Dance Theater | March 7-11
The United States' "Cultural Ambassador to the World" gave six breathtaking performances at the Auditorium, its Chicago home since 1969. New works presented in 2018 included company member Jamar Roberts' striking Members Don't Get Weary and Gustavo Ramírez Sansano's Victoria, in addition to pieces from the company's repertory such as Chicago choreographer Talley Beatty's Stack-Up. Each performance closed, as is Auditorium tradition, with Alvin Ailey's masterpiece Revelations.
Hubbard Street Dance Chicago | March 23 + 24
Chicago's acclaimed contemporary dance company returned to the Auditorium for its first full-length engagement in over 20 years with a program of works by Hubbard Street Resident Choreographer Alejandro Cerrudo. In addition to classic Cerrudo pieces like Lickety Split, the company gave the world premiere to the captivating, entrancing Out of Your Mind.
Ballet Nacional de Cuba - Don Quixote | May 18-20
Straight from Havana, Cuba's national ballet company marked its return to Chicago after a 15-year absence with three thrilling performances of company director Alicia Alonso's Don Quixote.
Giordano Dance Chicago | June 9
America's original jazz dance company brought a fiery program to the Auditorium Theatre for its fourth "Made in Chicago" Dance Series appearance, featuring electrifying works such as Christopher Huggins' Pyrokinesis and Ray Leeper's Feelin' Good Sweet. The evening also commemorated Nan Giordano's 25th year as Artistic Director of the company.
National Geographic Live - When Women Ruled the World | September 26
Dr. Kara Cooney kicked off the Auditorium Theatre's 2018-19 National Geographic Live series by going back in time through different eras of female leadership in ancient Egypt. Audience members were enthralled by her storytelling and her ability to connect events from the ancient past with modern day.
Disney in Concert: Tim Burton's The Nightmare Before Christmas | October 31 + November 1
Halloween Town came to the Auditorium Theatre this year with two special screenings of Tim Burton's The Nightmare Before Christmas, featuring the Chicago Philharmonic performing Danny Elfman's classic score.
Frankie Valli & The Four Seasons | November 3
The American icon returned to the Auditorium Theatre for the first time in over 40 years for a performance featuring classics like "December 1963 (Oh, What a Night)" and "Grease." "This is one of the most incredible theaters I have ever worked at," Valli told the audience as he looked out at the landmark theatre.
Ballet Folklórico de México de Amalia Hernández | November 10 + 11
The excitement was palpable at the Auditorium Theatre when Ballet Folklórico de México returned to Chicago. The company delighted audiences with its world-class dancing (and lassoing, on full display during the piece Charreada), colorful costumes, and live mariachi musical interludes.
Ate9 Dance Company/Visceral Dance Chicago/Deeply Rooted Dance Theater November 16
Three innovative contemporary dance companies took over the theatre for one night only for this "Made in Chicago" 312 Dance Series performance, which featured Deeply Rooted's Heaven, Church of Nations, and Until Lambs Become Lions; Visceral Dance Chicago's Soft Spoken; and Ate9 Dance Company's Chicago premiere of calling glenn, which included live percussion by Wilco's Glenn Kotche.
MORE 2018 AUDITORIUM THEATRE EVENTS:
January 27 | Pedro Fernández
February 7-18 | The Joffrey Ballet - Modern Masters
March 14 | Roosevelt University's VIVID
March 17 | Varsity Vocals
March 18 | Louder Than A Bomb
April 25-May 6 | The Joffrey Ballet - Midsummer Night's Dream
April 30 | Alphawood Presents: A Conversation with Ai Weiwei
May 25 | All Black Affair - Memorial Day Weekend R&B Music Fest with Dru Hill, Ginuwine, Kindred Family Soul, Jon B, and Carl Thomas
May 26 + 27 | International Mr. Leather
June 1-3 | David Byrne
June 21 | A Conversation with President Bill Clinton
June 30 + July 1 | Neil Young
July 13 | Kingdom Hearts Orchestra -World Tour-
July 17-29 | Broadway in Chicago - The Color Purple
August 18 | Dance for Life
September 12 | A Conversation with Eric Holder: Public Service and Civil Rights
September 13 | A Conversation with Common: Activism in an Age of Polarization
September 14 | Jason Isbell and the 400 Unit
September 23 | Aida Cuevas
October 6 | The Legend of Zygimantas Augustas and Barbora Radvilaite
October 7 | Death Cab for Cutie
October 9 | Black Violin
October 17-28 | The Joffrey Ballet - Swan Lake
November 9 | Lila Downs
November 12 | Hello Sunshine x Together Live
December 1-30 | The Joffrey Ballet - The Nutcracker
Related Articles View More Chicago

Stories

Shows
More Hot Stories For You