Black Mountain College Museum Presents Brooklyn Rider In Premiere Of New Program, Healing Modes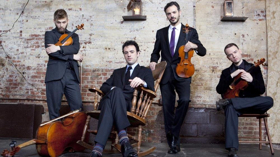 On Wednesday, November 7, 2018 at 7pm, Black Mountain College Museum + Arts Center (BMCM+AC) and UNC Asheville present the Asheville debut performance of eclectic string quartet Brooklyn Rider in the premiere of their new project Healing Modes.
The healing properties of music have been recognized from ancient Greek civilization to the field of modern neuroscience and expressed in countless global traditions. The slow movement of Beethoven's Quartet No. 15 in A Minor, Opus 132, a 'Song of Holy Thanksgiving From a Convalescent to the Deity in the Lydian mode,' is among the most profound expressions of healing in the string quartet repertoire. This masterwork is presented in its entirety alongside five compact new commissions which explore the subject of healing from a wide range of historical and cultures perspectives. Composers include Tyondai Braxton, Reena Esmail, Gabriela Lena Frank, Matana Roberts and recent Pulitzer Prize winners Caroline Shaw and Du Yun.
Just as Black Mountain College was a hub for the most forward-thinking artists of its time, a small museum + arts center in its honor picks up the torch - bringing the most innovative artists working today to the mountains of North Carolina.
Program Information
Performance: Healing Modes by Brooklyn Rider
Wednesday, November 7, 2018 at 7:00pm
BMCM+AC | 120 College Street | Asheville, NC
Tickets: $10 for BMCM+AC members + students w/ID; $15 non-members
Link: http://www.blackmountaincollege.org/brooklyn-rider/
Hailed as "the future of chamber music" (Strings Magazine), Brooklyn Rider (Johnny Gandelsman, violin; Colin Jacobsen, violin; Nicholas Cords, viola; Michael Nicolas, cello) offers eclectic repertoire in gripping performances that continue to attract legions of fans and draw rave reviews from classical, world, and rock critics alike.
Brooklyn Rider celebrated its tenth anniversary with the groundbreaking multi-disciplinary project Brooklyn Rider Almanac, for which it recorded and toured 15 commissioned works, each inspired by a different artistic muse. Last season, Brooklyn Rider released So Many Things with Anne Sofie Von Otter on Naïve Records, which includes music by Colin Jacobsen, Caroline Shaw, Nico Muhly, Björk, Kate Bush and Elvis Costello, among others. Their tour together included stops at Carnegie Hall and the Opernhaus Zurich.

After performances at the Jacob's Pillow Dance Festival, the quartet toured the U.S. with choreographer Brian Brooks and former New York City Ballet prima ballerina Wendy Whelan, performing Some of a Thousand Words. Using music from a diverse array of composers, the series of duets and solos featuring Brooks and Whelan foregrounds the live music of the quartet as a dynamic creative component.

Brooklyn Rider released Spontaneous Symbols in 2017. Other recent recordings include 2016's The Fiction Issue with Gabriel Kahane, 2013's A Walking Fire on Mercury Classics and The Impostor with Béla Fleck on Deutsche Grammophon/Mercury Classics, plus 2011's much-praised Brooklyn Rider Plays Philip Glass on the composer's Orange Mountain Music label.
The Black Mountain College Museum + Arts Center (BMCM+AC) preserves and continues the legacy of educational and artistic innovation of Black Mountain College (BMC). We achieve our mission through collection, conservation, and educational activities including exhibitions, publications, and public programs.
Arts advocate Mary Holden founded BMCM+AC in 1993 to celebrate the history of Black Mountain College as a forerunner in progressive interdisciplinary education and to explore its extraordinary impact on modern and contemporary art, dance, theater, music, and performance. Today, the museum remains committed to educating the public about BMC's history and raising awareness of its extensive legacy. Our goal is to provide a gathering point for people from a variety of backgrounds to interact through art, ideas, and discourse.
For more information visit http://www.blackmountaincollege.org

Featured at the Theatre Shop
T-Shirts, Mugs, Phone Cases & More

More Hot Stories For You