Charlotte Theater Reviews
BWW Review: Symphony Bolsters CHOPIN PIANO CONCERTO With Improved Beethoven
by Perry Tannenbaum - February 22, 2020
An R&J Valentine's Day theme, an ongoing Beethoven celebration, and a CHOPIN PIANO CONCERTO that few at Charlotte Symphony had likely played before were the crisscrossing storylines at the latest classics series concert at Knight Theater....
BWW Review: Sports Seasons and Generations Clash in Brand New Sheriff's FENCES
by Perry Tannenbaum - February 13, 2020
Their third dive into August Wilson's ten-play Pittsburgh Cycle, Brand New Sheriff's FENCES may be their best yet, with an outstanding cast, led by Jonavan Adams - and an outstanding director, Corlis Hayes, who has been here before....
BWW Review: Matthews MAMMA MIA! Mixes Summer Romance and Autumn Regret
by Perry Tannenbaum - February 08, 2020
Director Billy Ensley has lured a bevy of seasoned Charlotte musical stars to a fine looking Matthews Playhouse production of MAMMA MIA! - and he has found a sensational newcomer to ignite the action....
BWW Review: Cherokee Nation Claims Territory Next to APPALACHIAN SPRING
by Perry Tannenbaum - February 01, 2020
Two American warhorses, Samuel Barber's 'Adagio' and Aaron Copland's APPALACHIAN SPRING, topped the marquee, but William Brittelle's 'Si Otsedoha' stole the show at Charlotte Symphony's all-American concert at Belk Theater....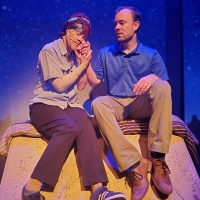 BWW Review: A Disfigured War Vet Struggles to Find – and See – Herself in UGLY LIES THE BONE
by Perry Tannenbaum - January 30, 2020
With Andrea King as a disfigured war vet going through an excruciating rehab in Three Bone Theatre's UGLY LIES THE BONE, it's a perverse pleasure to have Scott Tynes-Miller and Peter Finnegan making asses of of themselves as they make the road to recovery that much tougher....
BWW Review: Sher Tinkers With MY FAIR LADY, Recalibrating Its Perfections
by Perry Tannenbaum - January 24, 2020
Bartlett Sher fiddles with the legendary perfection of MY FAIR LADY, freshly illuminating the characters of Professor Higgins, Eliza, and Freddy - while risking unexpected tech difficulties....
BWW Review: BE A LION RETURNS...BETTER THAN EVER!
by Vickie Evans - December 18, 2019
Broadway World awarded musical, Be A Lion, written by Rory D. Sheriff, who recently won a?oeBest Directora?? at the Atlanta Black Theater Festival, returns with improvements and upgrades to the Blumenthal Performing Arts Center's Duke Energy Theater, at Spirit Square....