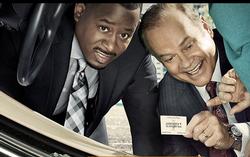 Partners is a half-hour, multi-camera comedy centered on the newly established partnership of high-end elitist lawyer Allen Braddock (Kelsey Grammer) and for-the-people, ethics driven lawyer Marcus Jackson (Martin Lawrence).
After his father fires him from the family law firm, Allen Braddock seeks to get back in the lawyering game on his own terms - making big bucks on high profile cases via legal loopholes and skirting ethics. Recently divorced, nice-guy Marcus tries to balance family and operating his law office out of his home, doing cases for neighbors and friends pro-bono, or for baked goods.
When a court ordered sanction teams Allen Braddock with Marcus Jackson in hopes that some of Marcus' conscience will rub off, the two find themselves in a partnership nature never intended.
Marcus struggles to be a good father to his sweet, albeit naive and idealistic daughter, "Laura
Latest Articles About Partners on FX