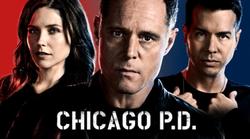 At the center of "Chicago P.D." is Det. Sgt. Hank Voight (Jason Beghe), who is at ground zero against the war on crime in Chicago. He will do anything to bring criminals to justice.
From multiple Emmy Award-winning executive producer Dick Wolf and the team behind the hit series "Chicago Fire," "Chicago P.D." is a riveting police drama about the men and women of the Chicago Police Department's elite Intelligence Unit, combatting the city's most heinous offenses - organized crime, drug trafficking, high-profile murders and beyond.
Hand-picked as the head of the unit is Voight, who has assembled a team of diverse detectives who share his passion and commitment to keep the city safe. They include Detective Antonio Dawson (Jon Seda), who is more level-headed and "by the book" than his counterpart; Jay Halstead (Jesse Lee Soffer), a brash young detective who previously saw active military duty in the Middle East; Halstead's partner Erin Lindsay (Sophia Bush), a former "bad girl" who turned her life around with Voight's help; Alvin Olinsky (Elias Koteas), an experienced undercover detective and confidante for Voight; Adam Ruzek (Patrick John Flueger), a quick-witted cadet plucked from the police academy as Olinsky's partner; and Kevin Atwater (LaRoyce Hawkins), who was recently brought up from the department ranks.
The unit includes a young uniform cop, Kim Burgess (Marina Squerciati), who is happy as a patrol officer but strives to be a part of the elite intelligence unit one day. Her new partner Sean Roman (Brian Geraghty) has been on the police force for some time and has history with past partners and possibly with Olinsky. Desk Sergeant Platt (Amy Morton) continues to keep the patrol officers on their toes, handing out assignments and commentary on a daily basis at the precinct.
In addition to Wolf, executive producers include Matt Olmstead ("Chicago Fire," "Breakout Kings," "Prison Break"), Peter Jankowski ("Law & Order" branded series, "Chicago Fire,"), Michael Brandt and Derek Haas ("Chicago Fire," "3:10 to Yuma"), Danielle Gelber ("Chicago Fire") and Mark Tinker ("NYPD Blue").
"Chicago P.D." is produced by Wolf Films in association with Universal Television.