San Francisco Opera General Director Matthew Shilvock Announces 2019-20 Season Repertory And Casting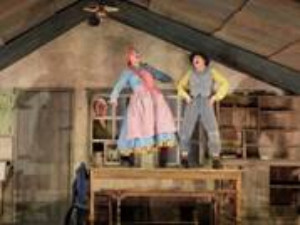 San Francisco Opera General Director Matthew Shilvock today announced repertory and casting for the Company's 97th Season, opening Friday, September 6, 2019, with a gala performance of Charles Gounod's Romeo and Juliet (Rom o et Juliette) starring tenor Bryan Hymel and soprano Nadine Sierra in Op ra de Monte-Carlo Director Jean-Louis Grinda's production. In keeping with the Company's time-honored tradition, the new season will be inaugurated with San Francisco Opera Guild's elegant, signature benefit and celebration, Opera Ball 2019.
Highlights of the 2019 20 Season include the production premiere of Wolfgang Amadeus Mozart and librettist Lorenzo Da Ponte's The Marriage of Figaro (Le Nozze di Figaro) marking the beginning of a multi-year presentation of their three immortal collaborations (Figaro, Cos fan tutte, Don Giovanni) as a unified cycle, The Great American House ; Engelbert Humperdinck's Hansel and Gretel in a new, family-friendly co-production with London's Royal Opera; the highly-anticipated local premiere of The (R)evolution of Steve Jobs by Mason Bates and Mark Campbell; new to San Francisco Opera productions of Benjamin Britten's Billy Budd and Giuseppe Verdi's Ernani; and revivals of Giacomo Puccini's Manon Lescaut and George Frideric Handel's Partenope.
General Director Matthew Shilvock said: The operas of the 2019 20 season will bring us together in shared exploration of human relationships and the bonds that connect us. Through soaring music and powerful productions, we will experience a brand-new Marriage of Figaro as we launch a very exciting Mozart trilogy, a beautifully evocative new Hansel and Gretel, a stunning production of Billy Budd, a captivating new opera on the visionary Steve Jobs and much more. These are spectacular opportunities for our community to gather together and be part of life-changing moments in the Opera House.
With today's announcement, the San Francisco Opera Box Office is now taking full and half season subscription orders. Providing greater flexibility in ticket packages, the Company has rolled out, for the first time at the beginning of the subscription period, a Design Your Own (DYO) option allowing ticket buyers to curate their own series (minimum of four operas) and enjoy subscriber savings and benefits. Concurrent with season renewals and new sales is the introduction of Opera is Alive, a campaign designed in collaboration with in-demand lifestyle and celebrity photographer Peggy Sirota, where the Company's collateral materials, web interface and promotional displays will feature Sirota's newly photographed gallery of expressive faces. The full campaign launch will coincide with the Company's upcoming summer season.
San Francisco Opera's 2019 20 Season will feature many of the world's finest singers and emerging artists on the stage of the War Memorial Opera House. Artists include sopranos Louise Alder, Michelle Bradley, Jennifer Davis, Jeanine De Bique, Amina Edris, Lianna Haroutounian, Nadine Sierra, Heidi Stober; mezzo-sopranos Catherine Cook, Sasha Cooke, Eve Gigliotti, Stephanie Lauricella, Daniela Mack, Serena Malfi, Michaela Martens; countertenors Franco Fagioli, Jakub J zef Orli ski; tenors Robert Brubaker, William Burden, Rafael Davila, Greg Fedderly, Bryan Hymel, Brian Jagde, Daniel Montenegro, Matthew O'Neill, Pene Pati, Brenton Ryan, Alek Shrader, Garrett Sorenson, Russell Thomas; baritones Hadleigh Adams, John Brancy, John Chest, Anthony Clark Evans, Lucas Meachem, Timothy Mix, Levente Moln r, Edward Nelson, Sidney Outlaw, Kenneth Overton, Edward Parks, Simone Piazzola, Eugene Villanueva; bass-baritones Philip Horst, Philip Skinner, Michael Sumuel, Wayne Tigges, Christian Van Horn, Alfred Walker and basses James Creswell, Eric Halfvarson, Wei Wu.
Featured conductors include Yves Abel, Michael Christie, Christopher Franklin, James Gaffigan, Nicola Luisotti, Christopher Moulds, Henrik N n si, Lawrence Renes; Chorus Director Ian Robertson prepares the San Francisco Opera Chorus and productions are by Christopher Alden, Michael Cavanagh, Jose Maria Condemi, Michael Grandage, Jean-Louis Grinda, Antony McDonald, Kevin Newbury and Olivier Tambosi.
2019 20 SEASON
Gounod: Romeo and Juliet (September 6 October 1)
#RomeoandJulietSF
The curtain rises on the 2019 20 Season with Charles Gounod's Romeo and Juliet (Rom o et Juliette), a French operatic adaptation of William Shakespeare's classic love story. Distinguished by rapturous duets and brilliant, show-stopping arias, this sensuous lyric drama returns to San Francisco Opera's repertory, after a 31-year absence, under the baton of French-Canadian conductor Yves Abel. Making his American directorial debut, Op ra de Monte-Carlo Director Jean-Louis Grinda brings his colorful, period staging evoking the Italian Renaissance.
Gounod's music requires virtuosic singers of the first rank. San Francisco Opera's cast is headed by tenor Bryan Hymel and soprano Nadine Sierra as the titular lovers. One of the most in-demand French opera interpreters of his generation, Hymel has earned praise on the world's leading stages, including the Metropolitan Opera, Bavarian State Opera and Royal Opera, Covent Garden, for his momentous portrayals in works by Berlioz, Meyerbeer, Rossini and Verdi. The American tenor first appeared with San Francisco Opera in 2015 as En e in Berlioz's epic Les Troyens, earning praise for his bright-toned, tireless tenor (San Francisco Chronicle). In this return engagement, Hymel makes his role debut as Romeo.
Sierra adds Juliet to her gallery of San Francisco Opera heroines, which includes the Countess in Le Nozze di Figaro, Pamina in Die Zauberfl te and the title role of Lucia di Lammermoor. The recipient of the 2017 Richard Tucker Award and the Metropolitan Opera's Beverly Sills Award in 2018, the former San Francisco Opera Adler Fellow has emerged as one of today's leading sopranos, earning praise from the New York Times for singing with expressivity and tenderness and her bright, agile voice. Sierra's first solo CD, There's a Place for Us, was released last summer by Deutsche Grammophon.
Baritone Lucas Meachem brings his earnest appealing baritone (New York Times) to Mercutio, a role he has previously performed with the Metropolitan Opera. Tenor Daniel Montenegro, a former Adler Fellow, is Tybalt. The cast is complemented by bass James Creswell as Friar Lawrence, baritone Timothy Mix as Capulet, bass-baritone Philip Skinner as the Duke of Verona and, in her Company debut, mezzo-soprano Stephanie Lauricella as St phano. For the October 1 performance, the title roles will be taken by Samoan tenor Pene Pati and Egyptian-born New Zealand soprano Amina Edris. Adler Fellow graduates and a married couple off-stage, Pati and Edris make role debuts as Romeo and Juliet.
Of the production, director Grinda says, To ensure this drama of absolute love touches every spectator, we respect its original setting and gracefully simplify its scenographic presentation. Without being minimalistic, we suggest Renaissance splendor and leave the imagination to work, focusing the attention on the stage artists. The staging, originally a co-production by Op ra de Monte-Carlo and Genoa's Teatro Carlo Felice, premiered in 2012 with sets designed by Eric Chevalier, costumes by Carola Volles and lighting by Roberto Venturi.
Britten: Billy Budd (September 7 22)
#BillyBuddSF
Marking the return of Benjamin Britten to the War Memorial Opera House after 15 years, Billy Budd, set to a libretto by E.M. Forster and Eric Crozier and based on Herman Melville's seafaring novella, drops anchor in the powerful (New York Times) staging by Tony and Olivier Award-winning director Michael Grandage. Unveiled at the 2010 Glyndebourne Festival and revived at the Brooklyn Academy Of Music in 2014, the widely-acclaimed production utilizes the two-act version of Britten's masterpiece of law and order at sea during the eighteenth-century Napoleonic wars.
Grandage's vision features a breathtaking hulk of a set (The Telegraph) by production designer Christopher Oram that transforms to reflect interior and exterior settings aboard the H.M.S. Indomitable, an English man-of-war vessel. Opera News praised the faithful presentation of Britten's grandest opera as outstanding in its precision and realism and [the director's craftsmanship] sought out the heart of the characters and their interactions and laid them bare to maximum impact.
A work of great theatrical power, Billy Budd will be brought to life by high-voltage performances from its all-male cast. American tenor William Burden, who recently added George Bailey in It's a Wonderful Life to his repertory of heroic portrayals at San Francisco Opera, is Edward Fairfax Vere, the ship's captain whose recollection of a disturbing incident sets the story in motion. American baritone and former Merola Opera Program participant John Chest, a leading artist at the Deutsche Oper Berlin who recently sang at the Glyndebourne Festival, makes his Company debut as foretopman Billy Budd, a portrayal for which Opera praised his tenorishly clear and agile voice. Bass-baritone Christian Van Horn, winner of the 2018 Richard Tucker Award and recent Mefistofele in Boito's opera at the Metropolitan Opera, portrays John Claggart, the ship's corrupt master-at-arms.
The ensemble cast features Philip Horst as Mr. Redburn, Wayne Tigges as Mr. Flint, Robert Brubaker as Red Whiskers, Brenton Ryan as a Novice, Matthew O'Neill as Squeak, John Brancy as Donald and Edward Nelson as Bosun. Portraying the crew of the Indomitable, the men of the San Francisco Opera Chorus are prepared by chorus director Ian Robertson. Lawrence Renes, who led the San Francisco Opera premiere of John Adams' Nixon in China in 2012, conducts Britten's score. The Glyndebourne production features original lighting design by Paule Constable and Grandage's staging is realized by director Ian Rutherford.
Mozart: The Marriage of Figaro (October 11 November 1)
#FigaroSF
Mozart and Da Ponte's 1786 comic masterpiece The Marriage of Figaro (Le Nozze di Figaro) was the first collaboration in an artistic partnership that would yield three deeply moving, humanist works that are among the most enduring in the operatic repertory. Beginning with a new production of The Marriage of Figaro, San Francisco Opera embarks on a multi-season project to unveil the three Mozart Da Ponte works Le Nozze di Figaro, Cos fan tutte and Don Giovanni as a trilogy with a unity of scenic inspiration and narrative linking their stories.
In order to realize a project so important to the Company's legacy, San Francisco Opera has looked to Canadian director Michael Cavanagh, whose War Memorial Opera House credits include Carlisle Floyd's Susannah, John Adams' Nixon in China and Gaetano Donizetti's Lucia di Lammermoor. Together with set designer Erhard Rom, costume designer Constance Hoffman and lighting designer Jane Cox, the creative team has developed The Great American House, which connects the Mozart Da Ponte works by following the evolution of relationships, human behavior and society within a single house over three epochs of American history.
The trio of late eighteenth-century operas were not intended by Mozart and Da Ponte to be staged as a cycle, but Cavanagh and his creative team collaborators seized upon the opportunity to consider them collectively with a setting, an American mansion, that is modified for each opera. Cavanagh said, Mozart and Da Ponte were mischief makers in these works, but they also thought deeply about the nature of society and asked what kind of world we want to live in. Not unlike Wagner's Ring cycle, we see this series of works tracing an epic scope of human experience.
The new production sets The Marriage of Figaro during its original period but relocates Count Almaviva's palace in Seville to a mansion in Age of Enlightenment America with architectural references to Thomas Jefferson. Cos fan tutte, scheduled for the 2020 21 Season, takes place 150 years after Figaro when the same house has been repurposed as a country club in 1930s America while the winds of war swirl far away in Europe. Concluding the cycle in the 2021 22 Season, Don Giovanni will be set in a crumbling shell of the house in which the characters struggle to survive an uncertain and anxious future.
Cavanagh continued: Figaro is about beginnings and moving beyond outmoded models to achieve progress and equality. Cos fan tutte features characters who are restless; they have their stations in the world but are not happy with that and find themselves at a crossroads. Though it was composed before Cos , there is such finality in Don Giovanni that it felt like the logical culmination for the trilogy.
Following his triumph leading Strauss' Elektra at the War Memorial Opera House in 2017, Hungarian maestro and former music director of Komische Oper Berlin Henrik N n si returns to the podium to conduct the first installment of The Great American House. Bass-baritone Michael Sumuel, who has performed many roles with San Francisco Opera including Escamillo in Bizet's Carmen and Masetto in Don Giovanni, takes on the title role, the clever servant who must outmaneuver the nobleman of the house before marrying his love, Susanna.
Sumuel is joined by a quartet of debuting artists. Soprano Jeanine De Bique, who hails from Trinidad and has been praised at the Th tre des Champs-Elys es in Paris, the Salzburg Festival and Dutch National Opera for her singing and chrome-plated flair (The Spectator), is Figaro's bride-to-be, Susanna. Hungarian baritone Levente Moln r recently won acclaim for his portrayal of the title role in the American premiere of Ferenc Erkel's B nk B n with the touring Hungarian State Opera and brings his muscular voiced baritone (New York Times) to the role of Count Almaviva. Silvery voiced (The Times) Irish soprano Jennifer Davis, whose recent credits at London's Royal Opera include Elsa in Lohengrin and Gretel in H nsel und Gretel, makes her American debut as the Countess. Earning praise for her sultry tone and lively, expressive face (Observer) in the Metropolitan Opera's 2017 production of Cos fan tutte, Italian mezzo-soprano Serena Malfi depicts the trouser role of Cherubino.
The cast also features mezzo-soprano Catherine Cook as Marcellina, bass James Creswell as Doctor Bartolo, tenor Greg Fedderly as Don Basilio and tenor Brenton Ryan as Don Curzio.
Puccini: Manon Lescaut (November 8 26)
#ManonLescautSF
The success and originality of Manon Lescaut thrust Giacomo Puccini to the forefront of opera composers in 1893 and the work continues to command a prominent place in the hearts of opera lovers nearly 130 years later. This early opus, which immediately precedes La Boh me and Tosca in Puccini's output and is set in late eighteenth-century Paris, follows the heroine of the title who forsakes true love for a life of material luxury only to become ensnared by her desire to have both. Olivier Tambosi returns to direct his stunning (Musical World) production, last seen on the War Memorial Opera House stage in 2006, with Frank Philipp Schl ssmann's period-perfect sets and rich costumes (Chicago Tribune) and lighting by Duane Schuler.
Nicola Luisotti makes his highly-anticipated return to the podium to lead the San Francisco Opera Orchestra, Chorus and a powerhouse cast. Praised by the Observer for his richly shaded and sophisticated conducting of Verdi's Aida at the Metropolitan Opera this season, the renowned Italian opera interpreter has conducted more than 40 operas and concerts with San Francisco Opera since his 2005 debut and throughout his tenure as music director between 2009 and 2018.
Armenian soprano Lianna Haroutounian and American tenor Brian Jagde portray, each for the first time, the opera's central couple, Manon and Chevalier des Grieux. Haroutounian's searing portrayals of Puccini heroines at the War Memorial Opera House have included the title roles of Tosca and Madama Butterfly, the latter hailed by the Mercury News as a Butterfly for the ages, and she sang Nedda in Leoncavallo's Pagliacci earlier this season.
Praised by the London Observer for his pliant tone, pinging accuracy, stamina, shading and an astounding ability to make the voice grow throughout a phrase, Jagde, a former Merola Opera Program participant and Adler Fellow, has enjoyed success on the world's leading opera stages, including Deutsche Oper Berlin and the Royal Opera, Covent Garden. In 2019, the American tenor will have an especially busy year of portraying new roles and is scheduled to perform Enzo Grimaldi in Ponchielli's La Gioconda in Barcelona and Don Alvaro in Verdi's La Forza del Destino in Paris before adding Des Grieux to his repertory with San Francisco Opera.
Baritone Anthony Clark Evans is Lescaut and bass Eric Halfvarson reprises the role of Geronte. For the November 26 performance, Puerto Rican tenor Rafael Davila will make his Company debut at Chevalier des Grieux.
Humperdinck: Hansel and Gretel (November 15 December 7)
#HanselandGretelSF
Melding childhood wonder with the heroic sweep of grand opera, Engelbert Humperdinck's Hansel and Gretel (H nsel und Gretel) is a masterwork of the late nineteenth-century German repertory. Delighting audiences for more than a century, the work, based on a fairy tale by The Brothers Grimm, follows the adventures of two impoverished children who enter a dark forest looking for food only to find themselves facing a sinister threat.
Co-produced with London's Royal Opera, Covent Garden, Hansel and Gretel comes to San Francisco Opera in a family-friendly staging by renowned British director and production designer Antony McDonald. Featuring storybook sets which The Times (UK) called enchanting, cameos by familiar fairy tale figures and Humperdinck's romantic, sweeping score, the opera, presented during the winter holiday season, offers a musically rich theatrical experience where children emerge as the heroes.
At its December 2018 London premiere, McDonald's production was praised for its genuine charm (The Express) and, observing the reaction of 2,000 children at a matinee performance, The Times recalled kids roaring their heads off at curtain-down. Time Out called the staging a treat: an introduction to the world of opera that's by turns sweet and shiver-inducing.
The lush score, with its many memorable musical moments including Hansel and Gretel's prayer, the Dream episode and the Witches Ride, will be conducted by Christopher Franklin. San Francisco-born and based in Lucca, Italy, Franklin made his local debut in 2017 with Puccini's Turandot and returned last month to conduct the Company's resident artists, the Adler Fellows, in concert.
Bringing this cherished story to life on stage are San Francisco Opera veterans mezzo-soprano Sasha Cooke in the pants role of Hansel and soprano Heidi Stober as Gretel. The dangerous and wickedly funny Witch that the children encounter in the forest is performed by tenor Robert Brubaker. Mezzo-soprano Michaela Martens and bass-baritone Alfred Walker are the parents, Gertrude and Peter. The creative team includes associate designer Ricardo Pardo, original lighting designer Lucy Carter, revival lighting designer Neill Brinkworth and choreographer Lucy Burge, all in their Company debuts.
This family-friendly production of Hansel and Gretel, performed in English and recommended for children ages 6 and up, includes back-to-back matinee performances on Saturday, November 30 and Sunday, December 1. San Francisco Opera's Education Department will offer Exploration Workshops for Families: All About Hansel and Gretel preceding the November 30 matinee. These interactive family workshops are designed for families to explore the story, music, characters and production of the opera. Visit sfopera.com/community to learn more.
Verdi: Ernani (June 7 July 2)
#ErnaniSF
One of the original hit operas in San Francisco during the California Gold Rush, Giuseppe Verdi's 1844 work Ernani has retained an important place in the repertory through its profusion of masterful arias and ensembles which thrill audiences and continue to attract opera's leading conductors and singers. American conductor James Gaffigan takes to the podium to lead Verdi's propulsive score and Jose Maria Condemi directs this story of a deposed, sixteenth-century Spanish nobleman living as a bandit on the run who attempts to protect his lover from two powerful suitors and free his country in the process.
Following on his 2018 triumph in Donzietti's Roberto Devereux where the San Francisco Chronicle praised his tonal clarity and rhythmic vigor, Russell Thomas stars in the title role. Receiving praise for recent Verdian assignments with London's Royal Opera, Lyric Opera of Chicago and for his Otello with Gustavo Dudamel and the Los Angeles Philharmonic, the American tenor will portray Ernani for the first time in his career. Rising soprano Michelle Bradley, who was singled out by New York Classical Review for her firm, dark, full-bodied soprano in her especially impressive 2017 Metropolitan Opera debut, makes Company and role debuts as Elvira.
The cast also features Christian Van Horn, the tall, altogether dashing American bass-baritone who uses his peppery voice and body language to perfection (Chicago Tribune) as Don Ruy Gomez de Silva. In his first American engagement, Italian baritone Simone Piazzola portrays Don Carlo, the Spanish ruler who becomes Holy Roman Emperor. The San Francisco Opera Chorus, a harmonious and highly professional group capable of blending soloist-quality voices to any director's wishes (Bay Area Reporter), are prepared by Ian Robertson. The handsome and sumptuous (Chicago Tribune) sets and costumes for this Lyric Opera of Chicago production are designed by Scott Marr and Duane Schuler is the lighting designer.
Handel: Partenope (June 12 27)
#PartenopeSF
Handel's Partenope returns to the War Memorial Opera House stage in Christopher Alden's Olivier Award-winning fizzy, delightful (San Francisco Chronicle) production. Alden's provocative staging which turns the opera's genderbending plot into a nonstop parade of visual and vocal delights (Mercury News), updates the composer's battle of the sexes from its mythological era and Neapolitan setting to early twentieth-century Paris when Freudian psychology helped launch the Surrealist and Dadaist movements.
Throughout Europe, soprano Louise Alder has won popular and critical acclaim with the Financial Times observing, hers is a voice that combines gleaming tone and elegant phrasing with a sense of joyful freedom. The English soprano makes her first American engagement with San Francisco Opera as Handel's title heroine, a sophisticated society woman with a surfeit of romantic suitors. In his first appearance with the Company, Argentine countertenor and featured Deutsche Grammophon recording artist Franco Fagioli portrays Arsace. As Andronico in Teatro alla Scala's first-ever production of Handel's Tamerlano, Fagioli was applauded for his rich, virtuosic countertenor voice (Financial Times).
Jakub J zef Orli ski, the much buzzed-about young Polish break-dancing countertenor who Parterre Box said, threatened to steal the show in Handel's Rinaldo at Carnegie Hall, makes his American staged opera debut as Armindo. Mezzo-soprano Daniela Mack reprises the role of Rosmira, for which the Mercury News called her dazzling and Alek Shrader returns with his firm-voiced tenor as Emilio. New Zealand baritone Hadleigh Adams assumes the role of Ormonte.
English conductor Christopher Moulds, who will be on the podium this summer with Handel's Orlando, leads the Company's orchestral and vocal forces. The creative team includes set designer Andrew Lieberman, costume designer Jon Morrell and lighting designer Adam Silverman. Director Roy Rallo revives Alden's staging.
Bates and Campbell: The (R)evolution of Steve Jobs (June 20 July 3)
#RevolutionSF #RSJSF
The audience roared its approval as if it witnessed a blockbuster musical Financial Times
A winning opera Los Angeles Times
In a sleek, high-tech conclusion to the season and reflecting the nexus of Silicon Valley innovation, San Francisco Opera launches the Bay Area premiere of The (R)evolution of Steve Jobs by composer Mason Bates and librettist Mark Campbell. A co-commission between San Francisco Opera, the Santa Fe Opera and Seattle Opera with support from Cal Performances and co-produced with Indiana University Jacobs School of Music, the electro-acoustic one-act work explores the iconoclastic visionary in a fascinating interpretation of his life.
The original creative team from the 2017 world premiere in Santa Fe will be reunited in San Francisco under the direction of Kevin Newbury. Making their Company debuts are set designer Victoria Tzykun, costume designer Paul Carey, lighting designer Japhy Weideman, projection designs by London-based 59 Productions and sound designer Rick Jacobsohn. Mason Bates joins the San Francisco Opera Orchestra as a performer and Michael Christie conducts.
San Francisco Opera General Director Matthew Shilvock commented: I'm committed to telling stories on our stage that reflect the specific community in which we're privileged to exist. A powerful story of the Bay Area is the surging vitality of innovation and discovery, and one of the greatest icons of that is Steve Jobs. This new opera by Mason Bates and Mark Campbell is a lens through which we can better understand the dynamic push and pull of the Bay Area: the competing demands on life, love, work, family, success and ambition. In a spectacular high-tech world onstage, we will see the unfolding emotional realm of Steve Jobs and those closest to him in what promises to be a major cultural event.
Bay Area composer Mason Bates said: The story of Steve Jobs exists at the intersection of creativity, technology and human communication a thematic crossroads that opera can explore unlike any other medium. Animated by kinetic scenes from throughout Jobs' life, the work's central focus is on his search for inner peace. The key role in this journey is his wife, Laurene, a role which has been expanded since the original premiere. She acts as the electrical 'ground' to the positive and negative charges of Jobs. She convinces Jobs of the importance of true human connection.
Bates continued: Anchoring the imaginative, non-chronological storyline are numbers real musical numbers and a clear-as-crystal through-line: how can you can simplify human communication onto sleek beautiful devices when people are so messy? This opera travels with Jobs on his journey from hippie idealist to techno mogul and, ultimately, to a deeper spiritual understanding.
The cast features four role creators from the opera's inception, including rich-voiced (Chicago Tribune) baritone Edward Parks as Steve Jobs and mezzo-soprano Sasha Cooke, who radiantly personified (Dallas Morning News) Jobs' wife, Laurene Powell Jobs. Tenor Garrett Sorenson is Apple co-founder Steve Wozniak and bass Wei Wu portrays K bun Chino Otogawa, Jobs' spiritual advisor whose guidance steers him through doubts and personal travails.
Pentatone's CD recording of The (R)evolution of Steve Jobs at the Santa Fe Opera with Michael Christie conducting the world premiere cast is nominated for multiple 2019 Grammy Awards, including Best Opera Recording and Best Contemporary Classical Composition. Gramophone declared: Edward Parks gives a terrific central performance as Jobs capturing both his charisma and his cruelty in singing that swerves between persuasive elegance and caustic irony. Michael Christie conducts with plenty of energy and verve, and the playing and choral singing are exemplary in their precision.
With The (R)evolution of Steve Jobs, San Francisco Opera reaffirms its commitment to expanding the operatic repertory. Since the Company's inaugural season in 1923, San Francisco Opera has given 20 world premieres, numerous American premieres and commissioned new operas by living composers. In recent seasons, the Company's presentations of commissioned works include Jake Heggie and Gene Scheer's It's a Wonderful Life (2018), John Adams' Girls of the Golden West (2017), Bright Sheng and David Henry Hwang's Dream of the Red Chamber (2016) and Marco Tutino's Two Women (2015).
2019 20 SEASON SPECIAL EVENTS
OPERA BALL 2019
Friday, September 6, 2019
San Francisco Opera Guild's signature gala, Opera Ball, celebrates the opening of San Francisco Opera's 97th season with cocktails, a sumptuous dinner, Gounod's Romeo and Juliet, dancing and further celebration. Former Guild President Jane Mudge and Elizabeth Birka-White co-chair Opera Ball 2019, which will also commemorate the 80th anniversary of the Opera Guild. For tickets and more information, contact San Francisco Opera Guild at (415) 565-3204 or visit sfoperaguild.com.
BRAVO! CLUB OPENING NIGHT GALA
Friday, September 6, 2019
The BRAVO! CLUB's annual black-tie gala will toast the new opera season with pre-performance cocktails and late-night dancing following the opening night performance of Gounod's Romeo and Juliet. Join BRAVO! CLUB to meet other opera-loving, young professionals and enjoy ticket discounts throughout the year along with invitations to educational and social events. For tickets and membership information, visit sfopera.com/bravo.
OPERA IN THE PARK
Sunday, September 8, 2019 at 1:30 p.m.
Presented by the San Francisco Chronicle, Opera in the Park features the stars of the Company's 2019 Fall Season in concert with the San Francisco Opera Orchestra. This annual al fresco event held at Robin Williams Meadow in San Francisco's Golden Gate Park is free and open to the public.
AN EVENING ON THE STAGE
Monday, December 2, 2019 at 6 p.m.
Each year, San Francisco Opera Guild invites guests to honor a community leader with a gala dinner and celebration on the stage of the War Memorial Opera House. Celebrate the power of arts advocacy while dancing the night away on the same stage that has known so many historic performances. For more information, visit sfoperaguild.com.
THE FUTURE IS NOW: ADLER FELLOWS CONCERT
Friday, December 6, 2019 at 7:30 p.m.
San Francisco Opera Center's 2019 class of Adler Fellowship recipients will be showcased in their final concert of the year performing arias and opera scenes accompanied by the San Francisco Opera Orchestra.
TICKETS AND INFORMATION
Subscriptions for San Francisco Opera's 2019 20 Season are priced from $160 to $3,024 for Full Series (8 productions) and $77 to $1,512 for Half Series (3 4 productions). New to this season's subscription offerings, a Design Your Own (DYO) option is now available for subscribers to curate their own series (minimum four operas). A $2 per-ticket facility fee is included in Balcony 1, 2 and 3 zone prices; all other zones include a $3 per-ticket facility fee. Prices are valid through April 15, 2019. For information about subscriber benefits and special series subscriptions, including the Out of Town Series offering two or three operas over a 2 3 day period; the Student & Teacher Series offering 50% off select Full and Half Series and the Rainbow Series for the LGBTQ community, visit sfopera.com/subscribe.
2019 20 Season subscriptions go on sale to new and renewing subscribers beginning Tuesday, January 22, 2019 at 1 p.m. PST at the San Francisco Opera Box Office (301 Van Ness Avenue, San Francisco), by calling (415) 864-3330 and online at sfopera.com. San Francisco Opera Box Office hours are Monday 10 a.m. 5 p.m.; Tuesday through Friday 10 a.m. 6 p.m.; Saturday 10 a.m. 6 p.m. (Saturdays phone only).
Single (non-subscription) tickets for the 2019 20 Season will go on sale in summer of 2019.
All War Memorial Opera House performances (except the September 6 season opening night performance) feature an informative 25-minute Pre-Opera Talk beginning 55 minutes prior to curtain. Pre-Opera Talks are free of charge to patrons with tickets for the corresponding performance. Visit sfopera.com/learn for information about Pre-Opera Talks, preview events and enrichment programs.
OperaVision screens, suspended from the ceiling of the balcony section at select performances (see calendar), show close-ups of the action on stage in high-definition video and with English subtitles. OperaVision is made possible by the Koret/Taube Media Suite.

Related Articles View More Opera

Stories
More Hot Stories For You