Latest News on Anthony Clark Evans
Anthony Clark Evans News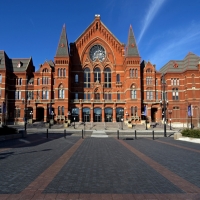 Cincinnati Opera Announces 2023 Summer Festival
by Blair Ingenthron - Nov 20, 2022
Evans Mirageas, The Harry T. Wilks Artistic Director of Cincinnati Opera, has announced details for the company's 2023 Summer Festival. The season takes place June'ÄďJuly 2023 and features four productions: a romantic thriller, a touching and timely premiere, an effervescent comedy, and an innovative new vision of an operatic classic.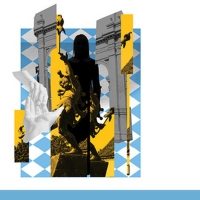 For The First Time In 15 Years, Verdi's RIGOLETTO Comes to The Academy Of Music
by Stephi Wild - Feb 15, 2022
Opera Philadelphia returns to the Academy of Music stage for the first time since September 2019 with four performances of Rigoletto from April 29-May 8. Long one of the most popular works in the operatic canon, Verdi's unforgettable tragedy has not been performed by Opera Philadelphia in 15 years, making this new production an extra special event on the region's spring performing arts calendar.
Opera Philadelphia Announces 2021-2022 Season
by Stephi Wild - May 18, 2021
New film adaptations of Poulenc's La voix humaine starring Patricia Racette and Henze's El Cimarron starring Sir Willard White presented alongside an Academy of Music production of Verdi's Rigoletto and a Verizon Hall concert pairing Stravinsky's Oedipus Rex with George Walker's Lilacs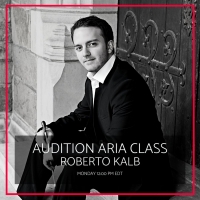 PROMETHEAN LIVE Programming Announced for the Week Of May 18
by A.A. Cristi - May 17, 2020
Promethean Live has announced its programming for the week of May 18.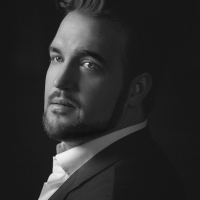 BWW Interview: Brian Jagde of MADAME BUTTERFLY at Lyric Opera of Chicago
by Erica Miner - Feb 10, 2020
The first thing to know about Brian Jagde is that his name is pronounced a?oeJade,a?? like the jewel
MADAMA BUTTERFLY Opens Tonight at Lyric Opera of Chicago
by A.A. Cristi - Feb 6, 2020
In Nagasaki, a captivating geisha marries an American naval lieutenant. Her love for him is tested repeatedly a?' as her family disowns her, as he leaves Japan while promising to return eventually, and when his true intentions are finally revealed, with tragic consequences.
San Francisco Opera General Director Matthew Shilvock Announces 2020'Ä"21 Season Repertory And Casting
by A.A. Cristi - Jan 22, 2020
San Francisco Opera General Director Matthew Shilvock today announced the Company's 98th season, which opens on September 11, 2020 with an Opening Night Celebration featuring soprano Albina Shagimuratova and tenor Pene Pati in concert with the San Francisco Opera Orchestra conducted by Music Director Designate Eun Sun Kim. Opening Night festivities include San Francisco Opera Guild's Opera Ball, BRAVO! CLUB's annual Opening Night Gala and two new events: the Opera Supper in the Veterans Building's elegant Green Room and, for the entire audience, a celebratory, post-concert toast to the season.
Puccini's MADAMA BUTTERFLY Returns to Lyric Opera of Chicago
by Chloe Rabinowitz - Dec 19, 2019
Cio-Cio-San, a captivating geisha in Nagasaki, marries B. F. Pinkerton, an American naval lieutenant. For him, it's a lark, a diversion before he marries a 'real' American wife. For her, it's a life-altering commitment that's briefly blissful, then disastrous: her family renounces her and Pinkerton leaves Japan. When he returns a few years later, her joy evaporates and catastrophe ensues when his true intentions are revealed.
BWW Review: MANON LESCAUT at War Memorial Opera House
by Maria Nockin - Nov 25, 2019
On November 24, 2019, San Francisco Opera presented Giacomo Puccini's third opera, MANON LESCAUT with two spectacularly large-voiced singers, Liana Haroutounian and Brian Jagde. In a most forthright manner, Director Olivier Tambosi told the story of Renato Des Grieux' unrequited love for Manon, the socially repressed convent school graduate who suddenly discovers a new world of fashion, jewels, and predatory men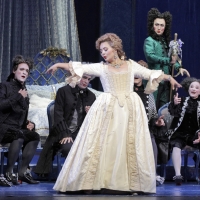 Photo Flash: San Francisco Opera Presents MANON LESCAUT
by A.A. Cristi - Nov 8, 2019
Director Olivier Tambosi's production of Manon Lescaut, composer Giacomo Puccini's first triumph, returns to San Francisco Opera for six performances on the War Memorial Opera House stage, from November 8 through the 26th.