Blackfriars Theatre Presents AVENUE Q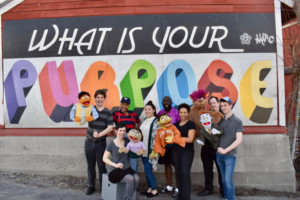 The much-anticipated production of Avenue Q at Blackfriars Theatre features the same puppets used in the original Broadway production. The laugh-out-loud musical tells the timeless story of a recent college grad named Princeton, who moves into a shabby New York apartment all the way out on Avenue Q. He soon discovers that, although the residents seem nice, it's clear that this is not your ordinary neighborhood. Together, Princeton and his new-found friends struggle to find jobs, dates and their ever-elusive purpose in life. Avenue Q is the winner of the highly coveted and rarely achieved Tony Award "Triple Crown" - winning Best Musical, Best Score and Best Book.
The theatre enjoyed the residency of Rochester native and Broadway puppet creator, Rick Lyon. The cast (including a host of recognizable local names) participated in a three-day puppetry workshop, providing the most realistic and professional puppetry possible to the Rochester community. This is the fastest selling show in recent Blackfriars history, further solidifying this well-known comedy's relevance in the theatrical canon. Avenue Q's popular songs include "The Internet is for Porn," "Everyone's a Little Bit Racist," and "If You Were Gay." Parental discretion is advised for mature language, themes, and puppet sex.
This production is directed by Blackfriars's Artistic & Managing Director, Danny Hoskins, with music direction by Andy Pratt and choreography by Mandi Hassett. "I am thrilled to be rounding out our 68th season with this Tony-winning smash hit," says Hoskins. "Rick Lyon's influence on the show will be felt in both the aesthetics and production caliber. We are so thrilled to share this special production with the community and to have the Broadway puppets along for the ride."
The Avenue Q cast includes Steve Cena (Trekkie/Monster), Phillip Detrick (Rod/Princeton), Lani Toyama Hoskins (Christmas Eve), Jonathan Ntheketha (Brian), Sable Stewart (Gary Coleman), Elizabeth West (Kate Monster/Lucy T. Slut), and Ether O'Leary Winter (Bad Idea Bear/Mrs. T).
Avenue Q PERFORMANCE SCHEDULE:
• Friday, May 11 at 8 p.m.
• Saturday, May 12 at 7 p.m.
• Sunday, May 13 at 2 p.m. (Sunday Salon to Follow)
• Thursday, May 17 at 7:30 p.m.
• Friday, May 18 at 8 p.m.
• Saturday, May 19 at 8 p.m.
• Sunday, May 20 at 2 p.m.
• Thursday, May 24 at 7:30 p.m.
• Friday, May 25 at 8 p.m.
• Saturday, May 26 at 8 p.m.
• Sunday, May 27 at 2 p.m.
RESERVATIONS: (585) 454-1260
WEBSITE: www.blackfriars.org
TICKET PRICES: $39.50
Tickets are available in person at Blackfriars Theatre, online at www.blackfriars.org, or by calling (585) 454-1260. Senior and student discounts are available online or through the Box Office. If available, tickets can be purchased at the door beginning one hour prior to performance. Box Office hours are Monday through Friday, 10:00 a.m. To 2:00 p.m. MasterCard, Visa, American Express and Discover are accepted at no additional charge.
Related Articles View More Buffalo

Stories

Shows
More Hot Stories For You