Latest News on Elizabeth West
Stage Credits
  [Broadway]
Original Broadway Production, 1964
Les Demoiselle des Folies
Elizabeth West News
Way Off Broadway Dinner Theatre Begins Registration For 2023 Summer Theatre Camp
by A.A. Cristi - Mar 13, 2023
Registration has begun at The Way Off Broadway Dinner Theatre for its 2023 Summer Theatre Camp which will begin on July 17th.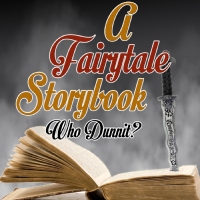 Way Off Broadway To Host A FAIRYTALE STORYBOOK WHO DUNNIT?
by A.A. Cristi - Jan 24, 2023
In addition to its regular Mainstage Season, Way Off Broadway has become known for its special events throughout the year. Notably, its interactive murder mysteries in which the audience gets involved and helps solve the case at hand. 
CAMELOT to Kick Off Way Off Broadway's 2023 Season
by Chloe Rabinowitz - Dec 16, 2022
The Way Off Broadway Dinner Theatre's 2023 Season – theatre's 29th of bringing live Broadway-style entertainment to the Mid-Maryland region – will kick off in January with the classic musical that brings the Arthurian legend to life on the stage, Lerner and Loewe's Camelot.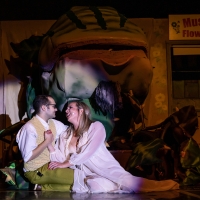 Photos: First look at Wagnalls Community Theatre's LITTLE SHOP OF HORRORS
by Jerri Shafer - Nov 3, 2022
Seymour Krelborn is a nerdy orphan working at Mushnik's, a flower shop in urban Skid Row. He harbors a crush on fellow co-worker Audrey Fulquard, and is berated by Mr. Mushnik daily. One day as Seymour is seeking a new mysterious plant, he finds a very mysterious unidentified plant which he calls Audrey II. The plant seems to have a craving for blood and soon begins to sing for his supper. Soon enough, Seymour feeds Audrey's sadistic dentist boyfriend to the plant and later, Mushnik for witnessing the death of Audrey's ex. Will Audrey II take over the world or will Seymour and Audrey defeat it? Performances run November 4 - 13, 2022 at The Wagnalls Memorial, 150 East Columbus St, Lithopolis, OH 43136. For more information or to purchase tickets, visit:https://www.facebook.com/WagnallsCommunityTheatre/
Upstart Crows Dramatic Readers Present A CHRISTMAS CAROL Next Month
by Stephi Wild - Nov 16, 2021
Five casts of three readers do a costumed dramatic reading using Dicken's own performance script. Live performances include a Victorian tea service at intermission. Victorian Christmas music precedes and ends each "Stave" of the story. Period charm combines with an increasingly relevant story for our times.
Photos: Inside Pickerington Community Theatre's AN EVENING OUT WITH PCT
by Jerri Shafer - Jul 27, 2021
Pickerington Community Theatre had a night of cabaret-style outdoor performance to celebrate the return of live theater. Performers included: Rachel Lorenz, Lindsay Weiser, Victoria Morejon, Katelyn Cordell, Marquan Denby, Ella Drake, Shelly Riggs, Courtney Werner, Corrine Gorgas, Sam Myers, Jaxon Newsome, Samuel Jeffries, Elizabeth West, Veronica Tuttle, Ashton Leyland, Malena Dewhurst, Ashley Robbe, Carli Werner, Mercedes Seaman, Tori Daniels, Jill Henwood, Tuttle-Berstein Family, Takafumi Uzawa, Charlotte Emigh, Maryn Hoyt, and Nora West. PCT is excited to announce audition information for its Fall 2021 production of 12 Angry Jurors! Auditions will be held at Epiphany Lutheran Church (268 Hill Road North, Pickerington, Ohio 43147) on Friday, July 30 and Saturday, July 31, 2021. More information about the audition and upcoming shows can be found on their website: http://pickeringtoncommunitytheatre.org/
Primary Stages Announces Additional Programming for PRIMARY PLUS
by Chloe Rabinowitz - Apr 14, 2020
PRIMARY STAGES announced today additional programming for Primary Plus, a series of online programs aimed at helping artists connect with Primary Stages and with each other. For additional details about each program and the most up-to-date information please visit primarystages.org/explore/primary-plus.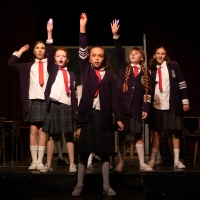 Photo Coverage: First look at Wagnalls Community Theater Presents MATILDA
by Jerri Shafer - Oct 25, 2019
With book by Dennis Kelly and original songs by Tim Minchin, Matilda The Musical is the story of an extraordinary little girl who, armed with a vivid imagination and a sharp mind, dares to take a stand and change her own destiny. Matilda performs October 25th thru November 3rd, 2019, Fri/Sat at 7:00pm and Sun at 3pm at The Wagnalls Memorial, 150 E. Columbus, St., Lithopolis, OH 43136.
BWW Review: Oscar Wilde Proves Perennial Master of Wit
by Carla Maria Verdino-Süllwold - Jan 26, 2019
Portland Stage's antidote to the winter doldrums is a new production of Oscar Wilde's incandescent classic of comedy, The Importance of Being Earnest. More than a century after its creation, this quintessential comedy of manners proves a delicious and refreshing confection of perfectly crafted playwriting. For well over two hours Wilde regales his viewers with one bon mots after another, with pithy and poetic, wise and urbane, cynical and silly dialogue that delights with its energy and acuity.

Blackfriars Theatre Presents THE ROCKY HORROR SHOW
by Stephi Wild - Oct 1, 2018
Hailed by Time Magazine as "campy trash," Blackfriars Theatre is proud to present The Rocky Horror Show on October 26th - November 11th. This 70s cult classic will star Rochester's favorite local drag queen, Mrs. Kasha Davis, as the "Sweet Transvestite," Dr. Frank 'n' Furter. Mrs. Kasha Davis has made a name for herself in the Rochester community and beyond - performing nationally, starring in Season 7 of RuPaul's Drag Race, and in house at the theatre's wildly popular Drag Story Hour.
Elizabeth West Videos
Elizabeth West Frequently Asked Questions
How many Broadway shows has Elizabeth West been in?
Elizabeth West has appeared on Broadway in 1 shows.
How many West End shows has Elizabeth West been in?
Elizabeth West has not appeared in the West End