Nicole Rosky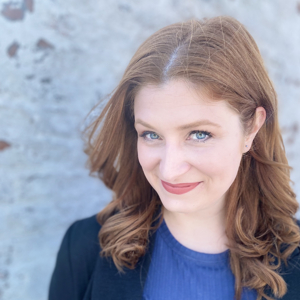 Nicole is the Editor-in-Chief at BroadwayWorld, where she began her journey as an intern in 2010, while studying at Penn State University. Though originally from Pittsburgh, Pennsylvania, she currently resides in Brooklyn, where she gets to enjoy far more great theatre than she ever dreamed. 
MOST POPULAR ARTICLES
LAST 30 DAYS
LAST 365 DAYS
---
BWW Interview: GIRL FROM THE NORTH COUNTRY's Todd Almond Unpacks the Show-Stopping 'Duquesne Whistle'

October 22, 2021

In BroadwayWorld's new series, Showstoppers, we're unpacking what goes into creating and performing some of Broadway's most ovation-worthy numbers. Below, Todd Almond, who performs the song eight times a week, goes in depth on Girl From the North Country's most show-stopping song.
---
BWW Interview: How Drag Superstars Jinkx Monsoon & BenDeLaCreme Brought Holiday Magic from Stage to Screen

June 25, 2021

Last summer, when live entertainment everywhere came to a screeching halt, two of the world's most beloved drag queens were looking ahead... to the holidays.
---
Which Broadway Shows Have NOT Announced Return Dates?

June 14, 2021

Over the past month, Broadway fans have had plenty of reasons to celebrate, as show after show has announced their own plans to resume performances in the coming months. While most Broadway productions have shared news about their return, some have yet to confirm their next steps.
---
BWW Interview: Olivia Lux Shines a Spotlight on Her Theatre Roots

March 5, 2021

The queens of Season 13 of RuPaul's DragRace have got star quality, but perhaps none are shining as brightly as the luminous Olivia Lux. Before hitting the workroom, this New York City queen worked it out on the stage, and now she's drawing on her musical theatre roots to shantay her way to the crown.
---
BWW Interview: Queen of New York Tina Burner Opens Up About Her Theatrical Past

March 5, 2021

Tina Burner has already taken New York and now the fire is spreading. The self-proclaimed 'Manhattan monster with a heart of gold' is burning up the competition on Season 13 of RuPaul's Drag Race, constantly drawing on her rich background in performing and calling on inspiration from the city she calls home.
---
BWW Interview: How Rosé Sashayed from Musical Theatre to RuPaul's Drag Race

March 5, 2021

Cancel your plans to troll on her crusade. Rosé has arrived on RuPaul's Drag Race and nobody's gonna rain on this theatre queen's parade! The New York City-based drag star has already proven herself the triple-threat of Season 13, showing off her vocal prowess, quick wit, and command of the stage week after week. Will she snatch the crown and the title of 'America's Next Drag Superstar'?
---
BWW Interview: Drag Superstar Nina West Releases a Musical Short to Be Thankful For!

November 24, 2020

As the pandemic continues to sweep the world, bringing a second wave of lockdowns, Drag icon Nina West and Walt Disney Studios animator Dan Lund ( Frozen, Frozen 2) have teamed up to ask people to 'Mask up, Stay home, and Watch a Musical' with the release of their new, made-at-home musical short, Quarantine Dream.
---
BWW Interview: Betty Buckley Opens Up About Her Fight to Reclaim 'Memory' from Donald Trump

October 28, 2020

One of Broadway's most iconic anthems has been turned into a Trump campaign rallying cry, and Betty Buckley isn't having it. As BroadwayWorld previously reported, despite being served a cease-and-desist order this summer from composer Andrew Lloyd Webber, the Trump campaign has continued to use Buckley's rendition of 'Memory,' at rallies across the country.
---
BWW Interview: Kameron Michaels Ruveals What's In Store for RUPAUL'S DRAG RACE: VEGAS REVUE

August 21, 2020

It's like they always say: What happens in Vegas... ends up on TV? Tonight, August 21 (8pm ET/PT), VH1 will expand the Emmy Award-winning 'Drag Race' franchise with a six episode new docu-series, RuPaul's Drag Race: Vegas Revue.
---
BWW Interview: Jessica Blank & Erik Jensen Bring Frontline Stories Center Stage with THE LINE

July 6, 2020

On July 8 (7:30pm) The Public Theater will present the world premiere of THE LINE, written by Jessica Blank and Erik Jensen and directed by Blank . The live-streamed play, bringing first-person stories of New York City's first responders during the COVID-19 pandemic to the digital stage, was commissioned by The Public Theater and written specifically for the digital sphere.
---
BWW Interview: How Brita Werked Her Way from Regional Theatre to Drag Queen of the World

April 17, 2020

She may not be America's Next Drag Superstar in title, but the Queen of New York is ready to expand her queendom and take on the world. Already an icon in the NYC drag community before entering the workroom, Brita Filter (known to RuPaul's Drag Race viewers as simply Brita), has long-used her theatrical roots and Broadway-ready lipsync style to outshine her competition.
---
BWW Interview: Jan Sport Opens Up About Her Path from Musical Theatre to Musical Queen

April 3, 2020

Rupaul's Drag Race is feeling the Jantasy this season, as the show welcomed one of its most musical queens in its herstory. Jan Sport (known to viewers as just Jan) joined the competition for its 12th season when it premiered just weeks ago on VH1.
---
BWW Interview: Jackie Cox Reveals How Her Theatre Past Led to Her Drag Present

April 3, 2020

When theatre and drag worlds collide, the resulting lovechild is Jackie Cox- a queen who has jokingly described her own drag style as 'fourth ensemble from the left in Promises, Promises.' Jackie is currently turkey-lurkeying for her life as a contestant on the 12th season of Rupaul's Drag Race, on which she is pulling from her theatrical bag of tricks to slay the competition. 
---
BWW Interview: Matthew Morrison Is Making Musical Magic, Disney-Style

March 4, 2020

Matthew Morrison is dreaming Disney dreams in 2020. That's because the Emmy, Tony, and Golden Globe nominated artist has teamed up with Disney Music Group to release a carefully curated album of Disney classics, Disney Dreamin' with Matthew Morrison, set for release on March 6.
---
BWW Interview: Jeremy Morse Talks Bringing Disney Magic Across the Country with FROZEN

January 25, 2020

For the first time in forever, Frozen has hit the road! After kicking of a national tour in Schenectady, Disney's mega-hit crossed the country to open at the Hollywood Pantages Theatre in Los Angeles- where it plays through February 2. From there, the musical travels to Seattle, Portland, San Diego, Salt Lake City, and many more stops along the way.
---
BWW Interview: CHICAGO Star Paulo Szot Takes Another Shot at Broadway

January 19, 2020

The last time Paulo Szot was on Broadway, it was in an enchanted, Tony-winning debut. Twelve years later, he's back to paint the town.
---
BWW Interview: Tony Vincent Opens Up About His Next Act- Shaping the Talent of Tomorrow in Nashville

November 23, 2019

Tony Vincent is taking his act south, and we don't mean downtown... You know him from his starring roles on Broadway, in musicals like American Idiot, Jesus Christ Superstar and Rent. Or maybe you came to know him as a concert performer, recording artist, or as a finalist from NBC's The Voice. Now the Broadway veteran is working with the talent of tomorrow, teaming with Nashville-based training company PCG Theatrical.
---
BWW Interview: Eddie Arnold Looks Ahead to Life After BETRAYAL

November 22, 2019

Just months ago, following a critically acclaimed run at London's Harold Pinter Theatre, the four-person cast of Betrayal all made their Broadway debuts. One of the four was Eddie Arnold. 
---
BWW Interview: Victoria Clark Opens Up About Her New Projects on Stage, Screen & More!

November 17, 2019

Broadway audiences last experienced the greatness that is Victoria Clark in the 2015 revival of Gigi, and though it's been almost five years since she last graced the stage, she is keeping plenty busy.
---