Pinch 'N' Ouch Theatre Announces 2018/19 Season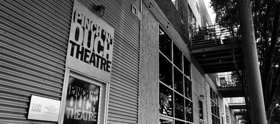 Pinch 'N' Ouch Theatre is A Contemporary Theatre & Film Production Company dedicated to bringing exciting new works to Atlanta. Named after a phrase coined by the legendary acting teacher Sanford Meisner, "pinch and ouch" offers an enthusiasm for provocative storytelling that is grounded in realistic performances. Since the company's arrival to Atlanta in 2010, PNO has already carved out a niche for edgy fare and has set a high standard in delivering impassioned, sharp productions from some of the most important writers working today. PNO also offers a variety of acting classes, and is involved in the development of new plays and writers.
Pinch 'N' Ouch Theatre's 2018/2019 Season:
WHO'S AFRAID OF
Virginia Woolf
by
Edward Albee
Winner of the 1963 Tony Award for Best Play
Performs August - September 2018 at Pinch 'N' Ouch Theatre
"Twelve times a week," answered Uta Hagen, hen asked how often she'd like to play Martha in Who's Afraid of Virginia Woolf? Like her, audiences and critics alike could not get enough of Edward Albee's masterful play. A dark comedy, it portrays husband and wife George and Martha in a searing night of dangerous fun and games. By the evening's end, a stunning, almost unbearable revelation provides a climax that has shocked audiences for years. With the play's razor-sharp dialogue and the stripping away of social pretense, Newsweek rightly foresaw Who's Afraid of Virginia Woolf? as "a brilliantly original work of art-an excoriating theatrical experience, surging with shocks of recognition and dramatic fire [that] will be igniting Broadway for some time to come." The Broadway production of this play was a shattering and memorable experience and proclaimed the author as a major American playwright.
Edward Albee
is an American
playwright
known for works such as
The Zoo Story
(1958),
The Sandbox
(1959),
Who's Afraid of
Virginia Woolf
? (1962), and
A Delicate Balance
(1966). Three of his plays won the
Pulitzer Prize for Drama
, and two of his other works won the
Tony Award for Best Play
. His works are often considered as frank examinations of the modern condition. His early works reflect a mastery and
Americanization
of the
Theatre of the Absurd
that found its peak in works by European playwrights such as
Samuel Beckett
,
Eugène Ionesco
, and
Jean Genet
. His middle period comprised plays that explored the psychology of maturing, marriage, and sexual relationships. Younger
American Playwrights
, such as
Paula Vogel
, credit Albee's daring mix of theatricality and biting dialogue with helping to reinvent the post-war American theatre in the early 1960s. Later in his life, Albee continued to experiment in works such as
The Goat, or Who Is Sylvia?
(2002). Albee died on September 16, 2016. A BEHANDING IN SPOKANE by
Martin McDonagh
Performs October - November 2018 at Pinch 'N' Ouch Theatre
An Atlanta Premiere
In Martin McDonagh's A BEHANDING IN SPOKANE, Carmichael has been searching for his missing left hand for almost half a century. Enter two bickering lovebirds with a hand to sell, and a hotel clerk with an aversion to gunfire, and we're set for a hilarious roller coaster of love, hate, desperation and hope.
A Behanding in Spokane performed on Broadway in 2010, featuring
Christopher Walken
,
Sam Rockwell
,
Anthony Mackie
, and
Zoe Kazan
. Walken was nominated for the 2010
Tony Award
for Best Performance by a Leading Actor in a Play, the 2010
Outer Critics Circle Award
, Outstanding Actor in a Play, and the
Drama Desk Award
, Outstanding Actor in a Play. The play was nominated for the 2010 Drama League Award, Distinguished Production of a Play. Playwright
Martin McDonagh
is known as the writer and director of
Three Billboards Outside Ebbing, Missouri
,
In Bruges
, and
Seven Psychopaths
. In theatre; THE PILLOWMAN (Tony nominee, Best Play 2005; Olivier Award Winner 2004), THE LIEUTENANT OF INISHMORE (Olivier Award Winner, Best Comedy 2003), THE BEAUTY QUEEN OF LEENANE (Tony nominee, Best Play 1998), THE LONESOME WEST (Tony nominee, Best Play 1999), A SKULL IN CONNEMARA, THE CRIPPLE OF INISHMAAN, THE BANSHEES OF INISHEER, THE RETARD IS OUT IN THE COLD, DEAD DAY AT CONEY. LOST GIRLS by
John Pollono
Performs March 2019 at Pinch 'N' Ouch Theatre
An Regional Premiere
When Erica, their sixteen-year-old daughter, goes missing during a winter storm, Maggie and Lou-former high school sweethearts, now divorced-are forced to confront the legacy of their past decisions. Filled with poignant passions and dark humor, LOST GIRLS is a hard-hitting drama about the women of a blue-collar family struggling to rise above their limited prospects, in a world indifferent to their struggles, to prevent history from repeating itself.
John Pollono
is an award-winning writer and actor living in Los Angeles. He wrote and performed in his highly acclaimed play SMALL ENGINE REPAIR, which ran in Los Angeles (Ovation, Los Angeles Drama Critics Circle, Garland, LA Weekly Award for Best Production) and off-Broadway in the Fall of 2013 (New York Times Critic's Choice, Top Ten Huffington Post, Daily Beast and OUT Magazine). His award-winning play LOST AND FOUND enjoyed a sold-out, extended run at FringeNYC 2010 and ILLUMINATI won Best Play at the 2010 Network One-Act Festival in New York City. John's play LOST GIRLS enjoyed a critically-acclaimed, five-month sold out World Premiere run in Los Angeles. John is a founding member of Rogue Machine Theatre in Los Angeles, where he serves on its Art Board. Pinch 'N' Ouch Theatre currently resides in Edgewood/Kirkwood of Atlanta, GA. For tickets and info about Pinch 'N' Ouch Theatre, visit
www.pnotheatre.org
.
More Hot Stories For You