Kenny Leon's True Colors Theatre Company Announces Its Sixteenth Season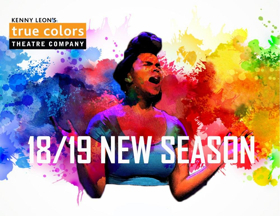 Artistic Director Kenny Leon and True Colors Theatre Company are proud to announce the 2018-2019 season - "Moments Make the Movement." The four productions of this 16th season are woven together by a thread of radical change at the societal, organizational and familial levels. The season opens in September with Nina Simone: Four Women by Christina Ham.
This "play with music" explores Nina Simone's shift from popular R&B singer to vocal activist, following the bombing of Birmingham's Sixteenth Street Baptist Church in 1963. The First Noel by Lelund Durond Thompson and Jason Michael Webb returns for its second year for a December run.
The musical, directed by True Colors' Associate Artistic Director Jamil Jude, follows a family as they reach across generations to heal from a devastating loss during the holidays that plunged a wedge into their lives. At its Atlanta debut in 2017, The First Noel received high praise for its uplifting music and powerful message. The work of Dominique Morisseau returns to True Colors' stage with Skeleton Crew, which is about the closing of the last auto plant in Detroit and its impact on the people that work there. Jamil Jude will direct this production. The season will close with the July production of Eugene Lee's East Texas Hot Links, directed by the playwright.
All performances, with the exception of The First Noel, will be presented at the Fulton County Southwest Arts Center, located at 915 New Hope Rd, Atlanta, GA 30331. The First Noel will be presented at The Ferst Center for the Arts at Georgia Tech, located at 349 Ferst Dr, Atlanta, GA 30332.
THE SHOWS:
Nina Simone: Four Women
Director To Be Announced
Fulton County Southwest Arts Center
September 25 - October 21, 2018
September 16, 1963. The day after the bombing of the 16th Street Baptist Church in Birmingham, Alabama led Nina Simone to shift her career from artist to artist-activist as she believed, "an artist's responsibility is to reflect the times." Nina Simone: Four Women uses the framework of one of her most blistering songs - "Four Women" - to give voice to the stereotypical characters of Aunt Sarah, Sephronia, Sweet Thing, and Peaches. This "play with music" includes some of Nina Simone's most popular civil rights anthems, including "Mississippi Goddam," "Go Limp," and "Young, Gifted and Black".
The First Noel
by Lelund Durond Thompson and Jason Michael Webb
Directed by Jamil Jude
The Ferst Center for the Arts at Georgia Tech
December 4 - 23, 2018
Back for a second holiday season after rave reviews, this family-friendly musical introduces a new holiday tradition to Atlanta audiences. Set in 1980's Harlem, The First Noel follows three generations of a family in search of Christmas joy many years after the tragic loss of a loved one. It is a story about how a community is healed, one family at a time, as ordinary people do extraordinary things to help one another receive the gift of love at Christmas time. The music includes a delightful reimaging of traditional holiday favorites in jazz, gospel and pop styles.
Skeleton Crew
Directed by Jamil Jude
Fulton County Southwest Arts Center
February 12 - March 10, 2019
At the start of the Great Recession, one of the last auto stamping plants in Detroit is on shaky ground. Each of the workers has to make choices on how to move forward if their plant goes under. Shanita has to decide how she'll support herself and her unborn child, Faye has to decide how and where she'll live, and Dez has to figure out how to make his ambitious dreams a reality. Power dynamics shift as their manager Reggie is torn between doing right by his work family, and by the red tape in his office. Powerful and tense, Skeleton Crew is the third play of Dominique Morisseau's Detroit cycle trilogy.
East Texas Hot Links
by Eugene Lee
Directed by Eugene Lee
Fulton County Southwest Arts Center
July 16 - August 11, 2018
It's the summer of 1955 in the piney woods of East Texas, where local men wander into Charlesetta's Top o' the Hill Cafe almost every night for comfort, solace and companionship. Times are changing, the Klan is active, and young black men have been disappearing or turning up dead. This night, Delmus wants to celebrate getting a new job but the other regulars are skeptical. They try to warn him as they joke, feed the jukebox and play cards until betrayal catches all of them and life at Top o' the Hill is changed forever.
TICKETS, SUBSCRIPTIONS AND GROUP SALES
Tickets and Season Subscriptions are available at our website - www.truecolorstheatre.org - or at http://www.ticketalternative.com. You may also call the box office number at 1-877-725-8849. For Group Sales, please contact our Group Sales department at404.523.1901 ext. 208.
TRUE COLORS SEASON SPONSORS
Delta Air Lines, Georgia Power, Georgia Pacific, The Home Depot Foundation, National Endowment for the Arts Art Works, WCLK Jazz 91.9, The Shubert Foundation, Community Foundation for Greater Atlanta, Fulton County Board of Commissioners, City of Atlanta Office of Cultural Affairs, and the Georgia Council for the Arts.
About True Colors Theatre Company: True Colors Theatre Company is a regional theater company based in Atlanta, GA. Founded in 2002 by Artistic Director Kenny Leon and Managing Director Jane Bishop, True Colors Theatre Company's mission is to celebrate the rich traditions of Black storytelling while giving voice to bold new artists from all cultures.