Review Roundup: Critics Sound Off on SING STREET at The Huntington
Sing Street is now playing at The Huntington's Calderwood Pavilion at the BCA through October 2, 2022.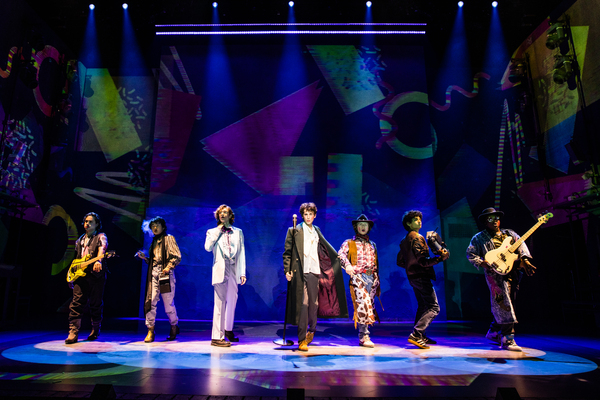 Sing Street, based on the hit 2016 indie film of the same title by John Carney ("Modern Love," Begin Again, Once), has opened at The Huntington Theatre. The production features a book by Tony Award winner Enda Walsh (Lazarus, Once), and music and lyrics by Gary Clark (front man of Danny Wilson) and Carney, now playing at The Huntington's Calderwood Pavilion at the BCA through October 2, 2022.
Tony Award winner Rebecca Taichman (Indecent on Broadway and at The Huntington) directs, and Tony Award winner & Obie Award winner Sonya Tayeh (Moulin Rouge on Broadway) choreographs.
The story is set in Dublin, 1982. Everyone is out of work. Thousands are seeking bluer skies across the Irish Sea. Eighteen-year-old Conor and his schoolmates find an escape from their troubles by forming a band to impress Raphina, a mysterious girl who catches Conor's eye. With an original score that embraces the sounds of the '80s, Sing Street celebrates the joy of first love and the power of music
Sing Street features Adam Bregman, Courtnee Carter, Billy Carter, Jack DiFalco, Dónal Finn, Anthony Genovesi, Michael Lepore, Diego Lucano, Elijah Lyons, Alexa Xioufaridou Moster, Anne L. Nathan, Gian Perez, Dee Roscioli, Armand Schultz and Ben Wang, with Leigh Barrett, Gable Kinsman, Nael Nacer, Matthew Pantanella, Ale Philippides, and Virginia Vogel.
Let's see what the critics have to say!
---
Don Aucoin, Boston Globe: The Huntington Theatre Company's exuberant production of "Sing Street" packs such a visceral punch in making its case that by the end it's got you believing it, too... But what comes through with gale force is what those songs mean to the kids who are playing and singing them. It helps that "Sing Street" is that rare show where cast members actually look the ages they're supposed to be....Walsh's script is smart and incisive in the ways it reminds us that rebellion and aspiration can sometimes be the same thing.
Joey Sims, Theatrely: The young band members are uniformly excellent, and find a persuasive, unforced camaraderie... At its best, this new Sing Street hits on the unique, heartbreaking comfort of finding your little piece of beauty amid an endless sea of heartbreaks.
Jacquinn Sinclair, WBUR: Bursting with the buoyancy of youth and balanced with life's inevitable bouts of melancholy, "Sing Street" centers on the romantic love budding between teenagers Conor Lawlor and Raphina, the making of a band, friendship, the joy of music and the necessity of dreams.... In addition to a top-notch cast that kept the crowd audibly rooting for them, the intelligent direction of the Tony and Obie-award-winning Rebecca Taichman ("Indecent" and "Mauritius") coupled with Sonya Tayeh's choreography offers a smooth, delightful ride through the Lawlor family's lives.
Jared Bowen, GBH Radio 89.7FM: This is a show where hope is alive, it's infectious, and where you want to just keep it with you. That's how I felt waking up this morning and thinking about this show, in part because of the music you're hearing.
Boston and Beyond, Susan Mulford: A wonderfully upbeat musical that promises to lift your spirits up and celebrates the power of music along with the joy of courageously setting our dreams free... The brilliant choreography by Tony & Obie Award winner Sonya Tayeh (Moulin Rouge on Broadway) is filled with great dancing by the group and also includes a uniquely creative, jaw dropping ballet surrounding a moving couch.
Bob Verini, New York Stage Review: There's no way that Sing Street will come to an end on Boston's Tremont Street. I figure it'll arrive on Manhattan's 45th Street prior to the Tony deadline. But anyone wbo takes pains to experience it here in its nascency will have the luck of the Irish.