Now Playing Onstage in St. Petersburg - Week of 12/15/2013
December 15
10:12 AM 2013
View All Show Listings for St. Petersburg
Click Here to View BroadwayWorld.com St. Petersburg Calendar
A MARVELOUS PARTY! THE NOEL COWARD CELEBRATION
American Stage Theatre Company
11/20-12/22/2013
Imagine a party as sparkling as a newly-popped bottle of champagne, a scintillating evening of ravishing melody and witty repartee-all courtesy of that personification of British wit and sophistication, Noel Coward. Drawn from his songs, plays, and journals, this effervescent revue is a whimsical, lighthearted romp featuring 33 songs and a bevy of sketches, anecdotes, writings and musings. The perfect holiday treat for everyone!
Click Here for More Information
IT'S A WONDERFUL LIFE
St. Petersburg City Theatre
12/6-12/22/2013
It's A Wonderful Life--as a traditional stage drama, with sets, costumes and props. The stage play is faithful to the film while being thoroughly entertaining as a theatrical production.
Click Here for More Information
PETER PAN
The Manatee Players
12/5-12/22/2013
PETER PAN is one of the world's most celebrated musicals. Here is all the charm of
J.M. Barrie
's Peter Pan, Tinker Bell, the children Wendy, Michael and John, pirates and Indians, embellished with show-stopping songs, "Never Never Land", "I Won't Grow Up" and "I'm Flying". The whole family will enjoy this classic musical!
Click Here for More Information
THE BEST CHRISTMAS PAGEANT EVER
The Manatee Players
12/5-12/22/2013
In this hilarious Christmas tale, a couple struggling to put on a church Christmas pageant is faced with casting the Herdman kids-- probably the most inventively awful kids in history. You won't believe the mayhem-- and the fun-- when the Herdmans collide with the Christmas story head on!
Click Here for More Information
MY NAME IS ASHER LEV
GableStage
11/23-12/22/2013
This huge hit, still running Off-Broadway, tells the powerful story of a young student in post-WWII Brooklyn who is torn between his Hasidic upbringing and the desperate need to fulfill his artistic promise ~ against the will of family, community and tradition. A stirring adaptation of a modern classic, it presents a heartbreaking and triumphant vision of what it means to be an artist.
Click Here for More Information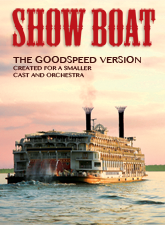 SHOW BOAT (GOODSPEED VERSION)
Asolo Repertory Theatre
11/15-12/22/2013
SHOW BOAT (Goodspeed Version)Created for a Reduced Cast and Orchestra. Spanning the years from 1880 to 1927, this lyrical masterpiece concerns the lives, loves and heartbreaks of three generations of show folk on the Mississippi, in Chicago and on Broadway (and their life-long friends). The primary plot follows Magnolia, the naive daughter of the show boat captain, as she marries a gambler and moves with him to Chicago. His gambling continues as his debts compound, and soon he deserts her and their young daughter. A subplot concerns the potential arrest of Magnolia's selfless best friend on charges of miscegenation when it's discovered that she is mulatto, and her subsequent downward spiral into despair. The passing of time reunites Magnolia and her now-grown daughter with her family on the show boat as well as with her husband, who eventually returns offering a hopeful second chance at familial fulfillment. This Production Originally produced by
Goodspeed Musicals
,
Michael P. Price
, Executive Director, Directed by
Rob Ruggiero
.
Click Here for More Information
A CHRISTMAS CAROL: A NEW MUSICAL
freeFall Theatre
11/30-12/24/2013
freeFall's holiday tradition returns. Share the magic with your entire family this holiday season. With a soaring and inspirational score, and faithful incarnations of all of the memorable characters, Dickens' ghost story leaps from the page and delights with stunning theatricality, lush scenery and costumes, and surprising special effects. Make this enchanting production part of your holiday tradition.
Click Here for More Information
MONTY PYTHON'S SPAMALOT
Florida
Studio Theatre
11/13-1/4/2014
Lovingly ripped off from the classic film "Monty Python and The Holy Grail," this outrageous parody tells the tale of King Arthur and the Knights of the Round Table and has been called "Best new musical to open" by The New York Times. While embarking on their quest for the Holy Grail, the Knights encounter flying cows, killer rabbits, and taunting Frenchmen while performing heart-stopping musical numbers.
Click Here for More Information
THURGOOD
Florida
Studio Theatre
12/11-2/2/2014
A powerful play based on the life of Justice Thurgood Marshall. From a childhood in the back alleys of Baltimore to the Supreme Court of the United States, Justice Marshall overcame many adversities. A journey of epic proportions, Thurgood is an eye-opening, humorous, and uplifting portrait of a true American hero.
Click Here for More Information
View All Show Listings for St. Petersburg
Click Here to View BroadwayWorld.com St. Petersburg Calendar