Now Playing Onstage in Mesa - Week of 3/16/2014
View All Show Listings for Mesa
Click Here to View BroadwayWorld.com Mesa Calendar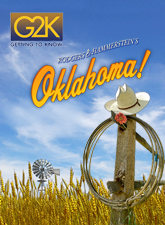 OKLAHOMA!
Round Valley High School
3/13-3/17/2014
The 'G2K' Getting To Know Series: Uniquely adapted musicals specifically for youth performers.
Rodgers & Hammerstein
's first collaboration remains, in many ways, their most innovative, having set the standards and established the rules of musical theatre still being followed today. Set in a Western Indian territory just after the turn of the century, the high-spirited rivalry between the local farmers and cowboys provides the colorful background against which Curly, a handsome cowboy, and Laurey, a winsome farm girl, play out their love story. Although the road to true love never runs smooth, with these two headstrong romantics holding the reins, love's journey is as bumpy as a surrey ride down a country road. That they will succeed in making a new life together we have no doubt, and that this new life will begin in a brand-new state provides the ultimate climax to the triumphant OKLAHOMA! In this adaptation for pre-high school students, the content has been edited to better suit younger attention spans, but all the elements that make this show a classic are still in place. You and your students will be enchanted by the timeless story and the dazzling score, while at the same time learning about theater and its production. Music by Rodgers, Richard; Book and Lyrics by
Oscar Hammerstein
II; Based on the play GREEN GROW THE LILACS by
Lynn Riggs
; Original Dances by
Agnes de Mille
Click Here for More Information
PORTLAND CELLO PROJECT
Mesa Arts Center, Ikeda Theater
3/21-3/22/2014
Since the group's inception in late 2007, the Portland Cello Project (or, PCP, as their fans affectionately call them), has wowed audiences all over the country with extravagant performances, everywhere from Prairie Home Companion, to that punk rock club in the part of town your grandma warns you not to go to after dark. The group has built a reputation mixing genres and blurring musical lines and perceptions wherever they go.
Click Here for More Information
EQUIVOCATION
Southwest Shakespeare Co
2/28-3/22/2014
Anita Farnsworth
Studio Theatre
:
Bill Cain
; dir: David Barker.
Click Here for More Information
SPRING MEMBER RECITAL
Mesa Arts Center, Nesbitt/Elliott Playhouse
3/22-3/22/2014
Metropolitan Youth Symphony (MYS) is celebrating 32 years of music with our Solo Recital series, Saturday, March 22, 2014. MYS began in 1982 with just 150 members in one full symphony and two string orchestras. Our membership has grown to over 300 members participating in one full symphony and three string orchestras. Our mission is to educate young instrumental musicians through the 9th grade in the art of orchestral performance through the use of the world's finest orchestral music to develop character, discipline, leadership, cultural awareness, and a strong commitment to excellence; thus enabling MYS to contribute to the East Valley's rich cultural heritage and create a higher level of appreciation for the performing arts.
Click Here for More Information
EQUIVOCATION
Mesa Arts Center, Farnsworth Studio
2/28-3/22/2014
In London, 1605, a down-and-out playwright called Shagspeare receives a royal commission to write a play promoting the government's version of the Guy Fawkes' Gunpowder Plot. As Shag navigates the dangerous course between writing a lie or losing his head, his devoted theatre troupe helps him negotiate each step along the way. At once an explosive comedy of ideas and a high-stakes political thriller,
Bill Cain
's award-winning EQUIVOCATION deftly reveals the cat-and-mouse games in politics and art, and the craft of learning how to speak the truth in difficult times.
Click Here for More Information
CHARLOTTE'S WEB
Scottsdale Desert Stages Theatre
2/21-3/23/2014
Based on the 50-year-old book by
E.B. White
and featuring an original country gospel musical by Desert Stages Artistic Director Gerry Cullity
Click Here for More Information
RESCUER
NileTheater
3/25-3/25/2014
Rescuer was formed as a result of years of close friendship and a common vision. Vocalist JP Marra and drummer Chris Krause went to grade school together; after touring and performing with several other acts, they teamed up with fellow Tampa Bay musicians Danny Quinlan (guitar),
Evan Miller
(bass), and Michael Gorgen (guitar). The 5 piece had met while attending local shows and after forming Rescuer, wasted no time making a name for themselves in their hometown. Pooling their collective influences from bands like Envy, Modern Life Is War, and City of Caterpillar, Rescuer has formed their own brand of hardcore that feels not just fresh, but truly ambitious. They will release their Rise Records debut "With Time Comes The Comfort" later this year.
Click Here for More Information
OKLAHOMA!
Hale Theatre Arizona
2/13-3/29/2014
Set in the Oklahoma territory at the turn of the twentieth century, two young cowboys compete with an evil ranch hand and a traveling peddler for the hearts of the women they love. Issues of class are confronted between the farmers and the cowmen in the still-developing, rugged landscape of a state in its infancy. The characters struggle to find hope, love and the fulfillment of "the American Dream" in this Rodgers and Hammerstein classic.
Click Here for More Information
KISS ME KATE
Arizona Broadway Theatre
2/28-3/30/2014
Kiss Me, Kate is classic
Cole Porter
and considered one of Broadway's greatest treasures! Fireworks ensue on-stage and off between
Fred Graham
and his ex-wife Lilli Vanessi as they star in a musical version of Shakespeare's Taming of the Shrew. Originally choreographed by Broadway Legend
Bob Fosse
, this 1949 TONY Award winner is bursting with hits that include " I Hate Men," "Another Op'nin', Another Show" and "So In Love." Audiences will want to "brush up" on their Shakespeare as the Arizona Broadway Theatre presents an all-new production of this beloved classic!
Click Here for More Information
THE LAST 5 YEARS
Scottsdale Desert Stages Theatre
3/21-5/25/2014
The Last Five Years is a musical written by
Jason Robert Brown
. It premiered at Chicago's
Northlight Theatre
in 2001 and was then produced Off-Broadway in March 2002
Click Here for More Information
View All Show Listings for Mesa
Click Here to View BroadwayWorld.com Mesa Calendar