Now Playing Onstage in Indianapolis - Week of 8/04/2013
View All Show Listings for Indianapolis
Click Here to View BroadwayWorld.com Indianapolis Calendar
DISNEY'S ALADDIN JR
MAINSTAGES
8/5-8/6/2013
Welcome to Agrabah, City of Enchantment, where every beggar has a story and every camel has a tail! All of your favorite characters are here in Disney's ALADDIN JR., a stage adaptation of the Disney hit film. Filled with magic, mayhem, and flying carpet rides, audiences' spirits will soar with excitement. Most of all, the tuneful, Academy award-winning score with songs including "A Whole New World" and "Friend Like Me" will certainly make this musical a favorite for many years to come!
Click Here for More Information
SEUSSICAL-THEATRE YOUNG AUDIENCES
MARIA MONTESSORI INTERNATIONAL ACADEMY
8/9-8/9/2013
Now one of the most performed shows in America, SEUSSICAL is a fantastical, magical, musical extravaganza! Tony winners
Lynn Ahrens
and
Stephen Flaherty
(LUCKY STIFF, MY FAVORITE YEAR, ONCE ON THIS ISLAND, and RAGTIME) have lovingly brought to life all of our favorite
Dr. Seuss
characters, including Horton the Elephant, Gertrude McFuzz, lazy Mayzie and a little boy with a big imagination--Jojo. "Oh, the Thinks You Will Think" as the spirit of imagination transports the colorful characters from the Jungle of Nool to the Circus McGurkus to the invisible world of the Whos.For this version, certain plot elements have been simplified, it is in one act, and runs approximately 1 hour and 15 minutes - perfect for presentation in schools. (See ADDITIONAL FACTS below for details) The story centers around Horton the Elephant, who finds himself faced with a double challenge--not only must he protect his tiny friend Jojo (and all the invisible Whos) from a world of naysayers and dangers, but he must guard an abandoned egg, left to his care by the irresponsible Mayzie La Bird. Although Horton faces ridicule, danger, kidnapping and a trial, the intrepid Gertrude McFuzz never loses faith in him, the only one who recognizes "his kind and his powerful heart." Ultimately, the powers of friendship, loyalty, family and community are challenged and emerge triumphant, in a story that makes you laugh and cry. For complete information on this
Click Here for More Information
JOSEPH AND THE AMAZING TECHNICOLOR DREAMCOAT
Highland Parks and Recreation
8/1-8/10/2013
The Biblical saga of Joseph and his coat of many colors comes to vibrant life in this delightful musical parable. Joseph, his father's favorite son, is a boy blessed with prophetic dreams. When he is sold into slavery by his jealous brothers and taken to Egypt, Joseph endures a series of adventures in which his spirit and humanity are continually challenged. He is purchased by Potiphar where thwarting advances from Potiphar's wife lands him in jail. When news of Joseph's gift to interpret dreams reaches the Pharaoh (wryly and riotously depicted as Elvis), Joseph is well on his way to becoming second in command. Eventually his brothers, having suffered greatly, unknowingly find themselves groveling at the feet of the brother they betrayed but no longer recognize. After testing their integrity, Joseph reveals himself leading to a heartfelt reconciliation of the sons of Israel. Set to an engaging cornucopia of musical styles, from country-western and calypso to bubble-gum pop and rock 'n' roll, this Old Testament tale emerges both timely and timeless.Lyrics by
Tim Rice
; Music by
Andrew Lloyd Webber
Click Here for More Information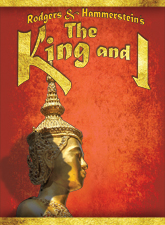 THE KING AND I
Carnegie Players
8/8-8/10/2013
East versus West makes for a dramatic, richly textured and ultimately uplifting tale of enormous fascination. It is 1862 in Siam when an English widow,
Anna Leon
owens, and her young son arrive at the Royal Palace in Bangkok, having been summoned by the King to serve as tutor to his many children and wives. The King is largely considered to be a barbarian by those in the West, and he seeks Anna's assistance in changing his image, if not his ways. With both keeping a firm grip on their respective traditions and values, Anna and the King grow to understand and, eventually, respect one another, in a truly unique love story. Along with the dazzling score, the incomparable
Jerome Robbins
ballet, 'The Small House of Uncle Thomas,' is one of the all-time marvels of the musical stage.Music by Rodgers, Richard; Book by
Oscar Hammerstein
II; Lyrics by
Oscar Hammerstein
II; Based on Anna and the King by
Margaret Landon
; Original Choreography by
Jerome Robbins
Click Here for More Information
THE DROWSY CHAPERONE
PUTNAM COUNTY PLAYHOUSE
8/8-8/17/2013
A rare combination of unprecedented originality and blinding talent, THE DROWSY CHAPERONE boldly addresses a great unspoken desire in all of our hearts: to be entertained. If you've ever sat in a dark theatre and thought, "Dear Lord in heaven, please let it be good," this is the show for you!It all begins when a die-hard musical-theater fan plays his favorite cast album on his turntable, and the musical literally bursts to life in his living room, telling the rambunctious tale of a brazen Broadway starlet trying to find, and keep, her true love. Order your copy of "Showing Off with THE DROWSY CHAPERONE" - an informative DVD with advice and production tips from the show's authors and creative staff. Email licensing@mtishows.com to request your FREE copy!
Click Here for More Information
NEXT TO NORMAL
RED BARN SUMMER THEATRE
8/1-8/17/2013
Pulitzer-Prize winning rock musical NEXT TO NORMAL, with book and lyrics by
Brian Yorkey
and music by
Tom Kitt
, explores how one suburban household copes with crisis and mental illness.NEXT TO NORMAL tells the story of a mother, Diane Goodman, who struggles with bipolar disorder and the effect that her illness has on her family. This contemporary musical is an emotional powerhouse that addresses such issues as grieving a loss, ethics in modern psychiatry, and suburban life. With provocative lyrics and a thrilling score, this musical shows how far two parents will go to keep themselves sane and their family's world intact.NEXT TO NORMAL is a deeply moving piece of theatre that provides a wonderful opportunity for performers to explore dramatic material and showcase vocal talents with an energetic pop/rock score. This show is ideal for community theaters, as well as colleges and regional theatre companies.
Click Here for More Information
XANADU
FOOTLITE MUSICALS
8/9-8/18/2013
XANADU follows the journey of a magical and beautiful Greek muse, Kira, who descends from the heavens of Mt. Olympus to Venice Beach, California in 1980 on a quest to inspire a struggling artist, Sonny, to achieve the greatest artistic creation of all time - the first ROLLER DISCO! (Hey, it's 1980!) But, when Kira falls into forbidden love with the mortal Sonny, her jealous sisters take advantage of the situation and chaos abounds. This hilarious, roller skating, musical adventure about following your dreams despite the limitations others set for you, rolls along to the original hit score composed by pop-rock legends
Jeff Lynne
and
John Farrar
, and includes, "Magic", "All Over The World", "Suddenly", "I'm Alive", "Evil Woman", "Have You Never Been Mellow" and "Xanadu", to name a few, and is based on the
Universal Pictures
' cult classic movie of the same title, which starred
Olivia Newton-John
and
Gene Kelly
. It's hilarity on wheels for adults, children and anyone who has ever wanted to feel inspired, as one of Broadway's master storytellers,
Douglas Carter Beane
, weaves a moving, electrifying tale of endless fun that will keep you in stitches, while the original, legendary chart-topping tunes lift you out of your seat. You'll want to keep the music in your head, and XANADU in your heart, forever.
Click Here for More Information
9 TO 5, THE MUSICAL
AMISH ACRES/ROUND BARN DINNER
7/30-9/1/2013
9 TO 5: THE MUSICAL, with music and lyrics by
Dolly Parton
and book by
Patricia Resnick
, is based on the 1980 hit movie Nine to Five.Pushed to the boiling point by their boss, three female co-workers concoct a plan to get even with the sexist, egotistical, lying, hypocritical bigot they call their boss. They conspire to take control of their company and learn there's nothing they can't do -- even in a man's world. Set in the late 1970s, 9 TO 5: THE MUSICAL is a hilarious story of friendship and revenge in the Rolodex era. Outrageous, thought-provoking, and even a little romantic, 9 TO 5: THE MUSICAL is about teaming up and taking care of business.This high-energy show is ideal for a large, mostly female cast. With its jubilant score and easily relatable characters, 9 TO 5: THE MUSICAL is the perfect show for community theaters or high schools.
Click Here for More Information
View All Show Listings for Indianapolis
Click Here to View BroadwayWorld.com Indianapolis Calendar