Now Playing Onstage in Connecticut - Week of 3/16/2014
View All Show Listings for Connecticut
Click Here to View BroadwayWorld.com Connecticut Calendar
PIPPIN
OXFORD HIGH SCHOOL
3/21-3/22/2014
Once upon a time, a young prince longed to discover the secret of true happiness and fulfillment. He sought it in the glories of the battlefield, the temptations of the flesh and the intrigues of political power (after disposing of his father King Charlemagne the Great). In the end, he found it in the simple pleasures of home and family. PIPPIN is a hip, tongue-in-cheek, anachronistic fairy tale that captivated Broadway audiences and continues to appeal to the young at heart everywhere (the show has become a staple on high school and college campuses). The energetic pop-influenced score by three-time Oscar®-winning composer/lyricist
Stephen Schwartz
(GODSPELL, CHILDREN OF EDEN, and the animated films Pocahontas, The Hunchback Of Notre Dame and The Prince Of Egypt) bursts with one showstopping number after another, from soaring ballads to infectious dance numbers. Featuring a strong ensemble cast and a show-stealing song-and-dance narrator, PIPPIN is equally effective as an intimate, black-box production (as envisioned by the authors) or as original director/choreographer Bob Fosse's splashy, dance-driven spectacle, which included some of the most brilliant staging in Broadway history.
Click Here for More Information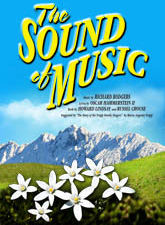 THE SOUND OF MUSIC
Gideon Welles School
3/20-3/22/2014
The final collaboration between Rodgers & Hammerstein was destined to become the world's most beloved musical. When a postulant proves too high-spirited for the religious life, she is dispatched to serve as governess for the seven children of a widowed naval Captain. Her growing rapport with the youngsters, coupled with her generosity of spirit, gradually captures the heart of the stern Captain, and they marry. Upon returning from their honeymoon they discover that Austria has been invaded by the Nazis, who demand the Captain's immediate service in their navy. The family's narrow escape over the mountains to Switzerland on the eve of World War II provides one of the most thrilling and inspirational finales ever presented in the theatre. The motion picture version remains the most popular movie musical of all time.Music by Rodgers, Richard; Lyrics by
Oscar Hammerstein
II; Book by
Howard Lindsay
&
Russel Crouse
; Suggested by `The
Trapp Family Singers
` by
Maria Augusta Trapp
Click Here for More Information
ROCK OF AGES
Palace Theater
3/21-3/22/2014
In 1987 on the Sunset Strip, a small town girl met a big city rockeri¿½and in LA's most famous rock club, they fell in love to the greatest songs of the i¿½80s. It's ROCK OF AGES, an arena-rock love story told through the mind-blowing, face-melting hits of Journey, Bon Jovi, Poison and many more. Don't miss this awesomely good time about dreaming big, playing loud and partying on.
Click Here for More Information
CATS
New Milford High School
3/21-3/29/2014
Based on the universally popular poetry of
T.S. Eliot
, CATS tells the story, in song and dance, of the annual gathering of Jellicle cats at which time one special cat is selected to ascend to the Heaviside layer. A true musical theatre phenomenon, CATS opened at London's New London Theatre on May 11, 1981 and ran for a record-setting 21 years. CATS's London success was nearly matched on Broadway where it ran at the Wintergarden Theatre for just over 18 years.Music by
Andrew Lloyd Webber
; Based on Old Possum's Book Of Practical Cats; By T. S. Eliot
Click Here for More Information
THE BOOK OF MORMON
Bushnell Center for the Performing Arts [Mortensen Hall]
3/18-3/30/2014
THE BOOK OF MORMON features book, music and lyrics by
Trey Parker
,
Robert Lopez
and
Matt Stone
. Parker and Stone are the four-time Emmy Award-winning creators of Comedy Central's landmark animated series, "South Park." Tony Award-winner Lopez is co-creator of the long-running hit musical comedy, Avenue Q. The world premiere musical is choreographed by five-time Tony Award-nominee
Casey Nicholaw
(Monty Python's Spamalot, The Drowsy Chaperone) and is directed by Nicholaw and Parker. THE BOOK OF MORMON, which follows a pair of mismatched Mormon boys sent on a mission to a place that's about as far from Salt Lake City as you can get, has been nominated for 14 Tony Awards, including Best Musical; 12 Drama Desk Awards, including Best Musical; 6 Outer Critics Circle Awards, including Best Musical and the Drama League Award for Best Musical. THE BOOK OF MORMON is also the recipient of the New York Drama Critics' Circle Award for Best Musical.
Click Here for More Information
PIRATE SCHMIRATE!
Pantochino Productions Inc
3/21-3/30/2014
Award-winning Pantochino Productions Inc presents a new "panto" musical by
Bert Bernardi
&
Justin Rugg
. "Pirate Schmirate!" is a wild ride on the high seas with a bevy of beauteous lady pirates who happen upon an island of handsome princes, unicorns and all kinds of swashbuckling fun. Perfect entertainment for the entire family.
Click Here for More Information
THESE PAPER BULLETS
Yale Repertory Theatre
3/14-4/5/2014
University Theatre:
Rolin Jones
; music:
Billie
Joe Armstrong
; dir:
Jackson Gay
.
Click Here for More Information
View All Show Listings for Connecticut
Click Here to View BroadwayWorld.com Connecticut Calendar