Now Playing Onstage in Central Pennsylvania - Week of 11/03/2013
View All Show Listings for Central Pennsylvania
Click Here to View BroadwayWorld.com Central Pennsylvania Calendar
WAIT 'TILL DARK
Allenberry Resort and Playhouse
9/24-11/7/2013
Good versus evil is here in the form of a blind heroine versus three evil crooks. This thrilling play will have you sitting on
The Edge
of your seat in suspense.
Click Here for More Information
HOW TO SUCCEED IN BUSINESS WITHOUT REALLY TRYING
Dutch Apple Dinner Theatre
10/3-11/9/2013
Power, sex, ambition, greed... it's just another day at the office. This satire of big business and all it holds sacred, follows the rise of J. Pierrepont Finch, a lowly window washer, who enjoys a hilarious rise up the corporate ladder to high-powered executive with the aid of a trusty self-help book.
Click Here for More Information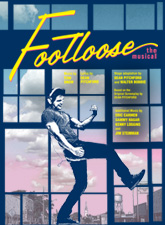 [TITLE OF SHOW]
Franklin Civic Operetta Association
11/1-11/9/2013
Jeff and Hunter, two struggling writers, hear about a new musical theatre festival. However, the deadline for submissions is a mere three weeks away. With nothing to lose, the pair decides to try to create something new with the help of their friends Susan, Heidi and Larry on the eighty-eights. With the cast in place, Jeff and Hunter begin a conversation about what to write about. Eventually,
Jeff Sugg
ests they write about what to write about. They make a pact to write up until the festival?s deadline and dream about the show changing their lives. [title of show]?taken from the space on the festival?s application form which asks for the [title of show]?follows Hunter and Jeff and their friends on their journey through the gauntlet of creative self-expression. In the span of 90 minutes they write and perform their show at the festival and learn lessons about themselves as people, friends and artists. [title of show] is, above all, a love letter to the musical theatre?a uniquely American art form?and to the joy of collaboration. The musical received a Tony AwardMusic and Lyrics by
Jeff Bowen
; Book by
Hunter Bell
Click Here for More Information
DISNEY JUNIOR LIVE ON TOUR! PIRATE & PRINCESS ADVENTURE
Hershey Theatre
11/9-11/9/2013
Grab your tiaras and doubloons and join us for Disney Junior Live On Tour! Pirate & Princess Adventure. Mickey and Minnie are taking their seats too at this never-before-seen live show featuring your favorite characters from Disney Junior's hit series, Sofia the First and Jake and the Never Land Pirates. Get swept up in the excitement as Sofia and her family prepare for a royal celebration that helps us all learn the true meaning of being a princess with a special appearance from Cinderella. Then it's off to Never Land where Jake and his swashbuckling friends Izzy and Cubby, with a little help from Peter Pan, battle Captain Hook to unlock treasure hidden inside a mysterious volcano. It's danger and dueling on the high seas as Jake discovers what it takes to be a true hero. Filled with new music, amazing effects, thrilling action and endless surprises, your whole family will sing, shout, and soar into the action when Disney Junior Live On Tour! Pirate & Princess Adventure sails into your hometown.
Click Here for More Information
ROSENCRANTZ AND GUILDENSTERN ARE DEAD
Shawnee Playhouse
11/2-11/9/2013
An absurd and existentialist tragicomedy that expands upon the exploits of two minor characters from Shakespeare's Hamlet, Rosencrantz and Guildenstern.
Click Here for More Information
HAMLET
Shawnee Playhouse
11/1-11/10/2013
Set in the Kingdom of Denmark, the play dramatizes the revenge Prince Hamlet exacts on his uncle Claudius for murdering King Hamlet.
Click Here for More Information
BUDDY VALASTRO: THE CAKE BOSS
Hershey Theatre
11/11-11/11/2013
Join America's favorite baker, Buddy Valastro, for an all new show of cakes, stories, and fun. TLC's Cake Boss will be appearing at Hershey. In this live, interactive event, TLC's Cake Boss will share stories from his highly popular TV shows (Cake Boss, Next Great Baker), his family at Carlo's Bakery, will answer audience questions, and most importantly, will give lots of live cake & cupcake decorating demonstrations, sharing tips and techniques in a high-energy experience for the whole family. One of the centerpiece shows of the TLC network, a sixth season of Cake Boss began airing in May 2013. Viewers continue to celebrate the mouthwatering desserts and not-to-be-missed Valastro family moments occurring in bustling Hoboken, NJ, home of Carlo's Bakery, which celebrated its 103rd anniversary this summer. In addition, Buddy's other TV series on TLC Next Great Baker is set to launch another season in November 2013. Buddy Valastro is the author of four books, including Family Celebrations with the Cake Boss, which will be released November 5th, 2013 by Simon & Schuster. As he does in every book, Buddy brings his characteristic warmth and flair, sharing personal stories alongside cooking, baking, and decorating tips.
Click Here for More Information
VANYA AND SONIA AND MASHA AND SPIKE
City Theatre
10/12-11/12/2013
Vanya and his sister Sonia tolerate the mediocrity of their middle-aged lives in Bucks County, PA until their movie star sister Masha returns for a visit that shakes things up. With her boy toy Spike in tow, Masha incites a madcap family reunion complete with all the comic genius that only
Christopher Durang
(Mrs. Bob Cratchit's Wild Christmas Binge) can deliver.
Click Here for More Information
THE ROCKY HORROR SHOW
Whitaker Center
10/31-11/17/2013
The original stage version of the cult movie classic returns to Theatre Harrisburg, and just in time for Halloween. Naive newlyweds Brad and Janet seek refuge from a storm and end up in the asylum-like castle of the outrageous gender-bending Dr. Frank N. Furter. With a delightful rock score and a plot which spoofs old-time horror flicks, this interactive musical is nothing less than a glitter-rock, horror, comedy, alien, transvestite circus - and heaps of fun. Let's all do the "The Time Warp!"
Click Here for More Information
CHARLES IVES TAKE ME HOME
City Theatre
11/9-12/15/2013
A father's love of music and a daughter's passion for basketball are at odds in this new play about competition, commitment, and craft.
Jessica Dickey
(The Amish Project) enlists modernist composer Charles Ives to guide a violinist to an understanding of what it means to be a father-and a fan.
Click Here for More Information
WALKIN' IN A WINTER WONDERLAND
Pines Dinner Theatre
11/6-12/29/2013
Brand new for 2013, join us for a joyous celebration of the Christmas holiday. Featuring everyone's favorite carols, the Nativity, and even
Santa Claus
, Walkin' In A Winter Wonderland will bring the true meaning of the holiday season to life.
Click Here for More Information
View All Show Listings for Central Pennsylvania
Click Here to View BroadwayWorld.com Central Pennsylvania Calendar